Living Exhibition in the Enid A. Haupt Conservatory
Saturday, June 4, 2022 – Sunday, September 11, 2022
10 a.m.–6 p.m. | At the Garden
Showcasing hundreds of varieties of edible plants, the displays in and around the Enid A. Haupt Conservatory invite you to explore the diversity and beauty of food plants grown around the world—with living plant installations that highlight crops from a variety of climates.
Seasonal Exhibition Galleries
Edible herbaceous plants and fruit-bearing trees flourish here, entwined in overhead trellises and growing from vertical planters perfect for compact urban spaces. Find gourds and passionfruit growing along arbors, while palms, root vegetables, and fruiting plants thrive in the glasshouse galleries.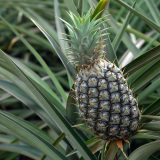 Conservatory Courtyards
Explore dietary staples of the world's tropical regions in the Hardy Courtyard, including rice, taro, and banana; grapes, olives, and other Mediterranean region plants; and arid climate crops such as figs, citrus, and pearl millet. In the Tropical Courtyard, discover peppers, tomatoes, and other nightshades; a gourd trellis; and even a spirits garden spotlighting the plants used to make beer, wine, and liquors.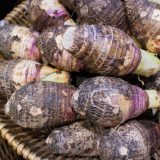 Conservatory Lawn
Discover an undulating field of dwarf sorghum and barley, traditional grains well-suited to NYBG's climate here in the Bronx, and learn about the diversity of grains around the world.