Living Exhibition in the Enid A. Haupt Conservatory
Saturday, June 4, 2022 – Sunday, September 11, 2022
10 a.m.–6 p.m. | At the Garden
Showcasing hundreds of varieties of edible plants, the displays in and around the Enid A. Haupt Conservatory invite you to explore the diversity and beauty of food plants grown around the world—with living plant installations that highlight crops from a variety of climates.
Seasonal Exhibition Galleries
Edible herbaceous plants and fruit-bearing trees flourish here, entwined in overhead trellises and growing from vertical planters perfect for compact urban spaces. Find gourds and passionfruit growing along arbors, while palms, root vegetables, and fruiting plants thrive in the glasshouse galleries.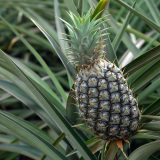 Conservatory Courtyards
Explore dietary staples of the world's tropical regions in the Hardy Courtyard, including rice, taro, and banana; grapes, olives, and other Mediterranean region plants; and arid climate crops such as figs, citrus, and pearl millet. In the Tropical Courtyard, discover peppers, tomatoes, and other nightshades; as well as a gourd trellis.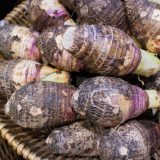 Spirit Garden in the Courtyard
The spirit garden features raw ingredients for alcoholic concoctions made around the world. Wheat, barley, and the closely related rye are all distilled as the base for a variety of spirits, including whiskey, gin, and many vodkas. Hops, originally used as a preservative, add a distinctly bitter flavor to beer. Potatoes are distilled to create vodka. The bark of Quercus ruber is the source of corks for everything from Champagne to Scotch.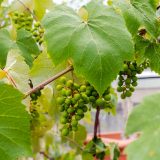 Conservatory Lawn
Discover an undulating field of dwarf sorghum and barley, traditional grains well-suited to NYBG's climate here in the Bronx, and learn about the diversity of grains around the world.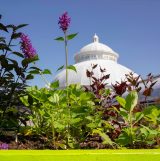 Around the World's Table in the Palm Dome
An artful data visualization installation created by information designer Giorgia Lupi and Pentagram, conveys the global impact of food production and consumption on the planet. The installation is made up of 100 partially submerged sculptures representing the major food groups we consume, their share in the global diet, and their relative carbon footprint.
Using the basin of the pool as a metaphor for the world, the size of the installation reflects the percentage of the world's habitable land used for agriculture—roughly 50%. The color, height, placement, and features of the sculptures visually represent 2019 data on global food production and consumption gathered from the United Nations Food & Agriculture Organization and Our World in Data—an open-source knowledge-sharing platform for scholars and researchers.