Pickling Weekend
July 23–24, 2022
12–5 p.m. | At the Garden
Celebrate Summer Flavor All Weekend Long
We're in a pickle! Join us at the Edible Academy to celebrate the brinetastic world of summertime pickling, from fruit to jar. Join us for hands-on gardening, fantastic fermentation cooking demonstrations and exploration. Dig in with expert chefs and gardeners to learn about preserving the bounty of summer all year long.
Gardening Activities
Ongoing; 10 a.m.–5:30 p.m.
Enjoy drop-in, hands-on activities throughout the gardens of the Edible Academy.
Dig, Plant, Water, and Harvest
Green Thumb Gardens
Help us plant and tend the crops in our garden.
Meet our Global Gardeners
Global Gardens
Meet the Global Gardeners and learn about what they are growing in their gardens.
Pot a pickling mix
Pot up dill, cilantro, and mustard to eat as herbs or grow for their seeds, which are great for making pickling mix.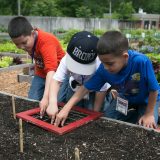 Maker Stations
Ongoing; 10 a.m.–5:30 p.m.
Explore hands-on activity stations in the Solar Pavilion.
Decorate a Garden Tote
Decorate a tote bag with colorful garden- and vegetable-themed stamps.
Flash Pickles
Make your own garden-fresh "flash pickles," a refrigerator pickling technique.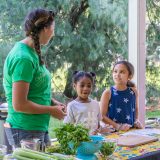 Culinary Demonstrations
12:30 p.m., 2, & 3:30 p.m.
Pauline Gillespie Gossett Overlook Pavilion
Ongoing culinary demonstrations presented by local chefs and culinary educators inspired by seasonal crops from the garden that will inspire chefs of all ages.
Try your hand at pickling with these recipes!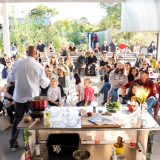 EAT Lab
Edible Academy Classroom

Pick up your Pickle Passport and head out to explore the garden, learning all about parts of a pickle recipe along the way.
Learn more about the plants we use for pickling in an exploration of produce and spices.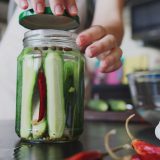 Tours & Family Fun
Celebrate Pickling Weekend with tours of NYBG's vegetable gardens.
African American Garden: Remembrance & Resilience
Saturday, July 23; 11 a.m. & 1 p.m. and Sunday, July 24; 1 p.m.
Meet at Edible Academy, Barnsley Beds
Participate in a guided tour of our African American Garden that traces the roots of American cuisine to the plants of the African Diaspora.
Entertainment
Susan P. and Coley Burke Amphitheater
Join musical guests for a singalong.