Pickling Weekend
July 23–24, 2022
12–5 p.m. | At the Garden
Celebrate Summer Flavor All Weekend Long
These themed weekends bring together food innovators, chefs, and farmers/gardeners for cooking demonstrations, tastings, and participatory gardening opportunities. Festivities include live music, story time readings, and hands-on craft activities for the whole family, leaving guests with a new appreciation for our shared culinary history.
Dive into the art of pickling with a delicious menu of hands-on gardening and culinary education activities throughout the state-of-the-art Edible Academy campus. Roll up your sleeves, don your apron, and dig into fun and enriching workshops all weekend long.
Gardening Activities
Ongoing; 10 a.m.–5:30 p.m.
Enjoy drop-in, hands-on activities throughout the gardens of the Edible Academy.
Dig, Plant, Water, and Harvest
Green Thumb Gardens
Help us plant and tend the crops in our garden.
Meet our Global Gardeners
Global Gardens
Meet the Global Gardeners and learn about what they are growing in their gardens.
Pot a pickling mix
Pot up dill, cilantro, and mustard to eat as herbs or grow for their seeds, which are great for making pickling mix.
Join the Pickle Parade!
Explore the Garden using your Pickle Passport, learning all about the parts of a pickle recipe along the way.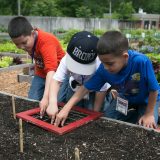 Maker Stations
Ongoing; 10 a.m.–5:30 p.m.
Explore hands-on activity stations in the Solar Pavilion.
Decorate a Garden Tote
Decorate a tote bag with colorful garden- and vegetable-themed stamps.
Flash Pickles
Make your own garden-fresh "flash pickles," a refrigerator pickling technique. Then ornament your bag with your own branded label.
Pickle Postcards
Use pickling ingredients to paint a garden souvenir.
Pickle Puppet
Put a pickle on a stick! Craft your own fun new friend: a pickle puppet.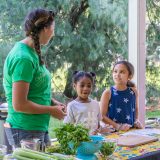 Culinary Demonstrations
11:30 a.m., 1:30, & 3:30 p.m.
Pauline Gillespie Gossett Overlook Pavilion
Join in on culinary demonstrations presented by local chefs and culinary educators, using seasonal crops from the garden that will inspire chefs of all ages. Be sure to grab recipes to try at home!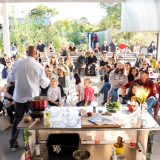 Celebrate Summer
Ongoing
Edible Academy

Enjoy face painting, yoga in the garden, outdoor games, and learning stations that teach you about pickling around the world.
Fermentation 101
Pickling around the world: learn about kimchi, sauerkraut, pickled eggs, and other global culinary traditions—including how brine is used for things beyond pickles
Face Painting with Sarah Manton
Garden Yoga with Yogi from the Bronx, Dionne Presinal
Garden games with Edible Academy staff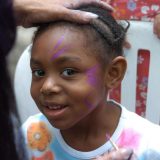 Tours & Family Fun
Celebrate Pickling Weekend with tours of NYBG's vegetable gardens.
Tours of the Edible Academy and Barnsley Beds
11:30 a.m., 2:30, & 4 p.m.
Meet at the Niarchos Foundation Entry Plaza
NYBG Tour Guides lead tours of the campus, sharing information on the sustainable building practices incorporated into the facilities and the innovative programming offered. Tours include the Barnsley Beds, a collection of intensively planted edible gardens, sharing tips on organic gardening techniques and plant selections.
Entertainment
Susan P. and Coley Burke Amphitheater
Join musical guests for a singalong.