Around the Table: Stories of the Foods We Love
Saturday, June 4, 2022 – Sunday, September 11, 2022
10 a.m.–6 p.m.
A Celebration of the Art and Science of Edible Plants
Food is at the center of many of life's most important events. When we gather together for a meal, the dishes we share often tell a story—and we share a bit of ourselves. Explore the rich cultural history of what we eat throughout this multifaceted, engaging exhibition that examines the art and science of foodways and food traditions, many dating back thousands of years. From global dietary staples such as rice, beans, squash, and corn to the regional spice and flavor provided by peppers, greens, and tomatoes, plants are at the base of all culinary customs. Discover the diversity and beauty of plants that are grown for cuisine around the world. Across NYBG's 250-acre landscape, uncover the botanical origins of the foods you think you know; gain a deeper understanding of the environmental and social impacts of food choices throughout history; and gather at artist-designed tables that explore the significance of the featured plants, bringing to life inspiring stories of community and survival.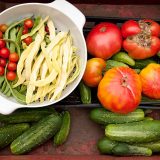 Conservatory Cornucopia
Explore the diversity and beauty of hundreds of varieties of plants that are grown for food all over the world through a living exhibition in and around the Enid A. Haupt Conservatory. From an undulating field of grains to edible plants such as bananas and dates, dig into the background of where food comes from and the origins of agricultural techniques and food traditions.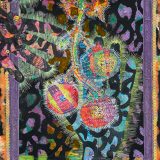 Artist-Designed Tables & Gallery Exhibitions
Gather around tables designed by Bronx artists and set throughout the Garden's landscape. Artists are invited to explore the cultural and historical significance of edible plants and plant-based food traditions, and bring to life inspiring stories of community and survival.
Discover works by contemporary artist Lina Puerta in the Mertz Library Building Art Gallery as well as the compelling stories behind murals by Bronx-based muralist Andre Trenier in the Ross Gallery.
Garden-Wide Exploration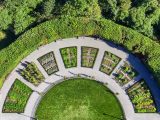 Trace the roots of American cuisine to the plants of the African Diaspora in the African American Garden: Remembrance & Resilience. Curated by Dr. Jessica B. Harris, America's leading scholar on the foods of the African Diaspora, this sequence of garden beds spotlights plants central to African American life and survival in the United States.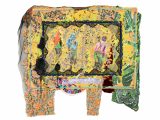 Examine the social and cultural impacts of the American food system through works by contemporary mixed-media artist Lina Puerta, who celebrates and acknowledges the essential, often invisible, role of farmworkers.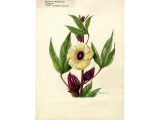 Appreciate the creativity and ingenuity of plant scientists and plant-based chefs exhibited in displays of herbarium specimens, research materials, archival images, seed catalogs, and cookbooks that reveal the science—and art—of agriculture and cuisine.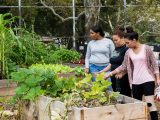 Engage with the previously untold stories of Bronx community gardeners and urban farmers revealed by NYBG's Bronx Foodways Oral Histories Project and the work of Bronx-based muralist Andre Trenier.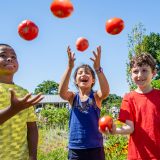 Weekend Celebrations, Wellness Wednesdays, and More
Throughout the exhibition, join us for special weekend celebrations spotlighting the traditions of Juneteenth and seasonality of pickling, tomatoes, and more. On Wellness Wednesdays, enjoy local produce at NYBG's Farmers Market and health and wellness activities.

Ongoing weekend programming highlights the artist-designed tables and celebrates food with cooking demonstrations and other culinary-themed activities.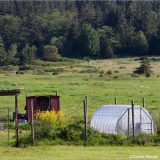 A Seat at the Table Symposium
Saturday, June 18, 2022; 10 a.m.–12 p.m. | At the Garden
This symposium brings a unique perspective to the stories for the opening of NYBG's summer exhibition, Around the Table: Stories of the Foods We Love, with two compelling sessions that explore how Black farming informs American history and culture in New York City and across the country.

Above in Artist Feature:

Lina Puerta
Tomatoes and I (Black) (detail), 2020
14 x 11 in.
Handmade paper composed of cotton, abaca and linen pulp; embedded with velvet, artificial leaves, and discarded food nettings; finished with sequined and velvet ribbons; gouache and googly eyes.
In Slideshow:
Lina Puerta
Broccoli Crop Workers, 2017
41 x 46 in.
Handmade paper composed of pigmented cotton and linen paper pulp; embedded with lace, velvet, sequined fabrics, Aztec (Otomi) embroidered collar; faux fur; and finished with trims, appliqués, velvet ribbon, feathers, gouache, and chains.
Photo credit: Jeanette May