Placed throughout the Garden, tables designed by artists living or working in the Bronx bring to life stories about the exhibition's featured plants and other notable foods. Each one-of-a-kind table will celebrate the cultural and historical significance of crops and plant-based food traditions—and encourage sitting, sharing, and storytelling.
Map of the Artist Tables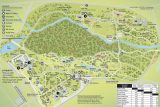 Explore this interactive map of NYBG to find each of the artists' tables placed throughout the landscape, as well as the many other components of Around the Table.
Art of the Table
Saturdays & Sundays*; 12–4 p.m.
At the Artists' respective tables
Come and meet the people who created this imaginative artwork, and get to know them while they host activities that reflect their interests and the meaning of their table's design.
View the Schedule and Learn More
Miss your favorite artist in person? Check out clips of past weekends' artist events below, and stay tuned for future video updates as the exhibition continues.
Art of the Table: Dina Weinberg
Art of the Table: Matthew Lopez Jensen
Art of the Table: Jill Cohen-Nuñez
Behind the scenes
Around the Table: Artist Studio Update
Around the Table: Artist Studio
A selection of the artists' tables now on view throughout the Garden. Learn more on-site, and download the Bloomberg Connects App to your smartphone to discover more about each of the tables, their creators, and the artists' inspirations.