Around the Table
Visit & Ticket Info
ADMISSION
Around the Table: Stories of the Foods We Love is included with the All-Garden Pass ticket, as well as access to the Garden's grounds, Tram Tour, Everett Children's Adventure Garden, daily programs, and more.
Save time—get your tickets online. Select the free mobile ticket option or bring your printed tickets with you to show at the entry gate when you arrive.
ALL-GARDEN PASS
Pricing:
Adults: $30
Students (with valid ID)/Seniors (65+): $28
Children (2–12 years): $15
Children under 2: Free
Patrons/Members: Free
Enjoy Around the Table as a Member
Along with complimentary admission to special exhibitions, Members have year-round access to the Garden's stunning collections. Plus, Members enjoy half-price parking, invitations to exclusive events and Member-Only Previews, NYBG Shop discounts, and so much more!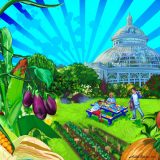 Dining
Round out your Around the Table visit with a variety of dining options.
Hudson Garden Grill | Across from the Conservatory
Tuesdays–Fridays; 11:30 a.m.–3 p.m.
Saturdays & Sundays; 11:30 a.m.–6 p.m.
No visit to NYBG is complete without a meal at our renowned farm-to-fork restaurant, the Hudson Garden Grill. Dine indoors or al fresco overlooking the Conservatory, and savor a variety of offerings including bread 'n' butter pickled fried okra—inspired by Dr. Jessica Harris's New York Times Best Seller, High on the Hog.
Make reservations on opentable.com.
Pine Tree Café | Leon Levy Visitor Center
Daily; 10 a.m.–6 p.m.

The seasonally inspired, family-friendly menu ranges from artisanal panini and rustic Neapolitan-style pizza to delicious signature salads, sweet treats, and snacks, with a nod to the plants featured in Around the Table.
Cantina
Visitor Center
Daily; 11 a.m.–5 p.m.

Sit and relax with a quick beverage or snack from this outdoor venue, which features hot pretzels, popcorn, and house-made trail mix, along with a wide selection of beverages that includes a special Around the Table sangria.
Plant Fry Food Truck
Tulip Tree Allée
Weekends & Wednesdays; 12–6 p.m.
Choose from potato, sweet potato, and yucca fries along with vegan sauces and spices.
Rose Garden Pop-Up
Across from the Rose Garden
Holiday Mondays, Wednesdays, & Weekends; 11 a.m.–5 p.m.
Grab some water, vegan trail mix, spiced popcorn, and other refreshments while you enjoy the scenic views of the Rose Garden and surrounding collections.
Ice Cream Cart
Tulip Tree Allée
Select Weekends; 11 a.m.–6 p.m.
Indulge in a cool summer treat! Ice cream, adult beverages and cold water are available at the top of the Tulip Tree Allée.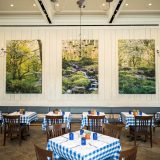 NYBG Shop
"Variety is the very spice of life, that gives it all its flavor."
—William Cowper
Enhance your Around the Table experience in person or online with a visit to NYBG Shop. While finding the perfect gift for the foodie in your life, treat yourself to a variety of fresh herbs, curated condiments and jams, teas, spice blends, chocolates, and cookbooks. Or browse our offerings of home and floral decor, fragrances, and apparel, as well as an array of organic seeds, lush perennials and annuals, houseplants, and fruit trees—along with everything you need to help them thrive!
Located in The Leon Levy Visitor Center
Open during regular Garden hours
Purchases in the Shop and online support the Garden's programs in horticulture, plant research and conservation, and education.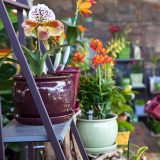 Contact Us
Need additional information? Direct your questions to Ticketing Support between 10 a.m. and 5 p.m. ET daily at ticketingsupport@nybg.org.