Around the Table Programs
Explore Around the Table: Stories of the Foods We Love through a variety of Garden-wide activities and programs. Take a tour of the Garden, join the NYBG Book Club, and learn the significance of the artist-designed picnic tables you'll see all around our 250 acres here in the Bronx.
Art of the Table
Saturdays & Sundays*; 12–4 p.m.
At the Artists' respective tables
Come and meet the creators of our tables! Get to know the artists through discussions accompanied by interactive, entertaining, and celebratory activities that reflect the artists' interests.
*Please note there will be no Art of the Table programming on June 12 or 18–20, or July 9–10.

Check out clips of past weekend meet-and-greets and artist activities here, updated weekly.
Reina Mia Brill
Friday, June 3
Perennial Garden

For artist Reina Mia Brill, gardens have been both a source of inspiration and material for her art work. Like her table, we invite you to be inspired by your surroundings and design your own seed packets using collage techniques! While you craft, enjoy a tasty snack in the form of an edible plant.
Dina Weinberg
Saturday, June 4
Everett Children's Adventure Garden
Learn how to paint what you eat with longtime teacher and artist Dina Weinberg.
Shawn Hill
Sunday, June 5
Edible Academy Amphitheater

Inspired by the Crop Over festival in Barbados, we invite you to join us at Shawn Hill's table for an afternoon of steel pan music and discussion in the tradition of the festival. Music performed by Khuent Rose.
Matthew López-Jensen
Saturday, June 11
Native Plant Garden
Do you have a food love story? A favorite meal you cook together? A shared food memory? In celebration of his work, "Lamb's Quarters: A Love Story," for the New York Botanical Garden's Around the Table initiative, environmental artist and educator Matthew López-Jensen invites LGBTQ+ couples based in the Bronx to share their stories, which will be available in excerpts online. While you're there, scan the QR code to listen to a recording of López-Jensen's original essay celebrating the connection between foraging, love, and queer identity (available in both Spanish and English).
Jill Cohen-Nuñez
Saturday, June 25
Ross Hall Entrance
Artist Jill Cohen-Nuñez has created a sculptural masterpiece loosely representing a traditional Passover Seder to honor her Jewish and Dominican heritage. Listen to her tell the stories of the figure at each place, and record your own memory of sitting around the table with loved ones.
William Bentley
Sunday, June 26
Enid A. Haupt Conservatory Lawn
Celebrate Ethiopian culture with William Bentley through music and taste! Join in on demonstrations on how the grain teff is prepared to make injera and enjoy a live music performance by Nicole Vega.

Nicky Enright
Saturday, July 2
Enid A. Haupt Conservatory Lawn
How long does it take a plantain to ripen? Artist Nicky Enright (also known as DJ Lightbolt) presents an immersive soundscape as a meditation on the cycles of time that produce the foods we love.
Joely Saravia
Sunday, July 3
Everett Children's Adventure Garden
Join artist Joely Saravia for a printmaking workshop using the templates she created as part of her table! 
Ruth Marshall
Monday, July 4
Enid A. Haupt Conservatory Lawn
For Ruth Marshall, fine art textiles explore the creative possibilities of knotting. Learn how to utilize paracord—versatile nylon material—to make a bracelet!
Francesca Capone
Saturday, July 16
Visitor Center Cantina
Channeling her grandmother's love of basil, Francesca Capone will demonstrate how to paint this beloved herb in a watercolor session. Take your creation home with you to inspire a season of growing your own basil plants from seed. While you craft, enjoy a sampling of the herb as a zesty snack!
Eric Escalante
Sunday, July 17
Home Gardening Center
Join visual artist, musician, and educator Eric Escalante for an interactive jam session in nature, combining a fusion of Andean ancestral styles such as Wayno, San Juanito, Pasillo, and Bomba. Mixed with contemporary, funk, and jazz, join Eric and his fellow musicians, the Afro-Andean Amazonian FUNKloric Ensemble, in an afternoon filled with music!
Leenda Bonilla
Saturday, July 23
Clay Family Picnic Pavilion
Artist Leenda Bonilla chose colors from the signature plates her mother used throughout her childhood to adorn her table, an homage to her mother and the fusion of mainland and island heritage drawn from her Puerto Rican roots. When you think of community around a table in your childhood, what do you imagine? Join Leenda to design a plate inspired by your youth.
Santina Amato
Sunday, July 24
Home Gardening Center
Australian-Italian artist Santina Amato has created a table as an homage to her mother. Watch as Santina prepares, cooks, and shares delicious gnocchi from a family recipe.
Sylvia Vigliani
Saturday, July 30
Benenson Conifer Collection

Artist Sylvia Vigliani's table invites us to look at the many layers that make up common histories and cultures around food. Follow along as Sylvia demonstrates the unique mosaic collage methods she used, or make your own mosaic project to take home! Visitors are invited to bring their own printed photographs for the project.

Yoshiko Mori
Sunday, July 31
Oak Collection
Fold, cut, or collage with artist Yoshiko Mori and learn more about the origami mugwort leaves she used to create a table that explores the delicious and healing qualities of native and non-native plants in New York and Japan. Enjoy a tasty bite of mochi made with the mugwort plant that inspired Yoshiko's design!
Anthony Joseph
Saturday, August 6
Benenson Conifer Collection
Gather around Anthony's table for a celebration of Haitian culture with special emphasis on the role that pineapple and other tropical fruits play in creating community and cultural memory. Sample delicious Haitian cuisine from Chef Nadège Fleurimond, a New York-based caterer and food writer!
Natalie Collette Wood
Sunday, August 7
Enid A. Haupt Conservatory Courtyard
Naturalist and multidisciplinary artist Natalie Wood continues her Swallowed by Nature series at NYBG with a highlight of the "three sisters" crops—corn, beans, and squash. Inspired by nature and her Bronx communities, the series literally and figuratively gives nature the final say and "seat" at the table. Succulents, moss, and seeds reclaim the everyday picnic table and become one being—as a community joins together to build each other up. Join Natalie as she presents her work through a family-friendly workshop to help you create your own mini "swallowed-by-nature" creation!
Blanka Amezkua
Saturday, August 13
Fountain of Life
Groove to the sounds of Ruben Albarran, Jose Bautista, and Antonio Carrilo while crafting flags and learning about the history of salsa verde with artist and educator Blanka Amezkua. In addition, sample a variety of Bronx restaurants' interpretations of this integral sauce.
Gayle Asch
Sunday, August 14
Enid A. Haupt Conservatory Lawn
Artist Gayle Asch's contribution to Around the Table is inspired by the Seven Species from the Torah—featuring barley, wheat, pomegranates, figs, grapes, olives, and dates, which played an important role in the diet of the Israelites and are considered to possess both medicinal and spiritual properties. Join us for a celebration of these cultural staples with live music performed by jazz group Trio KAN!
Laura Álvarez Fernández
Saturday, August 20
Enid A. Haupt Conservatory Courtyard
Artist Laura Álvarez Fernández traces her roots back to Valencia, Spain in this celebration of Spanish paella, a versatile rice dish. On this afternoon, you are invited to join Laura to design a plate that features your favorite ancestral dish.
Ariel Alvarez
Sunday, August 21
Enid A. Haupt Conservatory Courtyard
Dominican-American artist Ariel Alvarez set out to create a table that explores the violent and passionate history of the sugarcane crop in the Dominican Republic. As both an artist and semi-retired registered nurse, Alvarez notes a disconnect between the sweetness of the product and the trauma that its cultivation has wreaked for generations, and which continues today in the DR in the form of wage poverty. Inspired by the resistance of those working the plantations and the surrealism of Dali, Alvarez invites visitors to join him around the table to hear his stories and sample the sweet tall grass.
Elizabeth Hamby
Sunday, August 21
Native Plant Garden
How much do you know about urban foraging? Have you ever plucked a ripe blackberry or clipped fresh kale from a public garden or simply out in nature? Join artist Elizabeth Hamby and representatives from the Bronx River Foodway to sample refreshing herbal teas made from ingredients grown at the Bronx River Foodway, and respond to a variety of thoughtful, family-friendly conversation starters about where our food comes from.
Odalys Burgoa
Saturday, August 27
Edible Academy Amphitheater
For digital artist Odalys Burgoa, some of her most treasured items are her family's printed photographs. Through her work, Burgoa scans these images to preserve, share, and use in her artwork. She invites you to bring your printed photographs from home to scan for a digitized memory! She is joined by Uptown Vinyl Supreme, who will spin favorites on vinyl.
Noble Dre Ali
Sunday, August 28
Fountain of Life
Artist Noble Dre Ali's contribution is inspired by his grandmother's life and legacy in Jamaica. Join him to color a family-friendly coloring book highlighting the fruits of his upbringing and his grandmother's culinary wisdom, then slow down to enjoy a guided meditation session to reflect on your own connections to food and culture.
Carlos Wilfredo Encarnación
Sunday, August 28
Enid A. Haupt Conservatory House 4
Groove to the sounds of the Grammy-nominated Los Pleneros de la 21, bringing the rich tradition of Puerto Rican music to both local and global audiences since 1983, and join Carlos for a block printing activity
Catherine Herrick Lewis
Saturday, September 3
LuEsther T. Mertz Library Orchid Rotunda
Catherine Herrick Lewis is a professor, artist, and mom working at the intersection of intergenerational design and parenthood. Her designs often comment on themes of duality or juxtaposition in domesticity and art, with a focus on delicate embroidery that creates time for self-care as well as follows a traditional feminine art form. At Catherine's table, you are invited to find your own zen in creating art with others—partner up with family or friends and practice your own embroidery skills on a canvas you can take home or leave as part of the installation.
Priscilla Aleman
Saturday, September 3
Peggy Rockefeller Rose Garden
For artist Priscilla Aleman, color is a sense of play and a way of connecting to your surroundings. Some colors make you feel calm while others bring a surge of energy. She invites you to join her on a search for color in the Rose Garden. Find a color that reminds you of someone you love and design a postcard just for them!
Emily Henretta
Sunday, September 4
Near Nolen Greenhouse

Join artist and teacher Emily Henretta for a pop-up screen-printing session! Breathe new life into old clothes with a permanent edible flower print from Emily's table. Feel free to bring in an article of clothing in need of a new look, or use one of ours.
Lovie Pignata
Saturday, September 10
Bird Pavilion along Mitsubishi Wetland Trail

What is foraging? Who are foragers? Learn about foraging with artist Lovie Pignata and join her for a crafting activity that showcases your knowledge, or join an expert for a tour on identifying plants for foraging!
Michele Brody
Sunday, September 11
Visitor Center Cantina
Join artist Michele Brody for an afternoon of reflection and celebration around tea. Write your meditations on drinking and sharing tea on homemade mugwort paper, then fold it into a beautiful butterfly. Afterwards, join Wenting Zhang from Tea Arts & Culture for a guided tea ceremony.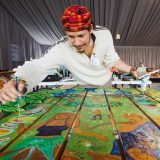 Tools for the Table: Artisan Demonstrations
Saturdays & Sundays; 12–4 p.m.
Visitor Center
The products we see in this exhibition undergo a major transformation to become the foods we love—whether soaked in a pan or ground in a pot, the tools we use to prepare them are an important part of the process, from farm to table.
Watch as expert local artisans share the tools and techniques necessary for preparing these foods, and how we might give scraps or leftovers a second life.
Please note this program will not be offered on June 18 & 19.
Schedule of artisan demonstrations to be shared throughout the exhibition.
Featured artisans include:
Aaron Hodgins of Hodgins Harvest
June 3, 4, & 5
Marvel as Aaron Hodgins Davis of Hodgins Harvest demonstrates how to grow, harvest, and preserve mushrooms! From drying the mushrooms gill side up to increase the amount of vitamin D, to pickling mushrooms for long-term use, Hodgins Harvest will show you the behind-the-scenes processes that allow you to enjoy this fungi.
Carolina Saavedra of La Morada
June 11 & 12 and September 5
Watch sous chef Carolina Saavedra of La Morada (Bronx, NY) shows the process of how some of their kitchen staples like corn and beans are prepared for their dishes. In addition to her work at the restaurant, Saavedra also serves as an Urban Farmer at Bruckner Mott Haven Community Garden and an Education Manager at Stone Barns Center.
Kini Kahauolopua
June 25 & 26, July 16 & 17, August 27 & 28, and September 10 & 11
See how Chef Kini demonstrates how to turn taro "kalo" into poi, a traditional food in the Polynesian diet, using the technique of pounding "kuʻi kalo". On September 10 & 11, Kini is joined by Chef Kealoha Domingo. Chef Kealoha will share the multitudes of traditional Hawaiian value, honoring the spiritual connection to the 'āina (land), kānaka (humankind), and mea 'ai (food) combined with touch of contemporary style.
Sean Malik Flynn and Alaura (AJ) Flynn of Boogie Down Bronx Honey
July 2, 3, & 4
Join Bronx locals Sean and Alaura Flynn to learn all about bee-keeping! Inspect the hive and see how the honey is harvested, spun out of the comb, and then prepared for consumption. Bronx Boogie Down Honey is 100% natural, raw honey made from honey bees that forage on Bronx wildflowers.
Jesica Clark of Willow Vale Farm
July 9 & 10
Watch artist and farmer Jesica Clark of Willow Vale Farm show how willow baskets are made. In a time when plastics have become the norm, Clark reminds us of the importance of winnowed baskets, like the skib, a harvesting and serving (at the table) basket for potatoes and other root vegetables.
Suln Park of Forward Roots Kimchi
July 23 & 24 and August 13 & 14
Explore the magic of kimchi pickling and fermentation with Suln Park, founder and operator of Forward Roots.
Moskehtu Consulting
August 6 & 7 and August 20 & 21
Join representatives from the Moskehtu Consulting group for educational, interactive, and collaborative workshops that range from corn husk doll making to braiding sweetgrass, and more work that illuminates the cultural competency of the Indigenous people.
Lindsey Thalmeier of Eltee's Goods
August 20 & 21 and July 30 & 31
Learn more about the process of Eltee's Goods tomato "tommy" jam and its creative uses in everyday meals!
Rahim Diallo of Ginjan Bros, Inc
September 3 & 4
Founded by brothers Rahim and Mohammed, Ginjan Bros Café makes food and beverage products inspired by traditional African recipes with a mission of making African flavors an integral part of global food culture. Come and learn more about the process behind fan favorites like their ginger drink, and pick up a refreshing bottle as well!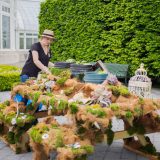 Drop-In Tours at the Garden
Select dates; tours meet at the Reflecting Pool unless otherwise listed
Join NYBG to learn more about the Around the Table exhibition, and hear from the Bronx River Alliance to explore how the Bronx River has acted as a major foodways circuit.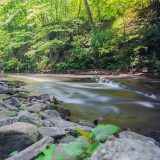 Table Trail & Scavenger Hunt 
Ongoing throughout exhibition; 10 a.m.–6 p.m.
Pick up a copy in the Everett Children's Adventure Garden

This fun, self-guided activity takes you and your family on a whirlwind adventure around the Garden grounds exploring artist-designed tables created for Around the Table: Stories of the Foods We Love. Navigate the 30 tables in search of plants and special clues!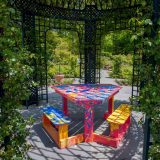 Beyond Books Club
Ongoing throughout exhibition
Facebook
Are you looking for an online community to discuss plants, bugs, landscapes, and the people that work to protect them? Join our NYBG Beyond Books Club to join the conversation.
Each month we present a new media title that explores topics related to the Garden. During the summer exhibition, take part in these Book Club topics:
• June Spotlight: High on the Hog by Jessica B. Harris
• July Spotlight: Why Food Matters by Paul Freedman
• August Spotlight: We Are What We Eat by Eat Alice Waters
• September Spotlight: Owed by Joshua Bennett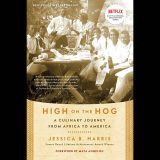 Related Classes
Explore the versatility of plants through the selection of Adult Education classes! Unleash your creative abilities as you learn to make vibrant dyes, botanical beverages, and understand the science behind the foods we eat.