Being part of the Garden family means more than just year-round admission. Members receive a 10% discount every day at NYBG Shop and additional discounts on special Member Days. We also offer our Members a host of exclusive trips and special programs throughout the year.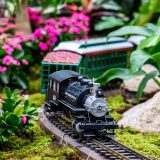 Holiday Train Show®
November 12–January 31, 2021
We are glad to give our valued Members access to one of New York's most cherished holiday traditions. With tickets and capacity very limited due to social distancing measures, access to the reimagined exhibition will be for our Members, Patrons, Corporate Members, and Bronx Community Partners only.