Being part of the Garden family means more than just year-round admission. Members receive a 10% discount every day at NYBG Shop and additional discounts on special Member Days. We also offer our Members a host of exclusive trips and special programs throughout the year.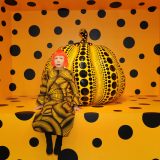 KUSAMA: Cosmic Nature Member Benefits
Members have access to an exclusive ticket pre-sale, beginning February 19, 2020 at 10 a.m. EST, in addition to free KUSAMA All-Garden Pass tickets and special viewing opportunities.