Being part of the Garden family means more than just year-round admission. Members receive a 10% discount every day at NYBG Shop and additional discounts on special Member Days.
Member Appreciation Week
Tuesday, February 7–Sunday, February 12
10 a.m.–5 p.m.
Special Member Benefits during Appreciation Week include:
Free parking with a valid Member ID
30% off at NYBG Shop
15% off in the Pine Tree Café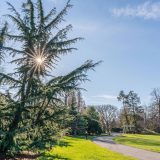 The Orchid Show Member Days
Members-Only Preview Day
Friday, February 17
10 a.m.–6 p.m.
Member Days
Saturday, March 11 & Sunday, April 16
10 a.m.–6 p.m.
Special Member Benefits on these three days only:
Free parking with a valid Member ID
20% off at NYBG Shop
15% off at all dining venues
Up to four half-price tickets for guests