Plant Talk
On Becoming a NYBG Urban Naturalist
Lisa Synoradzki is Senior Development Officer at The New York Botanical Garden.
---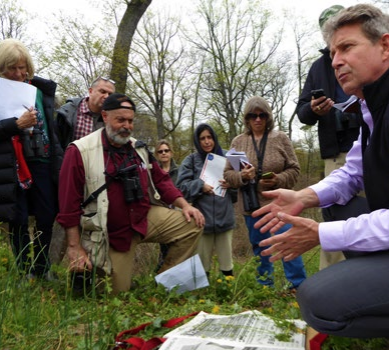 In Oaxaca Journal, renowned neurologist and writer Oliver Sacks, M.D., remarks on the contributions that amateurs provide to field science: "A special power of observing and remembering particulars, a special memory for places…a lyrical feeling for nature." Such is a naturalist I learned in NYBG's Urban Naturalist Certificate Program. Courses provided a solid grounding on New York City's plants, birds, and insects; their interactions; how they relate on the Tree of Life; and the ecology of their habitats.
Field trips on Garden grounds and to Pelham Bay and Van Cortlandt Parks were chances for our class to practice identification skills and record nature. We learned to identify a sign of forest succession in a meadow—a small grove of sapling sassafras trees, notice the pollination strategies of ephemeral spring beauty flowers—pink lines on white petals that point to nectar, and reflect on the success of American woodcocks in persisting in disturbed areas as we saw them ascend for sky dances at dusk.
As part of the Program, we were asked to create an ecological portrait of a patch in nature. I chose Welwyn Preserve in Glen Cove, Long Island, known for its magnificent, mature forest of tulip trees that are being threatened by storm damage, neglect, and an onslaught of invasive species. I documented Welwyn's flora and fauna, its natural history and condition today, and the potential for restoration. My project led to an invitation from the Long Island Botanical Society (LIBS) to write an article for its newsletter, a presentation for LIBS members, and a nomination to the board of the Torrey Botanical Society. NYBG's Urban Naturalist Program gave me the training and confidence to communicate about and advocate for the nature I love.
This article originally appeared as part of a series on responsible citizenry in the 2018–2019 issue of Garden News, NYBG's seasonal newsletter. For further reading, view the issue online and discover a sampling of stories about our current efforts and activities that promote, engage, and support active and responsible citizenry on local, regional, and global levels.
SUBSCRIBE
Enter your email address to subscribe to this blog and receive updates on new posts.