Make the Garden yours as the seasons unfold. Members get free admission, exclusive previews and hours, and special discounts. Plus, Members play a vital role in helping the Garden preserve and protect the natural world. Our outreach programs provide support to our local communities, and our scientific research programs conserve biodiversity around the world. Your Membership makes it all possible.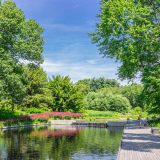 Save $10 on Membership
Join with promo code WELCOME, and not only will you save $10 off your Membership, you'll also get year-round access to a world of nature!
Discount is valid through 8/31/2020; not applicable to senior levels. Cannot be combined with any other offer.