Blues, Brews, & Botany
Saturday, September 23, 2017 – Sunday, September 24, 2017
12 – 4 p.m.
Discover the connections between beer and botany with music, tastings, and talks by Garden scientists. Purchase a souvenir sampling mug to enjoy a flight of palate-pleasing brews from New York State and beyond. Plus, see NYBG's blockbuster exhibition, CHIHULY, featuring over 20 breathtaking works of art that dazzle with color, light, and form. The Garden's dramatic vistas become living canvases for work created specifically for NYBG, showcasing Chihuly's signature organic shapes in brilliant colors. Spend the day sampling beer, learn about the science behind it, and explore monumental CHIHULY sculptures set throughout the Garden landscape.
Advance purchase recommended to guarantee admission; events do sell out.
Non-Member Pricing
$43, includes a Sampling Mug ($15) and All-Garden Pass ($28)
Member Pricing
Sampling Mug: $15
Tickets are for adults 21 and over. Tickets include all special weekend activities plus All-Garden Pass admission, which includes access to the Enid A. Haupt Conservatory, Tram Tour, and more.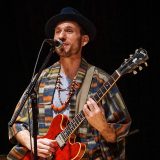 Blues
Live Music
Daffodil Hill Main Stage
Sets at 12, 1, 2, & 3 p.m.
As you sample your brews, chill out to some blues music by The Paul Josephs Blues Project.
The Paul Josephs Blues Project: New York Magazine calls "soulful and smart… bouncing along on bluesy guitar and a rock/reggae beat", the Paul Josephs Blues Project plays real blues and keeps people shaking what their mama gave 'em.
Lawn Games
Daffodil Hill
Indulge your inner child with some fun lawn games like beanbag toss, lawn darts, and ladder toss!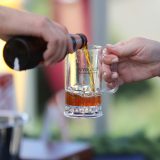 Brews
Daffodil Hill
Use your souvenir beer sampling mug to taste an array of craft brews and ciders from more than a dozen purveyors. Purchase a full bottle of beer and other refreshments to picnic upon from STARR Events.
Participating breweries:
Angry Orchard
Captain Lawrence
Coney Island
Heineken
Ithaca
Keegan Ales
MillerCoors
Magners Cider
New Belgium
Newburgh
Paulaner
Saranac
Southhampton
Two Roads
Woodchuck Cider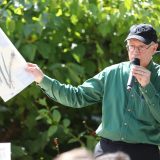 Botany
Join Garden scientists to explore the botanical side of beer.
The Botany of Beer: Beyond the Hops
In the Clay Pavilions
1:30 & 3:30 p.m.
This talk reveals and celebrates the diversity of organisms that have been used in making different beers. From meads and gruits of antiquity, to the sacred and medicinal beers of indigenous peoples, to microbrews and "extreme" beers of today, learn about barley, hops, and even a few animals that have found their way into the world's oldest and most widely consumed alcoholic beverage.
Plant Collecting Demonstrations
In the Clay Pavilions
12–4 p.m.
Scientists from the NYBG Herbarium display specimens of economically important and useful plants, including beer ingredients like Hops, barley, and millet, and show how pressed plant specimens are made for future research purposes.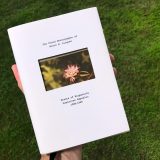 Dig deeper into botany with The Field Photographs of Alain H. Liogier
This collection of snapshots offers a glimpse into the late '60s wanderings of botanist Alain Liogier, whose plant studies in the Dominican Republic tell a story at the crossroads of time, place, science, and art. Peruse photographs encompassing a local flora that expresses itself through both beauty and rugged adaptation.