Blues, Brews, & Botany
Saturday, October 5, 2019
12 – 5 p.m.
Celebrate fall with music, beer, and botanical fun
Kick off the season with a celebration of the pungent hops and flavorful barleys that create your favorite brews. Explore the connections between beer and botany with samples from top breweries, live blues performances, and plenty of botanical fun all day.
Advance purchase recommended to guarantee admission; events do sell out.
Non-Member Pricing
$48, includes commemorative Sampling Mug ($20) and All-Garden Pass ($28)
Member Pricing
$20, commemorative Sampling Mug; All-Garden Pass free for Members
Tickets are for adults 21 and over. Tickets include all special weekend activities plus All-Garden Pass admission, which includes access to the Enid A. Haupt Conservatory, Tram Tour, and more.
Brews
Garden Way
12–5 p.m.
Purchase a souvenir Sampling Mug and set out to try each of the many local breweries offering unlimited samples of their craft beers and ciders.

Participating breweries to include*:
21st Amendment Brewery
1911 Original Hard Cider
Angry Orchard
Bad Seed Cider Company
Blue Moon Brewing Company
Broken Bow Brewery
Bronx Beer Hall
Captain Lawrence Brewing Company
Coney Island Brewing Co.
Corona
Dos Equis
Empire Cider Co. & Cider Lab
Estrella Damm
Gun Hill Brewing Company
Kings County Brewers Collective
Leinenkugel's
Modelo
Pacifico
Paulaner Brewery
Peak Organic Brewing Company
Samuel Adams Boston Brewery
Shiner Brewery
Strong Rope Brewery
Truly Spiked & Sparkling
Woodstock Brewing
*Vendor list subject to change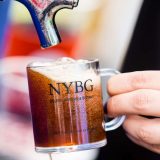 Blues
Library Lawn
12–5 p.m.
Settle on the lawn to sip your beers and take in the blues-infused setlists of a variety of local bands and vocalists.
12 p.m. – Durieux
Durieux is a singer/songwriter from the Highbridge section of the Bronx, NY, and describes his sound as a blend of Alternative, Funk, and R&B/Soul. A storyteller and performer, he writes his music based on experiences in life that anyone can relate to. He has performed at notable venues such as Rockwood Music Hall, Arlene's Grocery, Mercury Lounge, Pianos, Bowery Electric, Central Park, The Groove, The Bronx Museum of The Arts, and most recently, The Apollo. Durieux has two singles out. His first being "Are We?" and his most recent release "Growing Pains".
1 p.m. – Brandi & the Alexanders
Powerhouse vocalist for Brandi & the Alexanders, Brandi Thompson's diva-level range and melodies hit the listener right in the gut. Backed by The Alexanders, a funk and soul influenced rock band, she walks a tightrope between classic rock drive and R&B grit. Like fusing the Jackie Brown soundtrack, Merry Clayton's Gimme Shelter, and Music From Big Pink together; Brandi & the Alexanders have a sound that is driven, homespun, and soulful.
2 p.m. – JSWISS
Bringing together clever wordplay, inspiring messages, and sounds, JSWISS creates an energetic atmosphere for his audience. Accompanied by a live band of skilled instrumentalists, JSWISS' brand of hip hop showcases his vast musical influences, and he has graced notable stages such as the Apollo Theater, Blue Note Jazz Club, Preservation Hall, Rockwood Music Hall, and more.
3 p.m. – King Solomon Hicks
Eclectic guitarist/singer/composer Solomon Hicks – "Lil' B.B. King" and "King Solomon" to his national and international fans – broke into the biz at age 13 at the Cotton Club, and continues to play there and at top venues around NYC. Ranging across jazz, blues, classical, gospel, R&B, funk and rock, Hicks has performed with Tony Bennett, George Thorogood, and Lee Ritenour among others, and has been featured in The Washington Post, NY Times, and the PBS American Music series.
4 p.m. – Funkrust Brass Band
Funkrust Brass Band is a high-energy 20-piece group — with megaphone vocals, heavy tuba bass lines, thundering percussion, searing brass melodies, snazzy uniforms and lively choreography. Founded and led by songwriter, arranger and multi-instrumentalist Phil Andrews, with lyrics and vocals by Ellia Bisker,Funkrust weaves all-original punk, blues, disco, EDM, metal, funk, Balkan brass and New Orleans second line into a sound – and sight – that's not to be missed.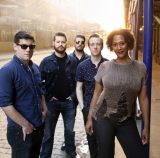 Botany
Get the plant perspective to the history of beer brewing, exploring its barley, hops, and other organic ingredients.
(Left: A hops specimen from the Steere Herbarium.)
The Botany of Beer: Beyond the Hops
Garden Way
1 & 3 p.m.
Discover the diversity of organisms involved in making different beers in this interactive presentation. Explore the evolution of beer, from the meads and gruits of antiquity, to the sacred and medicinal beers of indigenous peoples, to microbrews and more "extreme" beers of today. Learn surprising facts about barley, hops, and some unexpected animals that have found their way into the world's oldest and most widely consumed alcoholic beverage.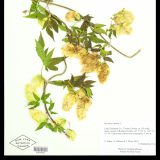 Lawn Games & More Activities
There is more fun in store with bottle cap crafting and lawn games.
Bottle Cap Crafting with Materials for the Arts

Along Garden Way
12–4 p.m.
Give your  bottle caps a creative second life with crafts from with Materials for the Arts (MFTA), NYC's premier reuse facility.
MFTA aims to build relationships with the New York City arts, culture and educational communities by teaching the value of Creative Reuse and supplying endless donated materials for art making. Their goal is to make a larger impact on the global carbon footprint through sustainability practice in creativity.
Lawn Games
Relax with classic lawn games like Giant Jenga, Giant Connect Four, ladderball, cornhole, giant chess, hula-hoops, and ring toss.