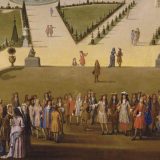 Seminar: Summer in the Garden of the Sun King
Friday, July 20, 2018
11 a.m.–12:15 p.m.
The Garden of Versailles formed the center of court ceremonies and celebrations during the reign of Louis XIV (1638–1715), expressing the glory of the Sun King and of France as preeminent power in Europe. Filled with a stunning array of exotic flowers, magnificent fountains, and classical sculpture, the garden—with its Menagerie, Orangerie, and Potager—left an indelible impression on all who came to visit from near and far. This special summer seminar offers a unique view behind the scenes by recounting the experience of contemporary visitors and examining the layout, symbolism and wider cultural-political influence of the Versailles garden.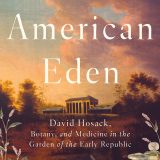 Lecture 2018: American Eden
Friday, June 22, 2018
4–5 p.m.
When Alexander Hamilton and Aaron Burr met on a dueling ground in July 1804, they chose the same attending physician: David Hosack. Family doctor and friend to both Hamilton and Burr, Hosack is today a shadowy figure at the edge of a famous duel, the great achievements of his life forgotten. In 1801, on 20 acres of farmland, Hosack founded the first botanical garden in the new nation, amassing a spectacular collection of medicinal, agricultural, and ornamental plants that brought him worldwide praise from the likes of Jefferson and Humboldt. Hosack used his pioneering institution to train the next generation of American doctors and naturalists and to conduct some of the first pharmaceutical research in the United States. Today, his former garden is home to Rockefeller Center.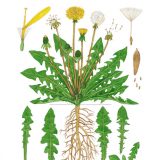 Seminar: The Love and Hate of Dandelions
Friday, May 25, 2018
11 a.m.–12 p.m.
Of all weeds in the Northern Hemisphere, dandelions likely are the best known, and simultaneously the most beloved and most hated weedy species. Its biological features have made the dandelion into a commonly used symbol associated with hope and dream fulfillment, invasion and travel, rebellion and politics, and other human issues not related to plant science. Analyses of the visual and verbal iconography of the dandelion in contemporary printed and social media—product advertisements, political comics and memes, and other public displays—show that this plant, in both abstract and concrete form, is used as a neutral, positive or negative value marker. The symbolism of the dandelion is clearly linked to its rather successful morphological features. This has led to its widespread presence not only in gardens, but also as permanent tattoos, wall paper designs, get-well and sympathy cards, and last but not least, on herbicide containers.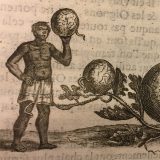 Seminar: Polynomials, Pictures, and Slaves
Friday, May 11, 2018
11 a.m.–12 p.m.
Presenting his new book, Collecting the World: Hans Sloane and the Origins of the British Museum (2017), James Delbourgo explores how Sloane, founder of the British Museum, practiced botany in the slave society of colonial Jamaica during his time on the island in 1687–1689. Plant collecting, encyclopedic research, and extended processes of drawing figured heavily in Sloane's botany, which drew on the knowledge of both planters and slaves, and culminated in the lavishly illustrated natural history of the island published in London in 1707–1725.
Delbourgo's work offers important new perspectives on the complex relationship between world-wide scientific discovery and 18th-century imperialism. After the lecture, the author will sign his books in the Mertz Library.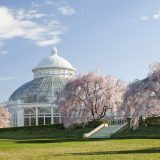 Japan Study Day
Friday, April 27, 2018
9:30 a.m.–3 p.m.
This special Study Day celebrates Japanese arts and sciences in the field of natural history and garden design, featuring an international team of experts, including Federico Marcon (Department of East Asian Studies, Princeton University), Harm Beukers (Scaliger Institute, Leiden, the Netherlands), and Ryosuke Kondo (Landscape Architecture, Tokyo University). Topics of exploration include the development of natural history and Dutch–Japanese exchanges in medical botany from the 17th-century onward, as well as the role of trees in Japanese garden design. After the presentations, participants can enjoy a viewing of rare Japanese works from the LuEsther T. Mertz Library and a tour of the Cherry Blossom trees across the Garden's historic landscape.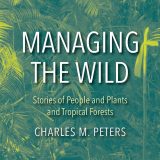 Managing the Wild: Stories of People and Plants and Tropical Forests
Friday, April 20, 2018
11 a.m.–12:30 p.m.
Kick off the 2018 Earth Day Celebration at NYBG with an illustrated lecture by Charles M. Peters, Ph.D., Kate E. Tode Curator of Botany at the Institute of Economic Botany, as he discusses and signs his new book, co-published by NYBG Press and Yale University Press.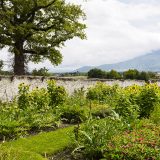 The Gardens of La Gara
Friday, April 13, 2018
10:30 a.m.–12 p.m.
La Gara is an 18th-century country estate in Jussy, a village near Geneva, Switzerland. It stands in the tradition of the ferme ornée, a villa with agricultural and ornamental features following ancient Roman models. From 2001–2017 the renowned Belgian landscape architect Erik Dhont reinterpreted and subtly redesigned the gardens and surrounding grounds, completed by a palindromic labyrinth designed by Swiss artist Markus Raetz. A new book tells the full story of the La Gara estate and illustrates its beauty. It is a case study that touches on all dimensions of garden art, from social and political factors that trigger new garden styles, to the aesthetics of the creation of gardens, as well as horticultural techniques and landscape management measures to foster biodiversity.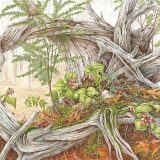 Fifth Annual Humanities Institute Symposium: Plant Intelligence
Thursday, March 22, 2018
10 a.m.–12:30 p.m.
Renowned scientists Peter Wohlleben and Stefano Mancuso explore the question of plant intelligence, sharing intriguing new discoveries from the forest and the lab. Using the latest biological evidence, they will challenge our common perception of nature and offer new insights into the life of plants.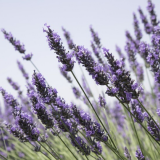 Essential Oils in Their Social and Geographic Environment: An Experience for the Senses
Friday, January 19, 2018
11 a.m.–12 p.m.
Laure Moutet Manheimer will "free essential oils from their dark brown bottles" by tracing plant extracts back to their source. Discover where the plants come from, who the people are that grow them, and learn how essential oils are extracted.
The journey will take the audience from the lavender fields of France to the hills of Morocco, where rosemary fills the fields after spring rains. From the shores of Indonesia we will travel to the land of patchouli, vetiver, and clove. In China, eucalyptus and citronella will be looked at, and one will be refreshed by the smell of citrus, coming from Brazil and Italy. As a final treat, the audience will be delighted by floral absolutes: jasmine, mimosa, and rose.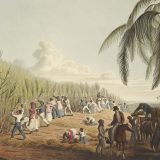 Seminar: The Andrew W. Mellon Presentations
Friday, November 17, 2017
11 a.m.–12 p.m.
J'Nese Williams
Imperial Plans and Local Governance:
The St. Vincent Botanic Garden, 1765–1822
In the late 18th and early 19th centuries, the British government began funding botanic gardens in its colonies to manage economic and scientific botany projects. Though these gardens were an overall success, the St. Vincent Botanic Garden struggled to fulfill its mission. As an example of failure, the history of the St. Vincent Garden reveals the limitations of government support of science in this period.
J'Nese Williams, Vanderbilt University
Her dissertation research, The Texture of Empire: British Colonial Botanic Gardens and the Uses of Science in the Late Eighteenth and Early Nineteenth Centuries, adopts a local view to demonstrate how British colonial governments, botanic gardens, and private organizations and individuals collaborated to produce and implement plant policy before the centralization of imperial governance.
Tim Lorek
Plant Breeding and Wild Sugarcane in Colombia's Cauca Valley, 1927–1967
In the 1930s, the USDA collaborated with Colombian agribusiness and experiment stations to breed a temperate variety of sugarcane. This partnership highlights the use of wild sugarcane (Sacchaum spontaneum) as it traveled from the steppes of central Asia, through initial scientific crossings in Dutch Java, and finally to breeding programs in the greater Caribbean. Several scientists involved in these collection and breeding programs donated specimens housed in the NYBG Herbarium. Their work contributed to significant changes in global sugarcane production and remains relevant for its economic, biological, and social impact in sugar landscapes.
Tim Lorek, Yale University
His dissertation research, Developing Paradise: Agricultural Science in Colombia's Cauca Valley, 1927–1967, examines international networks of agricultural development from the historical perspective of an economically significant subtropical river valley in southwest Colombia.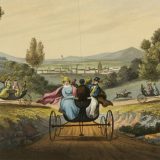 Seminar: Prince Pückler's Letters of a Dead Man
Friday, October 27, 2017
11 a.m.–12 p.m.
Presented by Linda B. Parshall, Ph.D.
In 1826, German Prince Pückler-Muskau embarked on an extended tour of England, Wales, and Ireland, hoping to acquire a wealthy bride and restore the dream of transforming his vast estate in central Germany into an ideal landscape park. His travels are recounted in vivid letters that are part travelogue, part memoir. His observations as much as the beauty of his own properties drew international attention, including that of important American landscapists throughout the 19th century.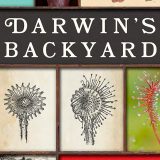 Seminar: Darwin's Backyard: How Small Experiments Led to a Big Theory
Friday, September 22, 2017
LuEsther T. Mertz Library; 11 a.m.–12 p.m.
Presented by the Humanities Institute of The New York Botanical Garden and the American Museum of Natural History—Darwin Manuscripts Project
James Costa, Ph.D., Director, Highlands Biological Station, Highlands, NC and Professor of Biology at Western Carolina University, Cullowhee, NC.
Charles Darwin is an iconic figure in evolutionary biology, but behind the icon is a naturalist with a twinkle in his eye and a passion for "fool's experiments." Sometimes quirky, often amusing, and always illuminating, Darwin's amazing array of hands-on experiments were an ever-present part of his home life. His inventive experiments yielded universal truths about nature, and evidence for his revolutionary arguments in On the Origin of Species and other watershed works. After the lecture, James Costa will sign books in the Mertz Library.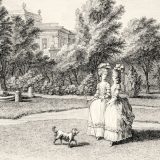 Carmontelle's Jardin de Monceau: Celebrating the Unique Garden Culture of 18th-Century France
Thursday, September 7, 2017
LuEsther T. Mertz Library; 2–4 p.m
Presented by the Humanities Institute of The New York Botanical Garden and the Foundation for Landscape Studies, New York.
This Colloquium marks the starting point of an important project: the publication of a facsimile edition in English of the richly illustrated Le Jardin de Monceau (1779) by Louis Carrogis de Carmontelle (1717–1806). Designed by Carmontelle for the Duc de Chartres, the garden still survives as the much-frequented Parc Monceau in the heart of Paris. The original layout of the garden, with its rich architectural and sculptural features, formed an ideal setting for the social life of the fashionable elite shortly before the French Revolution. The Jardin de Monceau by Carmontelle is a key cultural monument in the history of European garden design.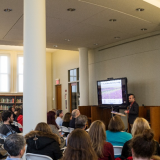 Colloquium:
Food, Tech, and the City
Friday, March 24, 2017
LuEsther T. Mertz Library; 2–4 p.m.
Presented by the Humanities Institute of The New York Botanical Garden in collaboration with Fordham University's Urban Consortium.
As one of society's most critical infrastructures, the food system must continuously evolve to meet the demands of a growing and increasingly urbanized population. Particularly in an age of unpredictable climactic change, how can we sustainably feed the cities of today and the distant future? And given the enduring inequities in food access that exist around the globe, how can we ensure that scientific and technological innovations in the food system lead to shared benefits for all? This colloquium speaks directly to these key questions, bringing together scholars and practitioners with areas of expertise that traverse plant biology, agriculture and design, and economics and consumer behavior. The conversation explores case studies in both the developed and developing world, considering the futures of food, technology, and the city—from seed to field to table.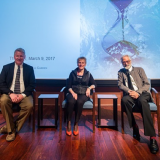 Symposium:
Threshold, Biodiversity, Climate and Humanity at a Crossroads
Thursday, March 9, 2017
Arthur and Janet Ross Hall; 10 a.m.
Humanity has reached a crossroads in the effort to combat climate change and protect biodiversity. As Earth's temperature rises closer to the danger limit set forth by scientists and world leaders in the
Paris Agreement, so does the risk of a range of truly catastrophic events, including extreme weather,
rising sea levels, and mass extinctions. How have we come so close to such a critical threshold? How
can we stop ourselves from crossing it?
In Threshold, three renowned scholars will discuss the implications of the climate crisis for the future
of life on Earth. By exploring the variety of scientific, cultural and political relationships between
humanity and biodiversity over time, these experts will address the elements needed to respond to the
most daunting challenge in human history. Threshold will conclude with a panel discussion and
questions from the audience on the prospects for a new environmental ethic for the 21st century.
Speakers
Shahid Naeem is Chair of Ecology in the Department of Ecology, Evolution, and Environmental Biology at Columbia University, and Director of Science in the Earth Institute Center for Environmental Sustainability, a multidisciplinary consortium aimed at the promotion of research related to environmental sustainability. Naeem has contributed numerous articles, papers and publications to important ecological journals and Proceedings of the National Academy of Sciences.
Ursula K. Heise is the Marcia H. Howard Chair in Literary Studies in the Department of English and the Institute of the Environment and Sustainability at the University of California, Los Angeles. Author of several books, including Imagining Extinction: The Cultural Meanings of Endangered Species (2016), she co-edits The Routledge Companion to the Environmental Humanities. Heise was a Guggenheim Fellow and President of the Association for the Study of Literature and the Environment.
John Nagle is the John N. Matthews Professor of Law at the University of Notre Dame, South Bend, Indiana where he teaches courses on environmental law, legislation and property in the United States and China. He received various Distinguished Lectureship awards to teach in China and has (co)authored more than 10 books and has published extensively in prestigious legal journals, including the Yale Law Journal and University of Pennsylvania Law Review.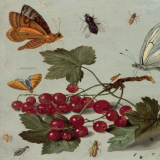 Colloquium:
Great Collections and the Art of Nature
Friday, January 27, 2017
Humanities Institute LuEsther T. Mertz Library; 2–3:30 p.m.
Presented by the Humanities Institute—LuEsther T. Mertz Library
In conjunction with the exhibition Redouté to Warhol: Bunny Mellon's Botanical Art, curated by Lucia Tomasi, Susan Fraser, and Tony Willis.
Hosted by the Humanities Institute—LuEsther T. Mertz Library, this Colloquium is organized in conjunction with the exhibition Redouté to Warhol: Bunny Mellon's Botanical Art, and focusses on the theme of great collectors and exceptional botanical art collections. Open to the public, this round-table will feature presentations by various experts who will each discuss, in different ways, the remarkable art of botanical collecting and some of its most famous protagonists, throughout the 20th-century and up to the present.
Speakers
Sir Peter Crane, President, Oak Spring Garden Foundation: Oak Spring as a New Research Center
Therese O'Malley, Associate Dean, Center for Advanced Study in the Visual Arts, National Gallery of Art: Great Collectors of Botanical Art and Their Legacy
Lugene Bruno, Curator of Art & Senior Research Scholar, Hunt Institute for Botanical Documentation, Carnegie Mellon University: Rachel Hunt's Botanical Art Collection as a Modern Research Center
Elizabeth Eustis, Independent Scholar, contributing author Flora Illustrata: The David L. Andrews and Elizabeth Kals Reilley Collections in the LuEsther T. Mertz Library of The New York Botanical Garden
Speakers
Sir Peter Crane, President, Oak Spring Garden Foundation: Oak Spring as a New Research Center
Therese O'Malley, Associate Dean, Center for Advanced Study in the Visual Arts, National Gallery of Art: Great Collectors of Botanical Art and Their Legacy
Lugene Bruno, Curator of Art & Senior Research Scholar, Hunt Institute for Botanical Documentation, Carnegie Mellon University: Rachel Hunt's Botanical Art Collection as a Modern Research Center
Elizabeth Eustis, Independent Scholar, contributing author Flora Illustrata: The David L. Andrews and Elizabeth Kals Reilley Collections in the LuEsther T. Mertz Library of The New York Botanical Garden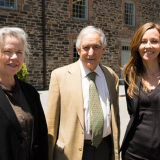 Symposium:
Alexander Von Humboldt: The History, Science, and Poetry of Ecology
May 20, 2016
Arthur and Janet Ross Hall; 10 a.m.–12:30 p.m.

Andrea Wulf, author of one of the New York Times' Ten Best Books for 2015, The Invention of Nature: Alexander von Humboldt's New World, kicks off our symposium celebrating the visionary naturalist Alexander von Humboldt (1769–1859). Among other accomplishments, Humboldt was the first to predict human-induced climate change, and wrote narratives that influenced great minds from Goethe to Darwin. Celebrated poet Susan Stewart and distinguished ecologist Stephen Kellert join Wulf to explore the rich and wide impacts of Humboldt's life and work.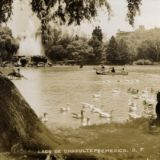 Summer Colloquium:
From the Garden of Eden to the Megalopolis: Mexico City Before and After Kahlo
Friday, June 26, 2015
In the LuEsther T. Mertz Library Reading Room; 2–4:30 p.m.
Join us at The New York Botanical Garden for an afternoon of lively discourse on landscape architecture and ecology in Mexico City, inspired by the Garden-wide exhibition, FRIDA KAHLO: Art, Garden, Life. Featuring experts in environmental studies and urban planning, the roundtable is meant to create a forum for new thinking about nature and rapidly changing modern environments.
Featuring:
Dr. Vera Candiani, Princeton University
Dr. Kathryn O'Rourke, Trinity University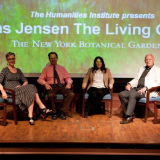 Jens Jensen The Living Green: Award-winning Documentary Film Screening and Panel Discussion
Earth Day, Wednesday, April 22, 2015
Arthur and Janet Ross Hall; 6:30–8:30 p.m.

Join us for the New York premiere of this award-winning documentary on Jens Jensen (1860–1951)—the Danish immigrant who rose from street sweeper to "dean of American landscape architects" and passionate environmental activist. Half a century after his death, Jensen is now hailed as an early champion of community gardens, neighborhood parks, native species, and sustainable design. After the screening, a panel explores Jensen's work and relevance to today's urban environmental issues.
Support provided by The Andrew W. Mellon Foundation
Cosponsor: Library of American Landscape History
"A beautifully-made film about a man whose ideas for public space perfectly fit the time we live in." —Piet Oudolf
"A thoughtful, compelling and inspiring documentary." —Chicago Tribune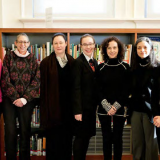 Colloquium:
The Healing Properties of Plants: Art, Culture, Science
Friday, February 20, 2015
In the Mertz Library Reading Room; 2–4 p.m.
The Humanities Institute is hosting a Winter Colloquium in collaboration with The New York Academy of Medicine. The colloquia will bring together students and teachers from a wide variety of interdisciplinary backgrounds to discuss medicinal plants and their intersection with art, culture, and science. Several NYBG botanists, researchers, and current Visiting Scholars at the Humanities Institute, will join the conversation as well as students and professors from surrounding academic institutions, including Fordham University, Columbia University, Bard Graduate Center, Montefiore Medical Center, among others.
The colloquia will be followed by light refreshments in the Mertz Library's Rotunda, a viewing of the exhibition Flora Illustrata: A Celebration of Botanical Masterworks, and an in-depth tour of the exhibition Wild Medicine in the Tropics in the Enid A. Haupt Conservatory.
The Humanities Institute hosts quarterly colloquia to engage young scholars and scientists from different interdisciplinary backgrounds to promote the discussion of environmental humanities and its influence on today's urban living experience. Learn more about past colloquia on NYBG's Blog, Plant Talk.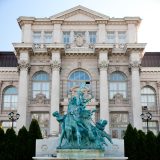 Symposium:
The Changing Nature of Nature in Cities
Friday, November 7, 2014
Ross Hall
From rampant urbanization to the alarming spread of invasive species and the rapidly increasing concentration of carbon dioxide in the atmosphere, human activities are impacting natural systems on a global scale. Nowhere is the impact of mankind on nature more evident than in cities, where forests have been razed, wetlands paved, shorelines bulwarked, and nature has been relegated to patches of parkland and isolated remnants of woodlands and wetlands. These urban refuges retain only a fraction of their historic biodiversity, but they do provide opportunity for the more than 50% of the global population that lives in cities to engage with the wonders and mysteries of nature.
The Changing Nature of Nature in Cities symposium will explore the concept of novel ecosystems that are the result of urban development, and ask if these much-maligned accidents of unbridled growth could ultimately mitigate the impacts of environmental change and re-introduce the wonder of nature in cities.
Speakers
Richard J. Hobbs, Ph.D.
School of Plant Biology, University of Western Australia (UWA)
Richard leads the Ecosystem Restoration and Intervention Ecology Research Group. Originally from Scotland, he spent three years in California and has been in Western Australia since 1984, working with CSIRO and at Murdoch University before joining UWA in 2009. He is the author of more than 300 scientific publications, author/editor of 20 books, and is Editor in Chief of the journal Restoration Ecology. He was elected to the Australian Academy of Science in 2004, is an ISI Highly Cited Researcher, and was 2011 Western Australian Scientist of the Year. His research focuses on effective ecosystem interventions in a changing world.
Peter Del Tredici, Ph.D.
Peter is an Adjunct Associate Professor of Landscape Architecture at Harvard School of Design. He is recently retired from the Arnold Arboretum after 35 years in a variety of capacities, from Plant Propagator to Director of Living Collections. His research interests are wide ranging and mainly involve the interaction between woody plants and their environment. Over the course of his career, Peter has worked with a number of plants, most notably Ginkgo biloba, conifers in the genera Tsuga and Sequoia, various magnolias, and several Stewartia species (family Theaceae). In all of his work, Peter attempts to integrate various aspects of the botany and ecology of a given species with the horticultural issues surrounding its propagation and cultivation. This fusion of science and practice has formed the basis of his teaching at the Harvard Graduate School of Design, especially as it relates to understanding the impacts of climate change and urbanization on plants in both native and designed landscapes. Most recently, the focus of Peter's research has expanded to the subject of spontaneous urban vegetation which resulted in the publication of Wild Urban Plants of the Northeast: A Field Guide(Cornell University Press, 2010).
Emma Marris
Emma is a freelance writer based in Klamath Falls, Oregon. Her stories cover the environment, evolution, energy, agriculture, food, language, books, and film, and have appeared in Conservation, Slate, Nature, Nature Medicine, and OnEarth. Recently, Ms. Marris has been experimenting with blogging about "small nature" in mostly urban settings in her blog, "Everyday Nature." She is the author of Rambunctious Garden: Saving Nature in a Post-Wild World (Bloomsbury, 2011).
Kate Orff
Kate is the founder of SCAPE / LANDSCAPE ARCHITECTURE and an Associate Professor at the Columbia School of Architecture, Planning and Preservation. Her work focuses on the cultural and physical complexity of urban landscapes and their unique textures, ecologies, programs, and publics.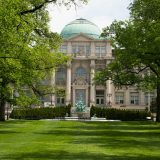 Symposium:
Women and the City: From a Landscape Perspective
Friday, June 20, 2014
Cities are the grand challenge of the 21st century, and for over 100 years, women have played a crucial, if under-celebrated, role in shaping and adapting our urban spaces. Award-winning author and landscape historian Thaisa Way, ASLA, leads a
fascinating session with four experts in landscape scholarship and practice that examines the ways women have in uenced how we look at—and live in—the modern city. The symposium is inspired by the Garden-wide exhibition, Groundbreakers: Great American Gardens and The Women Who Designed Them (on view through September 7, 2014).
Speakers
Mary Woods
Michael A. McCarthy Professor of Architectural Theory at Cornell University
Linda Jewell
Professor of Landscape Architecture and Environmental Planning at the University of California Berkeley
Sonja Dümpelmann
Associate Professor of Landscape Architecture at the Harvard Graduate School of Design
Susannah C. Drake
Founding Principal, dlandstudio architecture + landscape architecture pllc in Brooklyn