Celebrate Asian American and Pacific Islander Heritage Month
Monday, May 1, 2023 – Wednesday, May 31, 2023
Onsite | Online
Join us for a celebration of Asian American and Pacific Islander Heritage Month programs at NYBG! Take part in on-site tours, programs on the traditional Japanese floral art of Ikebana, displays of Chinese poetry, and more.
Poetry in the Conservatory Aquatic House
Enid A. Haupt Conservatory Aquatic House
Throughout May, spend some time in the Enid A. Haupt Conservatory's aquatic and hanging vines house, where you'll discover a selection of poems paired with details from a hand scroll by Ming dynasty painter Qian Gu 錢穀 (1508–ca. 1578).
In the year 353 CE, the "Sage of Calligraphy," Wang Xizhi 王羲之, and 41 of his friends gathered at the Orchid Pavilion, present day Zhejiang Province, to immerse themselves in nature and engage in a poetry competition. The event—and the poetry it produced—became one of the most famous moments in Chinese literary history.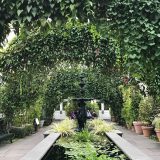 Mertz Library Book Display
In celebration of AAPI Month, visit the LuEsther T. Mertz Library and enjoy featured family-friendly and educational titles on display. Check out a book with your Library Card, or sign up for one at the Registration Desk.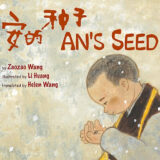 Chinese Character Drawing with NYCCC
Hear from Angela, an art teacher at the New York Chinese Cultural Center, as she demonstrates how to draw the Chinese character for "spring" pictured here!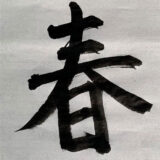 Floral Design Showcase: The Art of Ikenobo Ikebana 
Pre-recorded lecture video (occurred October 6, 2022)   
Discover the beauty and philosophy of Ikenobo Ikebana, an elegant floral art form with roots in 15th-century Japan, that tells stories of the ever-changing beauty of life and nature. Ikebana master Professor Joseph Lam—who holds the highest possible Ikenobo ranking (Sokatoku rank 18)—designs an array of arrangements with flowers and branches chosen at the last minute to demonstrate how the language of Ikenobo Ikebana has evolved from classical to modern times. 
Asian Plant Tours
Throughout May; Guided and Self-guided tours

Enjoy guided and self-guided tours of our various East Asian collections throughout the Garden's 250 acres. Either with our knowledgeable Volunteer Guides, or explore through PlantTracker at your own pace.
Unusual Asian Plants Tour
Self-Guided
NYBG's living plant collections feature plants from around the world. This tour celebrates some of our favorite Asian plants.
Start Tour of Unusual Asian Plants on PlantTracker
Trees of Asia Tour
Guided; Various dates & times
Explore the Garden landscape and learn more about Japanese maples, Tanyosho pines, and other trees native to Asia with an NYBG Tour Guide.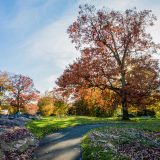 History of the Mertz Library: Rose Li
Born in China and raised in Taiwan, Rose Li became an Associate Librarian in 1983, becoming the first Asian-American librarian in charge of Mertz Library's Technical Services department. Supervising and training staff, Li also used her knowledge of the Asiatic and French languages to transcribe and create catalog records.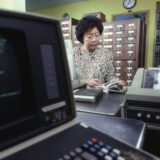 Flowers on a River: Discovering Plants in Art with the China Institute
Ongoing; Self-Guided Tour on Garden Grounds
Two of the highest forms of Chinese art, painting and calligraphy, have long venerated flowers and trees as favored artistic subjects. Explore the Garden's diverse collections and spring blooms through the lens of this ancient artistic tradition using the Bloomberg Connects App.
In partnership with the China Institute's new exhibition Flowers on a River: The Art of Chinese Flower and Bird Painting, 1311–1911, NYBG presents a walking tour of our grounds highlighting the plants featured in the masterworks of the China Institute's new exhibition.
Sun Di (dates unknown)
Grand Hall of Jade and Affluence
Hanging scroll; ink on silk
Collection of the Tianjin Museum
Photo courtesy of China Institute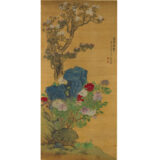 Cultivating Diversity—One Seed at a Time...
Explore NYBG Shop's collection of seeds on offer to discover East Asian fruits, vegetables, herbs, and more that you can grow at home.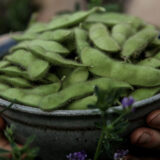 "Weather Magic" Practices in the Pacific Nation of Vanuatu
Together with a group of colleagues in the United States and in Vanuatu, NYBG Scientists recently published a study on how plants are used in "weather magic," representing centuries-old rituals and other practices intended to understand and even influence the weather.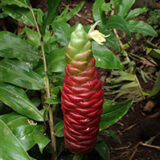 Isabella Iona Abbott: First Lady of Limu
Before Dr. Isabella Aiona Abbott became the first Native Hawaiian woman to receive a doctorate in science, before the 150 journal articles and 8 books, before she was named the "First Lady of Limu," she was a young girl collecting seaweed on the shores of Honolulu with her family.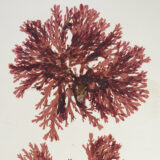 Lead image: Acer palmatum 'Hupp's Red Willow'—Japanese maple in the Steinhardt Maple Collection