Daffodil Weekend
April 29 & 30, 2023
11 a.m.–3 p.m. | At the Garden
As part of our Spectacular Spring Weekends, join us on Daffodil Hill to explore the living collections and participate in seasonal activities, demonstrations, and fun arts and crafts inspired by the vibrant yellow blooms.
With spring's bloom playing out on a rapid schedule this year, and sudden warm weather bumping up the flowering of several of our collections by as much as two weeks, hear from Todd Forrest, Arthur Ross Vice President for Horticulture and Living Collections, as he discusses the surprises of 2023's season of renewal. As the season continues to progress, we'll be pointing visitors to the best seasonal spectacles on each weekend.
Open Air Studio
12–3 p.m.
Daffodil Hill

Join us on Daffodil Hill for a guided collage session from Bronx Community Collage celebrating NYBG's heirloom daffodil collection!
Create your own collage using archival images of the crabapples, daffodils, and lilacs in bloom. Vinyl collective Uptown Vinyl Supreme joins the fun to spin live DJ sets inspired by the sounds of spring.
Collage expert Buddy YoMA has assembled an all-star lineup of Bronx-based artists and musicians, with Uptown Vinyl Supreme's Sunny Cheeba, Delaceiba, and Alexis Marcelo  offering inspiring tunes out on the Hill. You won't want to miss the Community Collage Jam celebrating the arrival of the daffodils!
Collage Artists: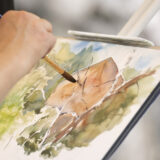 Spring Stoop & Window Box Demonstrations
11 a.m.–2 p.m.
Daffodil Hill
Join us to learn how to beautify your stoop or window box through a guided demonstration with Materials for the Arts. Take home your creation to bring a little love to your block!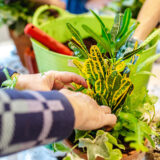 Lawn Games
Enjoy an assortment of family-friendly games, including Cornhole, Ladder Toss, Ring Toss, Giant Jenga, Giant Connect 4, Giant Chess, and Hoola Hoops.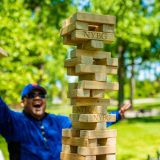 Bronx Arts Ensemble and the New York Philharmonic
April 29; 2 p.m.
At the Garden
The Bronx Arts Ensemble Wind Quintet joins the string players of the New York Philharmonic to present a program of works inspired by nature and our environment, featuring contemporary women composers.
Drawing on experience of travel and retreat in extraordinary places, these composers have created a sonic world that evokes the natural world they were visiting.
Repertoire includes:
Dorothy Rudd Moore: Transcension – I Have Been to the Mountaintop for mixed octet
Laurel Zucker: Galapagos for Wind Quintet
Amy Beach: Pastorale for Wind Quintet
Laurel Zucker: Aurora Borealis for Wind Quartet
Antonín Dvorak: American Quartet
Performers:
BAE Wind Quintet: Theresa Norris, flute; William Meredith, oboe; Mitchell Kriegler, clarinet; Wilden Dannenberg, French horn; Atsuko Sato, bassoon.
New York Philharmonic Players: Fiona Simon, violin; Sharon Yamada, violin; Robert Rinehart, viola; Alexei Gonzalez, cello
Performance is complimentary with Garden grounds admission, and will be followed by a Q&A with representatives from both organizations.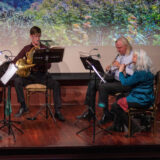 Tours
Join us for seasonal tours of Daffodil Hill and more.
Daffodil Hill Tour
Saturday only; 12 & 1 p.m.
Meet at Daffodil Hill
The Garden springs to life with tens of thousands of daffodils in spring. Daffodil Hill includes many antique cultivars planted in the early 20th century. Explore this dramatic landscape with an NYBG Tour Guide.
Bird Tour
Sunday only; 11 a.m.
Meet at the Reflecting Pool
Join an expert bird guide from NYC Audubon for a tour of NYBG's diverse landscape to learn why this unique green space is such a vital haven for a great variety of species year-round. NYC Audubon is a grassroots community that works for the protection of wild birds and habitat in the five boroughs, improving the quality of life for all New Yorkers. Participation is on a first-come, first-served basis.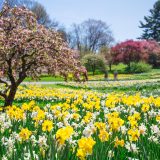 NYBG Shop
Spring is in the air! Whether you are looking for tools to tend to your garden, home decor, stationary, or beautiful plants, NYBG Shop has a wide selection of seasonal merchandise for everyone.