EcoFlora Seminar:
Urban Gene Pools
Tuesday, March 21, 2023
5 p.m. | Online
Reservoirs of Adaptive Potential and the Seed Collectors Who are After It
The flora of New York City is unique and has evolved alongside an ever-changing landscape that is fragmented, altered, polluted and beautiful. The valuable genetics of these plants species and the local adaptations are wrapped up in their seed. For decades, the Seed Collectors at the Greenbelt Native Plant Center have traveled to all the reaches of the five boroughs and beyond to capture this critical natural resource. The Seed Collection program and process is the foundation of all production at the nursery…as we always like to remind everyone "Every seed is a possible plant".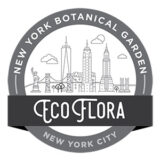 About the Speaker
Heather Liljengren is the Supervising Seed Collector/Field Taxonomist for the NYC Parks Greenbelt Native Plant Center located in Staten Island. Ms. Liljengren actively manages the seed collection and banking programs at the 13-acre greenhouse, nursery and seed bank complex, which provides local genetic source material for restoration projects throughout New York City.
For 10 years she was an advisor to the Mid-Atlantic Regional Seed Bank (MARS-B), a cooperative conservation effort to collect seed from targeted native plant species across every eco-region in the Mid-Atlantic. As a public speaker and teacher throughout the NYC Metro Area, Ms. Liljengren promotes the importance of using locally adapted native plant species in every reach of restoration and functional landscape design. In her spare time, she is busy with her family- fostering the love of all things green with her two children and listening to her husband butcher the Latin names of all those green things.