Essential Oils in Their Social and Geographical Environment: An Experience for the Senses
Friday, January 19, 2018
11 a.m. – 12 p.m.
There is no fee required. Please enter the Garden through the Mosholu Gate, 2950 Southern Blvd., Bronx NY, 10458, and check in at the LuEsther T. Mertz Library on the 6th floor of the Library Building.
Laure Moutet Manheimer will "free essential oils from their dark brown bottles" by tracing plant extracts back to their source. Discover where the plants come from, who the people are that grow them, and learn how essential oils are extracted.
The journey will take the audience from the lavender fields of France to the hills of Morocco, where rosemary fills the fields after spring rains. From the shores of Indonesia we will travel to the land of patchouli, vetiver, and clove. In China, eucalyptus and citronella will be looked at, and one will be refreshed by the smell of citrus, coming from Brazil and Italy. As a final treat, the audience will be delighted by floral absolutes: jasmine, mimosa, and rose.
For those with allergies or sensitivity to fragrance, please note that fragrance tester strips will be handed out during the presentation for sampling of various essential oils.
About Laure Moutet Manheimer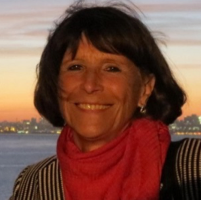 Born in Grasse, France, Laure Moutet is a third-generation essential oils expert, serving the flavor and fragrance industry. "This business is in my genes, it is my passion and my true area of expertise," she says.
Laure has run the family business since the 1970s, selling essential oils, aroma chemicals, and dry botanicals (for potpourri) to the flavor, fragrance, and aromatherapy industries. Extensive trips across five continents to study plant sources in remote areas of the globe gave Laure firsthand knowledge of essential oils and botanicals, which she shares with customers and colleagues alike. Recently retired, Laure continues to be active in various industry organizations and serves on the board of the European Federation of Essential Oils (E.F.E.O.).