For Love and Only for Love: Letters to New York
December 19, 2020 – February 14, 2021
Ongoing 12 p.m. – 4 p.m. | At the Garden
NYBG partners with Make Music New York on their annual winter solstice festival with the world premiere of "For Love and Only for Love: Letters to New York," an immersive choral installation by composer Pete Wyer. Explore the Native Plant Garden at your own pace and socially distanced, as prerecorded music – performed by choirs of up to 72 voices projected over 24 independent speakers – inspires reflection of love, gratitude, acceptance, and our connection with nature during the pandemic.
About the Composer
Pete Wyer is a self-taught London based composer who has created scores for the London Symphony Orchestra, Royal Philharmonic Orchestra, Juilliard, BBC Radio and the Royal Opera House.
He has, over many years, developed a system of scoring which incorporates space as well as pitch, rhythm, tone and dynamic resulting in sound installations that use up to 72 independent audio speakers but retain the conventional scoring of classical music. His 'iForest' installations have received hundreds of thousands of visitors since the first one, commissioned in 2016 by WNYC's New Sounds Live. John Schaefer, presenter of WNYC New Sounds, described iForest as an "extraordinary sonic experience"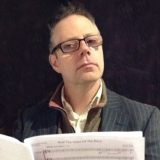 Open Letter to New York
Composer Pete Wyer talks about his new choral installation at NYBG.
Choral Installation Pathway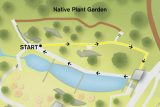 About the Music
Discover five "letters;" each performed by choirs of up to 72 voices, played over 24 audio speakers carefully positioned along the Native Plant Garden's Woodland Path. The music plays on a continuous loop and you may enter the pathway at any moment during the performance.
For Love and Only for Love
The words of this work's title are sung in English. Listen carefully. Deep within the choral texture you may also catch the word for "love" sung very softly in multiple languages including French, Spanish, German, Polish, Russian, Hindi, Marathi, Italian, and Chinese. Rising against a raging storm that thunders around the speakers, the chant of "for love and only for love" is one of defiance, leading us ultimately to a quieter place of peace and acceptance.
And only for now,
For love and only for love.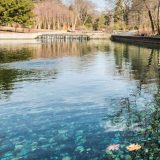 The Sky Beneath Our Feet
A message of thanks to the natural world and a moment of contemplation.
The words of this work's title are repeated throughout by the singers in Finnish and Japanese:
Taivas jalkojemme alla.
私たちの足の下の空。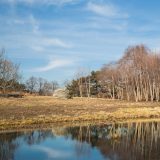 How Beautiful You Are
In this work, the singers are vocalizing interpretations of animal courtship rituals and variations of the word "love" in many different languages.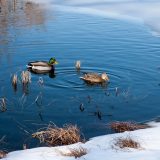 Mannaz
"Mannaz" comes from ancient Norse, it means both "man" and "divine harmony." This work begins with 72 independent melodic lines that gradually merge into a single melody. Each vocal line is a transcription of birdsong, inspired by the theory that human speech is partly evolved from birdsong. The final chorus is sung in Finnish:
Syntynyt maasta, syntynyt auringosta, syntynyt taivaasta.
Born of the earth, born of the sun, born of the sky.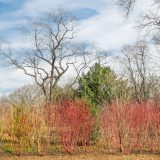 Niá:wen!
Ohen:ton Karihwatehkwen, the Thanksgiving Address, is the central prayer for the Mohawk Nation and the other nations that comprise the Haudenosaunee people; it is said as a daily sunrise prayer and opens and closes gatherings. Sung entirely in Mohawk (with translation by Amalli Nalli, member of the Mohawk Tribe, Akwesasne, NY), this movement is inspired by the ancient philosophy of thanking Earth and each part of nature, concluding each time with "now our minds are one."
Akwé:kon énska
Entitewahwe'nón:ni
Onkwa'nikòn:ra
Tánon
Teiethinonhwaraton Ne
Onkweshón:'a
Ionkhi'nisténha Ohwéntsia
Ohneka'shón:'a
Kentsion'shón:'a
Ohonte'shón:'a
Kahishón:'a
Ononhkwa'shón:'a
Kaienthóshera
Kontírio
Nia'tekakwírake
Otsi'ten'okón:'a
Kaié:ri Nikawerá:ke
Ionkhihsothokón:'a Ratiwé:ras
Sonkwahtsí:'a Kiohkehnékha Karáhkwa
Ionkhihsótha Ahsonhthenhnékha Karáhkwa
Iotsistohkwarónion
Kaié:ri Niionkwé:take
Shonkwaia'tíson
Tho niiohtónhak ne onkwa'nikòn:ra
Sewarihónia iethiien'okón:a tsi ohwentsiake ne ionkwa'nisténsera
O'kén:ra
Ó:iente
Ohné:kanos
Iohnhonwataien
Kahionhatáke
Ká:nen
Karonhiá:ke
Ó:kwire
Onèn:ta
Onenia'shon:'a
Ohwentsià:ke
Kaniá:tara
Otsi'tsia'shón:'a
Kontatewenniio
Oskenón:ton
Tsikara'kwístak
Terí:teri
Tsistekeriiá:kon
Otsi'nahkontahkwá:ne
Takwa'áhson
Tewattsirókwas
Tsiki'nhontstókhi
Tsiktsinón:nawen
Iaonhará:ien
Iaó:te
Iokennó:ron
Io'keren:'en
Ioráhkote
Tekanien'kwataséhne
Konnorónhkwa':sera
Konnorónhkwa
Atohnhetshera
Skén:nen
Niá:wen
Atenró:sera
Wahta
Ononta'
Onontá:wanen
Sewatahonsatàt
Tsa'tekaia'takweh:ti:io
Kaná:ieta
Kaianase
Tsi shé:kon ionkwátkatho
Ó:wera
Kaniehtahkwá:tshera
We are all one/everyone is one
We will wrap/put together
Our minds
And
We give our greetings, thanks and love to
The people
Our Mother Earth
The waters
The fish
The plants
The fruit
The medicines
The food plants/harvest plants
The animals
The trees
The birds
The four winds: east, west, north, south
The thunders
Elder brother the sun
Grandmother moon
The stars
The four beings, enlightened teachers
The creator
Now our minds are one
Teach your children that the earth is our mother
Dirt, soil
Wood
Water
Puddle, pond
Stream, creek
Seed
The sky, heaven
Tree, sapling
Evergreen, conifer
Rocks
World, ground, earth
River, body of water
Flowers
Wild plants
Deer
Robin
Bluejay
Owl
Bee
Spider
Firefly
Ant
Butterfly
There is frost on the ground
It is windy
It is raining
It is snowing
It is sunny
A storm is coming
Love
I love you
Spirit
Peace, serenity
Thank you
Friendship
Sugar maple
Hill
Mountain
Listen all of you, open your ears
Equality, matters of equal level
A sense of pride, dignity, honor
Rights, the power of goodness
May we still see, may we continue to greet
Air
Trust, believe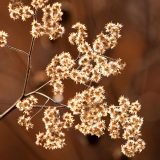 In the event of inclement weather, this program may be temporarily suspended.