NYC EcoFlora & NY Mycological Society Co-Hosting a Fungal Foray in Alley Pond Park, Queens
Sunday, January 29, 2023
10 a.m. | Off-Site
NYC EcoFlora and the NY Mycological Society are co-hosting a fungal foray in Alley Pond Park on January 29 at 10 am.
Whether you are new to the world of fungi, or are an experienced mycologist, come join us to explore the park, share knowledge, and discover some amazing organisms! Led by Misha Zitser, an active iNaturalist contributor and fungi enthusiast, the walk will last 3+ hours. Make sure to dress warmly, and bring water and a snack, as well as a hand lens if you have one (we will have extras to borrow).
For more information on what to expect, check out the NY Mycological Society's FAQ page.
About Misha
Misha Zitser has spent the last two years observing the flora, fauna and funga of New York City. He joined the iNaturalist community in 2020 and has been actively contributing observations to the New York City EcoFlora project.
He is also a prolific contributor to the New York Mycological Society's "Fungi of NYC" project. While Misha enjoys traveling through the city's boroughs, most of his observations are from the parks in his backyard – two beautiful, forested parks in Queens, Alley Pond Park and Cunningham Park. As Misha puts it, "Here, less than an hour away from the skyscrapers of Manhattan, I can observe White-tailed deer, Red foxes, flying squirrels, Great Horned Owls and even Coyotes.Every day that I venture into the woods, I am surprised by something new. I may find a species of plant or fungi that I haven't seen before, or perhaps a new bird or insect. One time, I witnessed a dramatic tussle between a Silver-haired bat and a Red-bellied woodpecker. Mother Earth takes her time to reveal her secrets. Discovering these secrets is what drives me to go to the woods every day."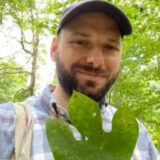 Getting There
The park is most easily accessible by car, but there are several public transportation options as well.
Via public transit, take the QM6 bus towards Lake Success N Shore Towers to the Union Turnpike-Winchester Blvd stop. Alternatively, take the E or F to Kew Gardens-Union Turnpike, then take the Q46 bus towards Lake Success LIJ Hospital to the Union Turnpike-Winchester Blvd stop.
We will meet at 10 a.m. in the southeastern portion of the park, near the tennis courts on Winchester Road.