About KUSAMA: Cosmic Nature
Yayoi Kusama
One of the most critically acclaimed artists of our time, Yayoi Kusama has produced work throughout her career that expresses her fascination with the natural world and profound engagement with nature in a variety of mediums and formats.
Her earliest sketches capture the bright blooms in the hot houses of her family's nursery. In recent decades, her work has included mesmerizing installations, large-scale public sculptures of tulips and pumpkins, and prolific series of paintings referencing natural forms. Strong connections exist between this current work and the drawings and paintings of plants and landscapes the artist completed beginning in her teens.
Living in New York City from 1958 to 1973, Kusama participated in avant-garde circles while honing her signature dot and net painting motifs, developing soft sculptures, creating installation-based works, and staging spontaneous performance art. Following her return to Japan, her work became increasingly personal, while also engaging with universal themes of life and death and the interconnectedness of living things. Beginning in the late 1980s, international attention coalesced around Kusama's work, resulting in her selection to represent Japan at the 1993 Venice Biennale, and numerous blockbuster exhibitions worldwide.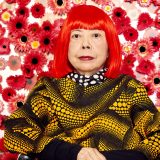 Mika Yoshitake, Ph.D.
Mika Yoshitake, Ph.D., Guest Curator of KUSAMA: Cosmic Nature, is an independent curator specializing in postwar Japanese art.
She earned her M.A. and Ph.D. in Art History from UCLA, which culminated in the AICA-USA award-winning exhibition and catalogue, Requiem for the Sun: The Art of Mono-ha (2012) at Blum & Poe. She was Curator at the Hirshhorn Museum and Sculpture Garden (2011–18) in Washington, D.C., where she curated Yayoi Kusama: Infinity Mirrors (2017–19); and helped to organize Lee Ufan: Marking Infinity (2011) at The Guggenheim, New York, and the international tour of © MURAKAMI (200–09) at the Museum of Contemporary Art, Los Angeles. She was recently Curator of Topologies (May 2018–April 2019) at The Warehouse in Dallas, Texas, and a major two-part survey, Parergon: Japanese Art of the 1980s and 1990s (February–May 2019), at Blum & Poe, Los Angeles. She is Guest Curator at LACMA for the international tour of Yoshitomo Nara (2020–21) and a major museum retrospective in Asia (2022–23). Yoshitake has contributed to numerous publications, including Artforum, Art in America, Bijutsu Techō, Exposure and Kaleidoscope.
On April 15 in the online lecture Cosmic Nature: Embracing the Unknown, Dr. Yoshitake will discuss the organic forms central to Yayoi Kusama's unique vision that integrates nature and human nature, the earthly and the cosmic. Learn more.