Contemporary Dance Series
April – October 2021
Saturdays & Sundays
2–5 p.m.
A series of spontaneous outdoor performances celebrate the infinite possibilities of our connection with nature and each other.
Mark Morris Dance Group
June 5, 6, 12, 13, 19, 20, 26, & 27
Formed in 1980, Mark Morris's internationally-renowned Mark Morris Dance Group (MMDG) has received "highest praise for their technical aplomb, their musicality, and their sheer human authenticity." —Bloomberg News
Live music and community engagement are vital components of the Dance Group. It has toured with its own musicians, the MMDG Music Ensemble, since 1996, and regularly collaborates with orchestras and opera companies around the world. The Mark Morris Dance Center was opened in 2001 to provide a home for the Dance Group, subsidized rental space for local artists, programs for local children and seniors, and dance classes for students of all ages and abilities.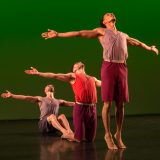 Pigeonwing Dance
July 3, 4, 10, 11, 17, 18, 24, & 25
The New Yorker has described Pigeonwing Dance as "eccentric…playful…curious". Founded by 2020 Guggenheim Fellow Gabrielle Lamb, the company chose the name "Pigeonwing" for its blend of airiness and NYC grit.
"??? ? ?????? ????": Execute intricate dance steps with grace; dance in a fancy way  
— ?????????? ?? ???????? ???????? ???????
Since its first steps in 2011, Pigeonwing has been presented by the CUNY Dance Initiative, 92Y's Harkness Dance Festival, Bryant Park, Jacob's Pillow, and Works and Process at the Guggenheim. In 2018 the Pigeons were the first dance company commissioned by Symphony Space's beloved Selected Shorts. Their 2020 Carpet Series, performed on and around a 5×8 Persian rug, was performed 80+ times in 20 NYC locations and was featured in the NY Daily News and DANCE Magazine. 
Photo by Charles Roussel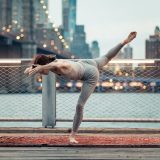 Pilobolus
April 10, 11, 17, 18, 24, & 25
May 1 & 2
July 31, August 1, 7, 8 & 14

Pilobolus is a rebellious dance company whose repertoire tests the limits of human physicality to explore the beauty and power of connected bodies.
Since 1971 they have appeared in more than 65 countries, and have collaborated with some of the greatest influencers, thinkers, and creators in the world. 2021 will bring exciting new projects: outdoor performances, an adaptable and nimble touring show of classics called Four@Play, and a new edition of their sold-out outdoor "car art safari" this summer in Connecticut, now called BLOOM: A Journey—all while prepping the Big Five-Oh! anniversary tour this fall.
They will perform excerpts from Symbiosis.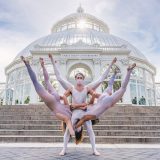 Paul Taylor Dance Company
August 21 & 22, September 18, 19, 25, & 26
One of the most famous and dynamic modern dance ensembles of our time, the Paul Taylor Dance Company has been innovating and transforming the art form of modern dance since 1954.
Founded by cultural icon and legendary dancemaker Paul Taylor, the 16-member Company houses 64 years of Taylor's unrivaled creativity and over a dozen contemporary commissions. Known for multi-disciplinary collaborations, passionate expression, and thrilling athleticism, the Company has performed in more than 500 cities in 64 countries, representing the United States at arts festivals in more than 40 countries and touring extensively under the aegis of the U.S. Department of State. The Company, under the leadership of Artistic Director Michael Novak, continues boldly into the future.
Photo by Paul B. Goode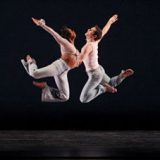 BAAD! Bronx Academy of Arts & Dance
August 28 & 29, September 4, 5, & 6
Co-founded in 1998 in Hunts Point's historic Banknote Building by award-winning dancer/choreographer Arthur Avilés and writer/activist/publicist Charles Rice-Gonzalez, BAAD! (The Bronx Academy of Arts and Dance) began as a home for Arthur Avilés Typical Theatre, a contemporary dance company that explores works on the margins of Latinx and queer cultures.
Arthur Avilés, is a gay New York-Rican dancer/choreographer living in the Bronx. Alongside his work with BAAD!, he is also a member of the Bill T. Jones/Arnie Zane Dance Company from (1987 to 1995). Avilés was honored with a Bessie Award, a BRIO, Bronx Recognizes its Own Award, a NYFA Fellowship, the Mayor's Award for Art and Culture, a NEA Master's Grant from Pregones Theatre. He received a B.A., an Arts and Letters award and honorary doctorate from Bard College.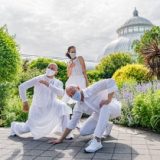 Trainor Dance
May 8, 9, 15, 16, 22, 23, 29, 30, & 31
September 11 & 12, October 2 & 3

Caitlin Trainor founded Trainor Dance in 2011 with a focus on robustly physical, interdisciplinary work.
Trainor's choreography maintains a commitment to highly musical, visually stimulating work, with soundtracks ranging from Mozart and electronica to breath and body percussion. With as much humanity as virtuosity, Trainor Dance maintains a through line of conceptual inventiveness and spirited performances. Trainor Dance deeply values community, creating dances for the theater, special locations, and extraordinary events through collaborative processes. Their repertory includes pure dance, experimental dance, game-based and site work, and the company wants to share it with you. They will be performing two original works: Spring Fever and Narcissism.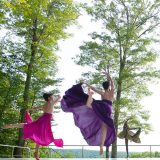 Ballet Hispánico
October 9 & 10
Ballet Hispánico is the nation's renowned Latino dance organization and one of America's Cultural Treasures. Artistic Director & CEO, Eduardo Vilaro, has infused Ballet Hispánico's legacy with a bold brand of contemporary dance that reflects America's changing cultural landscape.
Founded in 1970 by National Medal of Arts recipient, Tina Ramirez, the organization emerged during the post-civil rights movement on New York's Upper West Side, providing a safe haven for primarily Black and Brown Latinx youth seeking artistic sanctuary during New York City's plight in the 1970s. The need for place, both culturally and artistically, led families to find Ballet Hispánico. The focus on dance as a means to develop working artists, combine with the training, authenticity of voice, and power of representation, fueled the organization's roots and trajectory. The organization serves as a platform for historically limited and overlooked artists providing them with increased capacity, voice, and affirmation.
Ballet Hispánico in Sombrerísimo | Photo by Paula Lobo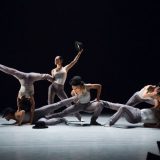 Dance Theatre of Harlem
October 16 & 17
Founded in 1969 by Arthur Mitchell and Karel Shook, Dance Theatre of Harlem (DTH) is a leading, multi-ethnic classical ballet company known for its forward-thinking repertoire. DTH presents both classical works as well as innovative, contemporary works that explore culture through dance. Mitchell's vision for the company is to be "both respectful of the form and bravely pushing its edges."