Contemporary Dance Series
April – July 2021
Saturdays & Sundays
2–5 p.m.
A series of spontaneous outdoor performances celebrate the infinite possibilities of our connection with nature and each other.
Stay tuned for additional performers.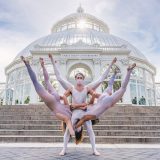 Pilobolus
April 10, 11, 17, 18, 24, & 25
May 1 & 2
Pilobolus is a rebellious dance company whose repertoire tests the limits of human physicality to explore the beauty and power of connected bodies.
Since 1971 they have appeared in more than 65 countries, and have collaborated with some of the greatest influencers, thinkers, and creators in the world. 2021 will bring exciting new projects: outdoor performances, an adaptable and nimble touring show of classics called Four@Play, and a new edition of their sold-out outdoor "car art safari" this summer in Connecticut, now called BLOOM: A Journey—all while prepping the Big Five-Oh! anniversary tour this fall.
They will perform excerpts from Alraune and Pilobolus Is a Fungus.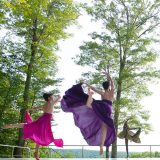 Trainor Dance
May 8, 9, 15, 16, 22, 23, 29, 30, & 31
Caitlin Trainor founded Trainor Dance in 2011 with a focus on robustly physical, interdisciplinary work.
Trainor's choreography maintains a commitment to highly musical, visually stimulating work, with soundtracks ranging from Mozart and electronica to breath and body percussion. With as much humanity as virtuosity, Trainor Dance maintains a through line of conceptual inventiveness and spirited performances. Trainor Dance deeply values community, creating dances for the theater, special locations, and extraordinary events through collaborative processes. Their repertory includes pure dance, experimental dance, game-based and site work, and the company wants to share it with you.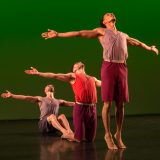 Mark Morris Dance Group
June 5, 6, 12, 13, 19, 20, 26, & 27
Formed in 1980, Mark Morris's internationally-renowned Mark Morris Dance Group (MMDG) has received "highest praise for their technical aplomb, their musicality, and their sheer human authenticity." —Bloomberg News
Live music and community engagement are vital components of the Dance Group. It has toured with its own musicians, the MMDG Music Ensemble, since 1996, and regularly collaborates with orchestras and opera companies around the world. The Mark Morris Dance Center was opened in 2001 to provide a home for the Dance Group, subsidized rental space for local artists, programs for local children and seniors, and dance classes for students of all ages and abilities.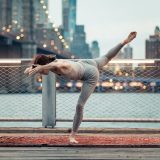 Pigeonwing Dance
July 3, 4, 10, 11, 17, 18, 24, & 25
The New Yorker has described Pigeonwing Dance as "eccentric…playful…curious". Founded by 2020 Guggenheim Fellow Gabrielle Lamb, the company chose the name "Pigeonwing" for its blend of airiness and NYC grit.
"𝗰𝘂𝘁 𝗮 𝗽𝗶𝗴𝗲𝗼𝗻 𝘄𝗶𝗻𝗴": Execute intricate dance steps with grace; dance in a fancy way  
— 𝘋𝘪𝘤𝘵𝘪𝘰𝘯𝘢𝘳𝘺 𝘰𝘧 𝘈𝘮𝘦𝘳𝘪𝘤𝘢𝘯 𝘙𝘦𝘨𝘪𝘰𝘯𝘢𝘭 𝘌𝘯𝘨𝘭𝘪𝘴𝘩
Since its first steps in 2011, Pigeonwing has been presented by the CUNY Dance Initiative, 92Y's Harkness Dance Festival, Bryant Park, Jacob's Pillow, and Works and Process at the Guggenheim. In 2018 the Pigeons were the first dance company commissioned by Symphony Space's beloved Selected Shorts. Their 2020 Carpet Series, performed on and around a 5×8 Persian rug, was performed 80+ times in 20 NYC locations and was featured in the NY Daily News and DANCE Magazine. 
Photo by Charles Roussel