Contemporary Music Series
Thursdays, July 1–August 26
6:30–8:30 p.m.
A series of pop-up musical performances that celebrate the infinite possibilities of our connection with the universe and each other. These performances are included in your KUSAMA Garden & Gallery Pass or KUSAMA Garden Pass tickets.
Sandbox Percussion
July 1, 8, 15, & 29
Described as "virtuosic and utterly mesmerizing" by The Guardian, Sandbox Percussion has established themselves as a leading proponent in this generation of contemporary percussion chamber music.
Brought together by their love of chamber music and the simple joy of playing together, Sandbox Percussion captivates audiences with performances that are both visually and aurally stunning. Through compelling collaborations with composers and performers, Jonathan Allen, Victor Caccese, Ian Rosenbaum and Terry Sweeney seek to engage a wider audience for classical music.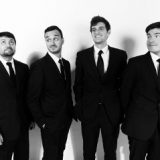 Johnny Mambo
July 22
In partnership with Carnegie Hall Citywide, hear sizzling salsa performed by Bronx native Johnny Mambo and some of his close musical collaborators.
Mambo's band is propelled by energetic rhythms from hard-driving bongos, congas, and timbales, and punctuated by biting brass, transporting the listener to a San Juan dance club. Band lineup features Johnny Mambo (bongo), Jose Gomez (vocals), Jesse Perez (conga), Adan Perez (piano), and Manny Lanzot (bass).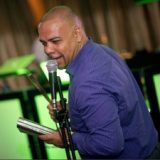 Music Curated by Jazz at Lincoln Center
During August, Jazz at Lincoln Center has curated a lineup featuring visionary jazz musicians on the scene today.
Leadership support for Jazz at Lincoln Center's outdoor concert series provided by Lisa K. Meulbroek and Brent R. Harris, with major support provided by Susan and J. Alan Kahn.
Giveton Gelin
August 5
At age 10, Gelin taught himself to play the trumpet simply by emulating his favorite records. After years of self-instruction, Adrian D'Aguilar, bass player, began to mentor him; thereby, providing him the tools to play jazz.
Later on, the Nassau-born trumpeter would study with Dr. Eddie Henderson at the Oberlin Conservatory. The same year, he received recognition at the Young Arts Foundation and Betty Carter Jazz Ahead Program. Thereafter, he continued his studies at the Juilliard School and completed his degree in June 2021.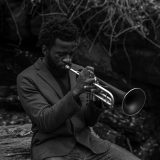 Kalia Vandever
August 12
Kalia Vandever is a trombonist, composer, and educator living in Brooklyn, NY. She released her debut album, In Bloom, in May, 2019 which features all of her original compositions written for quartet and duo with guitar.
Kalia received her Bachelor of Music degree in Jazz Studies at the Juilliard School in 2017. She has toured and performed internationally with her quartet, as well as playing as a side-woman, performing with artists including Joel Ross, Maria Grand, Darcy James Argue's Secret Society, and others. She has performed in such venues as Carnegie Hall, Sydney Opera House, Walt Disney Concert Hall, Preservation Hall, the Hollywood Bowl, The Jazz Gallery, The Blue Whale, Dizzy's Club Coca-Cola, SMOKE Jazz Club, the Blue Note, and the Rose Theater at Jazz at Lincoln Center. While performing regularly as a bandleader and side-woman, Kalia is also an active composer and arranger. She has been commissioned to write works for groups and individuals including Tesla Quartet, The Westerlies, Katherine Kyu Hyeon Lim, and Hats & Heels Duo.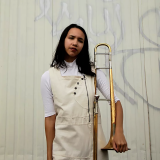 Aayushi Karnik & Gabe Rupe
August 19
Karnik and Rupe bring their individual artistry together in an inspiring duet.
Karnik studies Jazz guitar at the Juilliard School, and has an ambition to work not just as a jazz musician but as a blues guitar player and a singer songwriter. She recently released a four song EP called 'The Summer Children' with Gabe Rupe on Upright Bass, which comprises the songs she wrote during the quarantine period and her time in India before she moved to the United States to pursue her studies. The EP takes influences from Bluegrass, Jazz, Blues and songwriting traditions.
Rupe currently attends the Juilliard School, where he is pursuing a Bachelor's of Music in Jazz Studies, with a concentration in Jazz Double-Bass.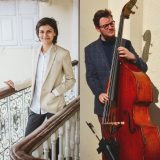 Josh Evans
August 26
Josh Evans has built up a reputation as one of the most important young composers on the scene and has recently performed a commissioned work with the Jazz at Lincoln Center Orchestra with Wynton Marsalis.