KUSAMA: Cosmic Nature
Saturday, April 10 – Sunday, October 31, 2021
Patron pre-sale begins March 9, 10 a.m. ET
Member and Corporate Member pre-sale begins March 11, 10 a.m. ET
Public tickets on sale: March 16, 10 a.m. ET
Experience Yayoi Kusama's profound connection with nature
Contemporary Japanese artist Yayoi Kusama is one of the most popular artists in the world, drawing millions to experience her immersive installations.
Exclusively at NYBG, Kusama reveals her lifelong fascination with the natural world, beginning with her childhood spent in the greenhouses and fields of her family's seed nursery. Her artistic concepts of obliteration, infinity, and eternity are inspired by her intimate engagement with the colors, patterns, and life cycles of plants and flowers.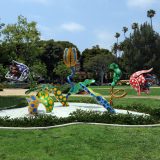 Explore Kusama's eternal love for plants
Spectacular installations feature Kusama's multifaceted art, including monumental floral sculptures that transform NYBG's 250-acre landmark landscape.
Across the grounds, discover installations that include the artist's legendary Narcissus Garden (1966/2021) in the Native Plant Garden. Nearby, marvel at Ascension of Polka Dots on the Trees (2002/2021), where soaring trees are adorned in vibrant red with white polka dots. The horticultural spectacle across the landscape changes throughout the seasons, with tulips and irises in spring, dahlias and sweetpeas in summer, and pumpkins and chrysanthemums in fall.
In and around the Enid A. Haupt Conservatory, Kusama's work comes to life through a seasonal progression of violas, salvias, zinnias, chrysanthemums, and other colorful annuals, while her plant-inspired, polka-dotted sculptures are nestled among meadow grasses, bellflowers, and water lilies, including Hymn of Life—Tulips (2007) in the Conservatory Courtyard Hardy Pool. Her mesmerizing Pumpkins Screaming About Love Beyond Infinity (2017) is on view in the Visitor Center gallery.
In the LuEsther T. Mertz Library Building, explore paintings, biomorphic collages, sculpture, and works on paper inspired by Kusama's deep knowledge of nature, and in the adjacent Ross Gallery, enjoy Walking Piece (ca. 1966), a multiscreen digital projection of a performance work from the artist's collection.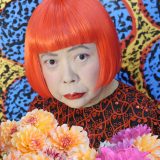 See new monumental and immersive works
New monumental sculptures Dancing Pumpkin (2020) and I Want to Fly to the Universe (2020) make their debut in the NYBG landscape. They join the artist's first-ever obliteration greenhouse, Flower Obsession (2017/2021).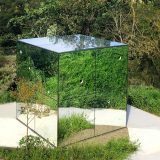 On View: A Brand-New Infinity Mirrored Room
Kusama's new Infinity Mirrored Room—Illusion Inside the Heart (2020) will be on view, its exterior reflecting the seasonality of NYBG's landscape.
Interior access to this immersive installation—which responds to natural light through colored glass throughout the day—is planned to begin in summer, operating per New York State and City guidelines for social distancing and visitor safety.
A timed-entry Infinity Mirrored Room ticket will be required for interior access; more information will be provided as it becomes available.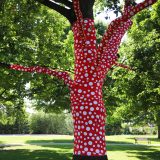 Enjoy KUSAMA: Cosmic Nature as a Member
Benefits include exclusive access to the KUSAMA pre-sale beginning March 11, free KUSAMA Garden & Gallery Pass and KUSAMA Garden Pass tickets, and more. Join Now.
At the Patron Level, enjoy the best of the exhibition with a dedicated Patron pre-sale beginning March 9, complimentary Infinity Mirrored Room tickets when interior access begins, and special viewing opportunities.

Above:
Kusama with Pumpkin, 2010 © YAYOI KUSAMA. Courtesy of Ota Fine Arts, Tokyo / Singapore / Shanghai; Victoria Miro, London; David Zwirner, New York
Hymn of Life–Tulips, 2007, Mixed media. Courtesy of the City of Beverly Hills
Infinity Mirrored Room–Illusion Inside the Heart, 2017, Kurkku fields, Chiba, Japan. Mirror-polished stainless steel, glass mirrors, colored glass. Collection of the artist. Courtesy of Ota Fine Arts, Tokyo/Singapore/Shanghai; David Zwirner, New York; Victoria Miro, London. Photo: OWL corp. 
Ascension of Polka Dots on the Trees, 2018, Cleveland Museum of Art. Printed polyester fabric. Collection of the artist