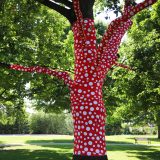 Tickets
As a Member, you receive complimentary KUSAMA tickets.
Choose from two ways to visit! To see both indoor and outdoor installations, select a KUSAMA Garden & Gallery Pass ticket. To see just outdoor installations across the grounds, select a KUSAMA Garden Pass ticket.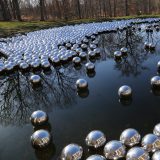 Member Benefits
Member benefits include free KUSAMA Garden & Gallery Pass and KUSAMA Garden Pass tickets, an exclusive Members-Only Preview Day on April 9, and so much more!
At the Patron Level, enjoy the best of the exhibition with complimentary Infinity Mirrored Room tickets when interior access begins and special viewing opportunities.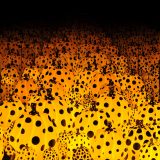 Members-Only Preview | April 9
10 a.m.–6 p.m.

Members receive first access to this monumental exhibition, before it opens to the public.
Member benefits during KUSAMA: Cosmic Nature Preview Day only:
Free parking
20% off all purchases at NYBG Shop
15% off all dining
Up to 4 discounted KUSAMA Garden Pass tickets for friends and family
Guest passes can be redeemed for KUSAMA Garden Pass tickets; however, passes cannot be redeemed online or at the Garden. Please e-mail ticketingsupport@nybg.org to make a Will Call reservation. Submit the request at least 48 hours before your visit and include a copy of your Member ticket confirmation e-mail. Tickets are based on availability and guest passes are only valid with an active Membership. You will be required to present your guest pass(es) and your Membership Card or photo ID for pickup. Guest passes are not valid for KUSAMA Garden & Gallery Pass tickets.
Above:
Starry Pumpkin, 2015. The New York Botanical Garden, 2021. Fiberglass-reinforced plastic, tiles, and resin. © YAYOI KUSAMA. Courtesy of Ota Fine Arts, Victoria Miro, and David Zwirner

Ascension of Polka Dots on the Treets, 2002/2021. The New York Botanical Garden, 2021. Printed polyester fabric, bungees, and aluminum staples installed on existing trees. Collection of the artist. © YAYOI KUSAMA
Narcissus Garden, 1966/2021. The New York Botanical Garden, 2021. 1,400 stainless steel spheres. © YAYOI KUSAMA. Courtesy of Ota Fine Arts, Victoria Miro, and David Zwirner. Photo by Robert Benson Photography
Pumpkins Screaming About Love Beyond Infinity, 2017. The New York Botanical Garden, 2021. Mirrors, acrylic, glass, LEDs, and wood panels. © YAYOI KUSAMA. Courtesy of Ota Fine Arts, Victoria Miro, and David Zwirner