Lasers in the Jungle: Evaluation of Spectral Traits of Tropical Woody Species
Friday, May 22, 2020
11 a.m. EDT | Online
The spectral signature of a leaf is the reflectance pattern left by the leaf after the light strikes it. It is also the phenotypic manifestation that holds information about the leaf chemistry and structure, with certain areas of these spectral fingerprints more related to either biochemistry or form. Several studies show that the spectral signatures of leaves can provide reliable traits to identify plants at different taxonomic ranks. Then, it is expected that different species will have greater interspecific than intraspecific variability in their reflectance patterns and that these patterns are influenced by their evolutionary history. With new methods to analyze the spectral signatures of leaves—which allow us to derive physiological parameters—it is now possible to evaluate the influence of the environment on shaping plants' physiological strategies.
Want to hear more about upcoming seminars and webinars from the Humanities Institute? Sign up to receive details on upcoming talks.
About the Speaker: Natalia Quinteros Casaverde
Natalia Quinteros Casaverde is a Peruvian Ph.D. Candidate from the Ecology, Evolutionary Biology and Behavior Program at the Graduate Center (CUNY), and the New York Botanical Garden, advised by Dr. Douglas C. Daly.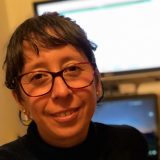 Support for the Humanities Institute provided by The Andrew W. Mellon Foundation