Private Screening: Rhythms of the Land with Gail Myers
& Jessica B. Harris
Saturday, November 12, 2022
11 a.m.–12:30 p.m. | At the Garden
This event is now at capacity. RSVPs for this event are now closed.
Rhythms of the Land is a valentine to generations of Black farmers in the United States from the enslavement period to the present, whose intense love of the land and dedication to community enabled them to survive against overwhelming odds.
A large number of African American sharecroppers and tenant farmers migrated to the North after World Wars I and II for factory jobs. These are the stories of the people that remained on or returned to the land and continued the agrarian traditions passed down from their ancestors.
The film spotlights an array of farmers, rice growers, hog and dairy ranchers, sharecroppers, basket-weavers, shrimp farmers, vegetable farmers, and gardeners, each sharing their memorable stories for the first time.
Following the screening, filmmaker Gail Myers joins Jessica B. Harris for a fireside Q&A.
Please enter the Garden through the Mosholu Gate, 2950 Southern Blvd., Bronx NY, 10458, and check in at Ross Hall.
Please note: For free programs, we generally over-register to ensure a full house. Priority will be given to those who have registered in advance, though advance registration does not guarantee admission once the auditorium reaches capacity.
Cultural anthropologist Dr. Gail P. Myers began working on her Rhythms of the Land project in 2012, eventually touring ten southern states and filming interviews with more than 30 farmers, sharecroppers and gardeners, some in their nineties and older. She earned her Doctorate in Anthropology from The Ohio State University, and in 2004 co-founded Farms to Grow, Inc. which is dedicated to supporting Black and underserved farmers around the country.
Through her nonprofit, documentary work, and anthropological studies, Myers advocates for space for Black farmers to grow their own food and teach the next generation of farmers of color.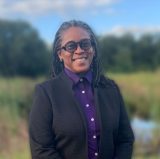 Dr. Jessica B. Harris is America's leading scholar on the food and foodways of the African Diaspora. In 2020 she received the James Beard Lifetime Achievement Award, and last year her 12th book on food, High on the Hog, inspired a four-part Netflix series that earned raves from The New York Times, The New Yorker, Esquire, and a Peabody Award in 2022. Dr. Harris was named one of TIME magazine's 100 Most Influential People of 2021.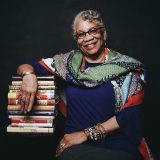 Presented by the Humanities Institute with generous support from the Mellon Foundation