Totally Tomatoes Weekend
Saturday, August 11, 2018 – Sunday, August 12, 2018
10 a.m. – 6 p.m.
Celebrate the Edible Academy's first summer and tip your garden hat to this favorite summer fruit as we celebrate all things tomato! Tastings, cooking demonstrations, gardening activities, music, and more combine for a fun and delicious weekend at the Edible Academy. Roll up your sleeves and don your apron to dig into the fun and enriching workshops all weekend long.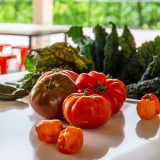 Heirloom Tomato Display
Ongoing, 10 a.m.–5:30 p.m.
EAT Lab
Join Edible Academy green thumbs in the EAT Lab to learn more about the tomatoes growing at our campus! Learn more about their history and cultivation, and sample select varieties.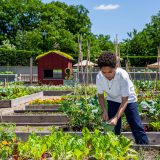 Gardening Activities
Enjoy drop-in, hands-on activities throughout the gardens of the Edible Academy.
Ongoing, 10 a.m.–5:30 p.m.
Dig, Plant, Water, and Harvest
Green Thumb Gardens
Help us plant, tend, and harvest the crops in our garden.
Stamp A Garden Passport
Global Gardens
Meet the Global Gardeners and learn about what they are growing in their gardens.
Meet the Garden Crafters
Children's Gardening Program Gardens
Meet the Crafters and learn about the Children's Gardening Program!
Start a Garden
Greenhouse
Tomatoes and basil are famous garden friends! They taste great together on a plate and grow well together in the garden too. Pot up a basil seedling to take home and protect your garden's tomatoes.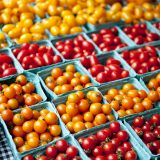 Gardening and Culinary Workshops
Ongoing garden and culinary workshops presented by garden educators, local chefs, and culinary educators feature the colors and flavors of the tomato in all its shapes and sizes. Learn how to chop, slice, dice, and sauce tomatoes of all sizes, shapes, and colors! Samples shared following each workshop.
Demonstration Kitchen Classroom
Saturday, August 11
Sunday, August 12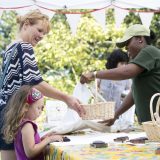 Makers Pavilion
Explore hands-on activity stations in the Solar Pavilion.
Ongoing, 10 a.m.–5:30 p.m.
Bruschetta Herb Packet
Mix up a packet of zesty spices to add to the tomatoes that top your next batch of bruschetta.
Apron Stamping
Tomatoes are squishy and juicy fruits!  Decorate an apron with botanical stamps and head to the cooking demonstrations to learn how to prepare our favorite tomatorrific recipes.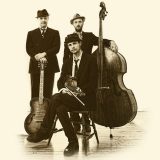 Music and Tours
Celebrate Totally Tomatoes weekend with live music and tours of NYBG's vegetable gardens.
Live Music: The Lucky 3
11:30 a.m., 1:30 p.m., & 3:30 p.m.
Burke Amphitheater
Drawing inspiration from the spirit of early American jazz, hot swing, as well as the musical traditions of Django Reinhardt, The Lucky 3—a trio featuring guitar, violin, washboard percussion, and harmonica—bring plenty of foot-stomping fun to the Edible Academy stage for the whole family to enjoy!
Tours of the Barnsley Beds
11 a.m., 1 p.m., & 3 p.m.
Edible Academy
NYBG tour guides lead tours of the Barnsley Beds, a collection of intensively planted edible gardens, sharing tips on organic gardening techniques and plant selections.
Curator Tours of the Edible Academy
12, 2, & 4 p.m.
Edible Academy
Edible Academy Staff lead tours of the new state-of-the-art campus, sharing information on the sustainable building practices incorporated into the facilities and the innovative programming offered.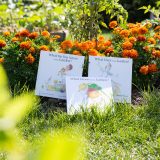 Wonders In the Garden
In honor of Totally Tomatoes Weekend, NYBG Press is offering a special 20% off Wonders in the Garden!  This is a 3-book set of children's books by Anne Mottola and illustrated by Maria Mottola. Each book explores the spirit of gardening by featuring children in a community garden setting either in school, their community, or their home neighborhood. Use code Tomato20