Totally Tomatoes Weekend
August 10–11, 2019
Dig into Peak Summer Flavor
Sweet, tart, savory, and delicious—tomatoes are the peak of summer flavor. And during Totally Tomatoes Weekend, thanks to warm sun and rich soil, our plum, cherry, and beefsteak varieties—along with a cast of odd and interesting heirlooms—ripen for the picking. Taste the rewards of our harvest with culinary demos featuring this juicy and versatile fruit; design an apron and get crafty with herbs for your next batch of bruschetta; and green your thumb in the garden beds with hands-on tomato tending. We can't wait to share the bounty with you!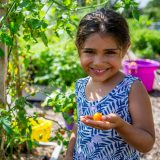 Help Us Grow with Gardening Activities
Ongoing, 10 a.m.–5:30 p.m.
Our gardeners always welcome a helping hand, and they're happy to share their years of knowledge to help you grow a healthy tomato plant at home. Water and harvest, meet our fun team, and pot up a basil plant to bring home for your next caprese salad.
Dig, Plant, Water, and Harvest
Green Thumb Gardens
Help us plant, tend, and harvest the crops in our garden.
Meet our Global Gardeners
Global Gardens
Meet the Global Gardeners and learn about what they are growing in their gardens – including their favorite tomatoes.
Start A Garden
Greenhouse
Tomatoes and basil are famous garden friends! They taste great together on a plate and grow well together in the garden too.  Pot up a basil seedling to take home and protect your garden's tomatoes.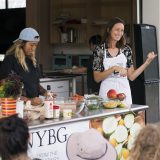 Try Tasty Tomato Recipes at Culinary Demonstrations
10:30 a.m.; 12, 1:30, 3, & 4:30 p.m.
In the Edible Academy kitchen, find local chefs and NYBG gardeners coming together to bring the flavors of the tomato from the vine to the plate, showing you how to put the kaleidoscopic colors and shapes of this summer fruit to work in any meal. Be sure to try a free sample.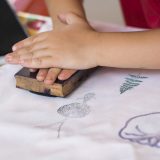 Get Crafty at the Makers Station
Ongoing, 10 a.m.–5:30 p.m.
A smart chef knows that an apron can be practical and fashionable. Make your own colorful apron, using botanical stamps to make your creative statement. Then put your taste buds to work tossing together an herbal mix you can take home to spruce up your next batch of bruschetta.
Decorate a Chef's Apron
Decorate a chef's apron with tomato inspired stamps to wear the next time you cook up a delicious dish.
Bruschetta Blend Station
Measure and mix dried herbs to make a delicious herb mix for your summer tomato harvest.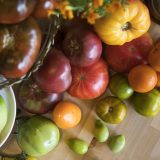 Drop in for Heirloom Tastings, Tours, & More Tomato Fun
Heirloom tomatoes grow in a rainbow of different colors—and even more odd shapes and sizes—and their history of cultivation is just as diverse. Pop into the E.A.T. Lab for family-friendly fun ranging from tastings of these colorful summer fruits to puppet shows to tours of the bountiful vegetable gardens.
Tours of the Edible Academy and Barnsley Beds
11:30 a.m.; 2:30 & 4 p.m.
Meet at the Niarchos Foundation Entry Plaza
NYBG Tour Guides lead tours of the state-of the-art campus and the Barnsley Beds, sharing information on the sustainable building practices incorporated into the facilities and tips on organic gardening techniques and plant selections.
Explore in the E.A.T. Lab
Palm Family Edible Academy Technology (E.A.T.) Lab
Join us in the E.A.T. Lab to taste-test our garden's favorite heirloom tomatoes, explore our Library's collection, illustrate the history of tomatoes, and pass the time with puzzles and games celebrating this incredible fruit.
Puppet Show: The Doubtful Sprout
12:30, 2, & 3:30 p.m.
Susan P. and Coley Burke Amphitheater
Get ready to explore the world under your feet in this underground puppet adventure. Tunnel down with Worm and Sprout as they discover the mysterious life found inside soil. Along the way, kids will discover the secrets that help Sprout grow. Award-winning puppeteer Liz Joyce brings this ecological wonderland to life with multiple puppetry styles, projections, and song.
Sponsored by: