WeDigBio 2020
Thursday, October 15
11–11:30 a.m., 1–2 p.m., 3–5 p.m. EDT
NYBG is partnering with leading museums, universities, and environmental organizations around the world to engage the public in citizen science! During WeDigBio! 2020 (October 15–19), we invite your help to mobilize biodiversity data from preserved herbarium specimens to advance scientific understanding of the plants of our world! Join us for a series of virtual events—including a tour of NYBG's remarkable scientific collection—and learn how to participate in online projects that support our mission to preserve and protect the planet's biodiversity.
Virtual Tour of the Steere Herbarium
11–11:30 a.m. EDT
Explore ways that scientists study plants during a behind-the-scenes visit to the Steere Herbarium, one of the largest collections of preserved plant specimens documenting plant life around the globe over the past 300 years. Learn how these collections can be used in conservation work and to study climate change. See wild relatives of crops, invasive species that have taken hold in different regions of the world, and herbarium specimens of plants that are now extinct.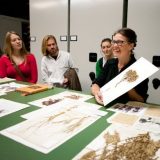 Citizen Science Workshop
1–2 p.m. EDT
Learn how to participate in Virtual Herbarium Expeditions and support the work of scientists to describe and conserve plant biodiversity! This introductory workshop will train beginner citizen scientists how to interpret plant specimen labels, research botanical archives, and record critical details about the history and geographic origin of scientific collections at NYBG.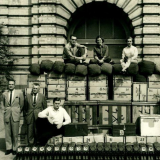 NYBG WeDigBioBlitz!
3–5 p.m. EDT
Gather virtually with citizen scientists of all experience levels to participate in NYBG's Virtual Herbarium Expeditions! Experts will be in attendance to answer questions, troubleshoot challenges, facilitate discussion, and provide context for your specimen discoveries.