NYBG Staff and Regina Alvarez
The Flora of Central Park is a collaboration between The New York Botanical Garden, the Central Park Conservancy and the New York City Department of Parks and Recreation. The up-to-date botanical inventory will aid on-going restoration, conservation, education and recreation programs and document the flora for scientific, ecological and conservation studies.
Activities include the collection of herbarium specimens, data analysis and public outreach.
Outcomes include the following:
A complete inventory of the park, peer-reviewed and published ten years after the previous study
Rapid response to threats from emerging invasive plant species
Original content for Central Park plant apps
Training opportunities for interns, park staff, technicians and citizen-scientists
Teaching opportunities for educators at all levels
A website with photographs, maps, voucher specimens and collection details
A permanently archived set of voucher specimens documenting the flora
A complete DNA library of all documented species
The Central Park Conservancy is gratefully acknowledged for their generous financial and technical support.
More information:
Related project: New York City EcoFlora
New York Times: A mission to catalog hidden life in Central Park
The Spontaneous Vascular Flora of New York's Central Park
The flora of Central Park was documented through extensive collection of herbarium specimens from 2013 to 2017. The flora consists of 438 species representing 262 genera and 89 families. Native species represent 45% of the flora (198 species), and 54% of the species (240) are nonnative.
The largest families are Poaceae (56 species), Asteraceae (55), Rosaceae (27), Fabaceae (20), and Polygonaceae (17). The largest genera are Persicaria (8 species), Carex (7), Acer (7), Cyperus (6), Rubus (6), and Eragrostis (6). Seven species are ranked as rare, threatened, or endangered by New York Natural Heritage Program. Thirty-six species are listed as prohibited or regulated invasive species by New York State. All species are vouchered by herbarium specimens and silica-dried tissue samples at The New York Botanical Garden.
Journal of the Torrey Botanical Society, February, 2020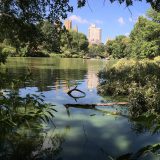 The Central Park Flora Project recognizes thirty-six zones within the park. Each point on the collection map indicates where a species was collected, not necessarily all the places that species occurs in the Park.

Central Park is located on the Island of Manhattan (New York County) in southeast New York State. The Park's 843 acres occupy 5.8 percent of the island.

The Project has documented 452 species of flowering plants growing wild in Central Park (as of October 2016).