Spring Uncorked
May 20 & 21, 2023
12–4 p.m. | At the Garden
Enjoy the Perfect Pairing of Springtime Beauty & Local Wines
At Daffodil Hill, sip and savor spring during this wine lover's weekend, featuring wineries from the Hudson Valley, Brooklyn, and Long Island. Enjoy samples, relax to live music, learn the science behind making great wines, and kick back with a variety of crafts and games. Enjoy delicious lunch options for sale presented by the Bronx Night Market.
Ticket Information
Non-Member Tickets
$55; includes a souvenir NYBG wine tumbler and All-Garden Pass
Member Tickets
$25; includes souvenir NYBG wine tumbler only; All-Garden Pass is free for Members
Wine Tasting
Daffodil Hill
Grab a souvenir NYBG wine tumbler and join us for a flight of palate-pleasing wines from New York State wineries. Bottles will be available for sale.
Participating wineries include, but are not limited to: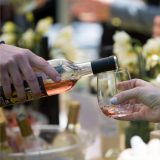 Live Music
Daffodil Hill; On the Main Stage
As you sip your wine, relax or dance to the original sounds of some of the newest artists on the scene.
Saturday Line-Up
Ayanna Williams
Born and raised in the Bronx, Ayanna is both experimental and versatile, crafting a sound that has attracted many due to its raw and authentic essence. She currently has two EPs available, Love Box and Delicate. Ayanna is also the creator of Uptown Melody, a performance series dedicated to highlighting Bronx Artists through live music events.
The Royale Minks
A retro, New York City-based band with evocative lyrics, The Royale Minks' hallmark is their infectious melodies and high energy performances. Sharing sonic similarities to The B52's, The Doors, and Fleetwood Mac, The Royale Minks deliver nostalgic sounds of the '50s, '60s, and '70s.
Garth.
A New York City-based singer, producer and multi-instrumentalist, Garth. has over 5 million streams on Spotify. He has released three studio albums as well as a visual concert, Live, in Color, in June 2022. Up next for Garth is his fourth studio project, Coronation, which will be released later this year.
NYChillharmonic
A Brooklyn-based, 18 piece, progressive-rock orchestra led by Sara McDonald, NYChillharmonic fuses multiple genres including rock, pop, classical, and jazz while sonically embracing unconventional arrangements and harmonies.
Sunday Line-Up
Jaswiry Morel
Born and raised in the Bronx, Jaswiry takes musical influence from her Bronx and Dominican roots. With Latin and jazz-infused percussion, dreamlike synths, soulful vocals, and bilingual lyrics, each song is nothing but an experiment.
Eli Tyler
Eli is an intergalactic alien that travels between dimensions to transmute energy into sonic atmospheres. They are known for creating a supernova of sounds with their genre-bending electronic-pop music that will blast right out of the speakers into your sneakers.
Annalise Azadian
Born and raised in New York, 25-year-old singer, soulwriter, and musician Annalise is known for her unique, sultry voice and emotive storytelling. Annalise solidified herself as a versatile voice in today's music scene and is known for creative visual content pieces.
Britton & The Sting
Led by Britton Smith, Britton & The Sting is a funk liberation band fueling the NYC music scene. Featured in Vogue and The New Yorker, the band's powerful songs interwoven by narrative testimony highlight the importance of authenticity and inclusion.
Image of NYChillharmonic by CultureLab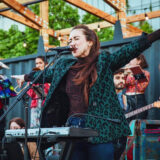 Wine & Watercolor
Clay Family Picnic Pavilions 

Join artist Naomi Andrée Campbell for guided sketching sessions inspired by the Garden!
Naomi Andrée Campbell is a New York-based interdisciplinary artist whose multimedia practice explores sense and perception, combining art and science through a wide spectrum of studio and new media art.
Image: Naomi Campbell Art Projects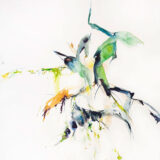 Bronx Night Market
Bronx Night Market joins us to celebrate Spring Uncorked! Enjoy lite bites from cuisines found all over the world.
See below for the full list of vendors:
Downeast Lobstah
La Victoria
La Braza
Treat Yourself Jerk
Maluli's Kitchen
Tacos El Guero
Mama T
Culiraw (Saturday Only)
Nansense (Sunday Only)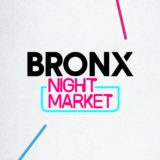 Lawn Games
Daffodil Hill; On the Lawn
Enjoy an assortment of family-friendly games, including Cornhole, Ladder Toss, Ring Toss, Horseshoes, Giant Jenga, Giant Connect 4, Giant Chess, Badminton, and Hoola Hoops.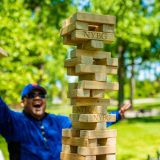 Make Sense of the Scent
1, 2, & 3 p.m.
Clay Family Picnic Pavilions
You may like to enjoy wine, but how well do you know what is in your glass? Stop by and try your nose at this aroma recognition training activity praised by sommeliers. From raspberry to pepper, this aroma selection will allow you to identify common aromas found in wines and increase your sommelier vocabulary.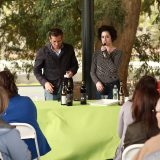 Young Garden's Circle
Are you between the ages of 21 and 40, and want to get more involved at NYBG? Join the Young Garden Circle today for special opportunities to socialize, network, and enjoy the best of the Garden throughout the seasons.
Young Garden Circle members and their guests may purchase discounted tickets to Spring Uncorked and have the opportunity to enjoy our exclusive Young Garden Circle Sip & Stroll event with access to our private space, scheduled premium wine tasting, and a guided walking tour.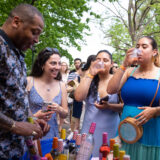 NYBG Shop
Spring is in the air! Whether you are looking for tools to tend to your garden, home decor, stationary, or beautiful plants, NYBG Shop has a wide selection of seasonal merchandise for everyone.