Spring Uncorked
Saturday, May 21 & Sunday, May 22
12–4 p.m. | At the Garden
Enjoy the Perfect Pairing of Springtime Beauty & Local Wines
Sip and savor spring during this wine lover's weekend, featuring wineries from the Hudson Valley, Brooklyn, and Long Island. Enjoy samples, relax to live music, learn the science behind making great wines, and kick back with a variety of crafts and games. Be sure to drop by the spring preview of the NYBG Farmers Market for fresh-baked goods and other delicious treats.
Wine Tasting
12–4 p.m.
Garden Way

Purchase a souvenir NYBG wine tumbler and join us for a flight of palate-pleasing wines from New York State wineries. Bottles will be available for sale.
Participating wineries include, but are not limited to: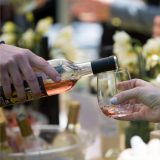 The Science Behind Wine with City Winery
1 & 3 p.m.
Garden Way

Join a vinter from City Winery for a brief introduction of wine from vine to glass.
Learn more about the botany of wine and how it develops certain characteristics depending on soil, climate, and variety of grapes. Follow this guided wine tasting to discern the look, smell, and taste the wine, while familiarizing yourself with terminology that will help you select the perfect wine for every occasion.
(Image by City Winery)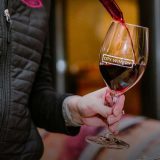 NYBG Farmers Market Preview
11 a.m.–5 p.m.
Mosholu Entrance
Stop by to preview vendors from the NYBG Farmers Market, voted among the top 10 Farmers Market in NYC by TimeOut NY, opening June 1 with a variety of goods available for purchase. Enjoy perfect partners for wine (such as cheese and chocolate) as well as delicious prepared food ready to eat.
Saturday, May 21
3 x 3 Kitchen
Anthis Greek Specialties
Arlotta Food Studio
Ash Hopper Soaps
Boogie Down Bronx Honey
Don Carvajal Coffee
Goode and Local by Don Rodrigo
Larchmont Charcuterie
McGrath Cheese
Nutmeg Bakery
Penny Lick Ice Cream
True Food
Wave Hill
Sunday, May 22
3 x 3 Kitchen
Anthis Greek Specialties
Arlotta Food Studio
Ash Hopper Soaps
Boogie Down Bronx Honey
Cooperstown Cheese
Don Carvajal Coffee
EcoBronx
Escargot Voyageur
Goode and Local by Don Rodrigo
Larchmont Charcuterie
Nutmeg Bakery
Penny Lick Ice Cream
True Food
Wave Hill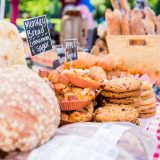 Live Music
Weekend; 12 p.m.–4 p.m.
Third Lawn

As you sip your samples, relax and unwind to the original sounds of some of the newest artists on the scene. Our line-up will feature a diverse group of up-and-coming NYC-area singers and songwriters.

Saturday Lineup
Performances begin on the hour and are 40 minutes in length.
Lillimure
12–12:40 p.m.
Lillimure is nostalgic vulnerability balanced with strong female enpowerment is the curated soundtrack for driving with the windows down, spontaneous adventures — the perfect "kick back" tone-setter. Influenced by melodies of her multicultural upbringing, the New York-based artist, musician, and creative director draws from introspective lyricism and pulsing grooves for when you want to run away and find yourself at the same time. Her genre-bending sound can be described as pop with a heavy sensibility to musicianship influenced by sounds from R&B, jazz, and folk to the likes of Frank Ocean, John Mayer, Tom Misch, and Lianne La Havas.
MÏRÄNDÄ
1–1:40 p.m.
New York City born-and-bred, Miranda's playful, dreamy, upbeat melodies are an ode to her city upbringing and classical training on violin. Her music pulses with neon electronic beats and relaxed yet catchy lyrics about longing, loving, and living truthfully.
Dakota Jones
2–2:40 p.m.
Dakota Jones is a New York–based band that blends vintage blues with modern soul to create a genre-bending sound, both familiar and refreshing. Spearheaded by Tristan Carter-Jones' commanding vocals and visceral songwriting, their stage show melds the hell-hath-no-fury power of Chaka Khan, the wild spontaneity of Janis Joplin, and the honey-dripping sensuality of Marvin Gaye. Since its inception in 2016, the band has built a loyal following in the NYC area, and become regulars at some of the city's most-respected venues.
Bandits on the Run
3–3:40 p.m.
Bandits on the Run is an indie-folk-pop-americana outfit consisting of three lead singers, a guitar, a cello, a suitcase drum, an accordion, and various toy instruments. Their gritty, lush, and daring sound grew from their start as subway buskers and underground performers suddenly recognized by the Rolling Stones Weekly Roundup of Best New Folk Music. They hail from Brooklyn, NY and are known for their vivacious performance style, genre-defying sound, soaring harmonies in collaboration with Producer Ryan Hadlock (The Lumineers, Vance Joy, Brandi Carlile).
Sunday Lineup
Performances begin on the hour and are 40 minutes in length.
Emily McNally
12–12:40 p.m.
Emily McNally is a queer NYC-based singer-songwriter creating a soundtrack for her lovelorn and existential generation of young people, with vulnerable lyricism. Emilly Creates intricate soundscapes of lush vocals and sweet melodies. Theyr'e making a time capsule of queer adolescence and reaching out to the community of misfits with reflections on naiveté and yearning.
Odane Whilby
1–1:40 p.m.
Husband, father, and singe-songwriter Odane Whilby offers a fresh take on soul and R&B sounds.
SunDub
2–2:40 p.m.
SunDub is a standout expression of reggae's classic undulating expression and lush subterranean grooves, reinvented for listeners of all times and ages. A Brookyn-based collaborative mix of NYC musicians, the core quintet features soulfully smoky vocals with seamless integration into a multi-layered rhythm section and frequent collaborations with Reggae royalty.
Blac Rabbit
3 – 3:40 p.m.
Blac Rabbit is an up-and-coming NYC figure in the pop-pschydelic music scene. Twin brothers Amiri and Rahiem Taylor provide the core sound, music, and lyrics along with various multi-instrumentalist collaborators.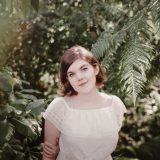 Crafts and Games
Channel your creativity with crafts and try your hand at a variety of lawn games!
Crafting
12–4 p.m.
Tulip Tree Allee
Craft with Materials for the Arts
Use wine corks to make animated creations with our friends from Materials for the Arts.
Sketch & Sip
12–4 p.m.
Tulip Tree Allee
Join instructors from the Bronx River Art Center for 10-minute guided sketching sessions inspired by the Garden!

Founded in 1987, the Bronx River Art Center (BRAC) is a culturally diverse, multi-arts, non-profit organization that provides a forum for community, artists, and youth to transform creativity into vision. Their Education, Exhibitions, Artist Studios, and Presenting Programs cultivate leadership in an urban environment and stewardship of our natural resource — the Bronx River.
Lawn Games
12–4 p.m.
Garden Way
Enjoy an assortment of family-friendly games, including Cornhole, Ladder Toss, Ring Toss, Horseshoes, Giant Jenga, Giant Connect 4, Giant Chess, Badminton, and Hoola Hoops.