Fall at The New York Botanical Garden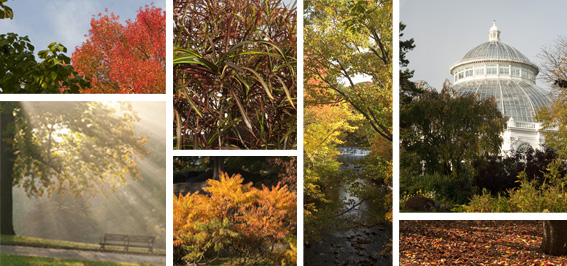 Does leaf peeping in the largest remaining expanse of New York City's oldest forest make the leaves look that much more beautiful? Sure, we're biased, but we certainly think so, especially when the brilliant reds, oranges, and yellows are reflected in the rippling surface of the Bronx River.
It's commonly held that the best way to enjoy fall is to hop in a car and head upstate. At The New York Botanical Garden, we beg to differ. Just hop on a MetroNorth train at Grand Central, and in less than 25 minutes you'll be at the Botanical Garden station, directly across the street from our Moshulu Gate entrance.
Stroll up the majestic Library Allée under the canopy of ochre-leaved tulip trees. Wander through the Peggy Rockefeller Rose Garden, which, in fall puts on an aromatic, full-blown encore. Contemplate the rare beauty of the Benenson Ornamental Conifers and the Zen-like simplicity of the Rock Garden. And then head into the Forest.
The Botanical Garden's Native Forest is one of New York City's real treasures. As you pad along the forest trails, laid out over a century ago, leaves from trees that were alive before the United States was an independent country gently crunch under your feet. Watch squirrels, both gray and black, stock up for the winter on the Forest's bounty of nuts. And don't forget to look up! If you're in luck, you just might spot one of the Garden's feathered residents, like a hunting red-tailed hawk or great horned owl.
Stroll along the now-bucolic Bronx River. The water softens the brightly-hued leaves into vignettes that look fresh off an Impressionist master's canvas. The Bronx River, once a polluted mess, is making a comeback (complete with beavers). Celebrate this marvelous ecological feat by spending a few minutes watching New York City's only freshwater river cascade over a waterfall from the middle of the beautiful Hester Bridge.
Leaf peeping can be hungry, thirsty, tuckering work. Re-charge your reserves with a cider and a donut (or maybe something a little stronger) at one of two cafes, browse for books at the Shop in the Garden, or grab a few bulbs to plant in front of your apartment or to force over the holidays for a breath of spring in the depths of winter. Then, stroll the amazing, four-season Ladies Border and the colorful, exuberant rooms of the Perennial Garden.
And then, before you've even noticed, it's time to head back to the hustle and bustle. Dash through the gloaming, cross over the tracks, and listen for the echo of your train's whistle.
A day spent at The New York Botanical Garden in fall is a day spent in the country, without ever having to leave the city.