The Holiday Train Show
Garden-gauge trains zip past 140 beloved New York landmarks, masterfully crafted from natural materials and arranged to create a dazzling world inside the Enid A. Haupt Conservatory.

At The New York Botanical Garden, no annual event is awaited with as much anticipation as the Holiday Train Show. Running through January 9, the Train Show offers New Yorkers (and visitors too!) a chance to see their city in a completely new way. See an exclusive, behind-the-scenes video of the making of the Train Show here.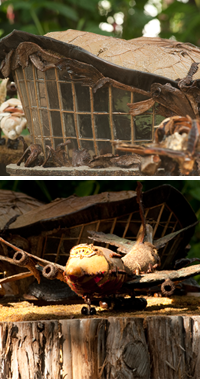 Garden-gauge trains zip along a quarter-mile of track past 140 beloved New York landmarks, including the original Yankee Stadium, St. Patrick's Cathedral, and new this year, the Eero Saarinen-designed Trans World Airline Flight Center at John F. Kennedy Airport. Each iconic structure is masterfully crafted to scale from dried plant parts and arranged to create a dazzling miniature world inside the Enid A. Haupt Conservatory—a stunning Victorian-style glasshouse and a landmark itself.
Wander through the beautiful Conservatory under models of several of New York City's wonderful bridges. The bridges serve as a reminder that New York City is a city of islands. In fact, the borough that The New York Botanical Garden calls home, the Bronx, is the city's only borough located entirely on the North American mainland.
Called "one of New York City's best holiday gifts to itself," and a chance to "see the city anew," by the New York Times, the Holiday Train Show is a winter wonderland full of twinkling lights, and the sights and sounds of New York City at its best.
But your winter journey isn't over once you've soaked in all the Holiday Train Show's sights! There are several "houses" left to explore within the Conservatory. Though they don't contain any trains or miniature buildings, they're still full of exceptional delights.
Soak in some lovely heat and explore a tropical lowland rain forest from a new perspective; above! The upland rain forest is lush with ferns, orchid, and mosses, which thrive in this cool, misty, montane cloud forest. Two deserts--one of the Americas and the other of Africa--are full of spiky, surreal agaves and aloes, giant saguaro cactuses, and the odd "living stones" or Lithops.
Then, head out into the Garden's Native Forest for a hike, or over to the Discovery Center for Gingerbread Adventures, where young and old alike can learn about the plants that give the holiday season's quintessential treat, gingerbread, its distinctive flavor. Practice your gingerbread house decorating skills on some gingersnaps, and if that whets your appetite, grab a snack or lunch at one of the Garden's two cafes. See a train-themed show in the Ross Lecture hall or cross a few names off your holiday shopping list in the Shop in the Garden.
A day spent at The New York Botanical Garden's Holiday Train Show is a day of fun, wonder, and discovery for the entire family.
Please consider buying your tickets ahead of your visit; peak hour tickets sell-out fast! In order to have a pleasant, stress-free visit, consider visiting the Train Show during non-peak weeks. Click here for additional tips for making the most of your Train Show visit. To buy tickets, click here.