O'Keeffe After Hours
October 19, 20, & 26
6:30 – 10:30 p.m.
With cooler nights and the changing leaves comes a whole new season of Georgia O'Keeffe: Visions of Hawai'i. See the exhibition during its final month with an evening viewing. Warm up with a cup of Kona coffee, channel your inner botanical artist with sip and sketch drop-ins, and see the colorful flora of Hawai'i. in the Conservatory. Outside, enjoy illuminated installations by contemporary Hawaiian-Chinese sculptor Mark Chai. It's the perfect opportunity to see the beauty of the season—indoors and out—in the closing weeks of the show.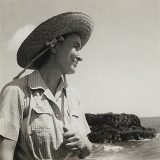 About the Exhibition
Discover Hawai'i through the eyes of Georgia O'Keeffe during an exhibition of the works inspired by her time in the islands in 1939. Throughout the show, explore Hawaiian culture via music, performance, food, and more.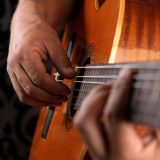 Live Music and Refreshments
Listen to live music in the Visitor Center and warm up with iconic Kona coffee and Hawaiian fare like poke available for purchase.
More information coming soon.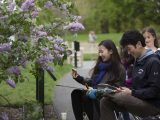 Sip & Sketch
Get inspired by the Hawaiian flora in the Conservatory and O'Keeffe's paintings in the Art Gallery and try your hand at botanical sketching with drop in workshops in the Pine Tree Cafe.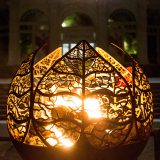 Conservatory Plaza Fire Pits
Meet friends and warm up with two fire pits custom designed for NYBG, then grab a drink and stroll through Georgia O'Keeffe: Visions of Hawai'i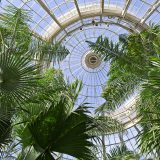 Tips for Your Visit
Make the most out of your O'Keeffe After Hours visit.
Special tickets must be purchased for O'Keeffe After Hours and are discounted for Members. Guest passes are not accepted. We strongly recommend reserving in advance, as events are likely to sell out.
O'Keeffe After Hours take place from 6:30 to 10:30 p.m.; arrive at any time during this time range.
Plan for approximately two hours to experience O'Keeffe After Hours. Tram service does not operate at night. Wheelchairs are available on a first-come, first-served basis.
Arrive by 9:30 p.m. for the last entry into the Library Building to view O'Keeffe's work in the art gallery.
Access to the Conservatory is granted on a space-available basis and there may be a wait on peak days.