Mother's Day Weekend Fun
Saturday, May 11, 2019 – Sunday, May 12, 2019
10 a.m. – 6 p.m.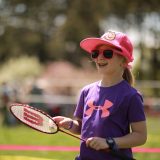 Activities & Outdoor Fun
Throughout the day on Daffodil Hill

Have a go at favorite garden party games like hula hoops and bean bag toss. Enjoy our big backyard by playing some classic games like ladder toss and giant chess.
Lawn Games
Saturday & Sunday; 10 a.m.–5 p.m.
Daffodil Hill/West Lawn
Card Making
Saturday & Sunday; 10 a.m.–5 p.m.
Clay Family Picnic Pavilion
Make a card for mom on this special day.
Chalk Drawing
Saturday & Sunday; 10 a.m.–5 p.m.
Near the Children's Adventure Garden Waterfall
Get creative and make your own chalk masterpiece!
Floral Demonstration: Mother's Day Bouquet
Sunday, 12 & 1 p.m.
Clay Family Picnic Pavilion
Join floral designer Trish O'Sullivan, one of New York's foremost names in floral design, for a demonstration on how to craft a beautiful spring bouquet, bursting with roses, rununculus, Queen Anne's Lace and peonies, hand-tied with a satin ribbon and perfect for Mom!
The Tiny Book Show
Saturday & Sunday; 11 a.m.–3 p.m.
Bottom of Tulip Tree Allée
Join us for storytelling, then make your own miniature books and fill them with personal words and stories. Materials supplied.
Face Painting
Saturday & Sunday; 2–5 p.m.
Clay Family Picnic Pavilion
Get your face painted with a whimsical design in the spirit of spring.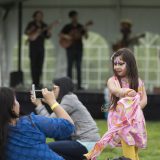 Live Musical Entertainment
DJ Dance Party at the Main Stage
Saturday & Sunday; 11 a.m.–2 p.m. & 4–5 p.m.
Daffodil Hill

Join Bronx-based DJ Collective Uptown Vinyl Supreme for an interactive family dance party on Daffodil Hill.
In the event of inclement weather, dance party will move to the Leon Levy Visitor Center.
Live Music for Families
Saturday & Sunday; 2–3:30 p.m.
Daffodil Hill, West Lawn

Live music and kid-friendly performances with Spanglish Fly on Saturday and Falu Shah on Sunday set the scene for families and visitors of all ages.
In the event of inclement weather, this concert will be moved to Ross Hall.
About the Performers:
Spanglish Fly is part band, part celebration: 12 musicians igniting a party that quickly spreads to the audience. They have been hailed as the premier band of the Latin boogaloo revival, "single-handedly reviving sixties bugalú in NYC" (NBC New York). Over the years, the band has toured the US east coast, bringing the party to festivals such as Charlotte's Latin American Fest and Massachusett's Green River Festival, and to arts institutions such as the Kennedy Center in Washington, DC.
Falu Shah is a Grammy-nominated, internationally recognized artist known for her rare ability to seamlessly blend a signature modern inventive style with a formidable Indian classically-shaped vocal talent. Originally from Bombay, Falu moved to the States in 2000 and was appointed as a visiting lecturer at Tufts University. Falu's subsequent career in the States had led to a series of brilliant and high profile collaborations with Yo-Yo Ma, Wyclef Jean, Philip Glass, Ricky Martin, Blues Traveler and A. R. Rahman amongst others. Falu continues to pursue her commitment to introducing children to the wonders of the world through her recently released, Grammy-nominated debut children's project, "Falu's Bazaar", which takes families on a musical journey through South Asia, as well as through her artist-in-residence position at Carnegie Hall.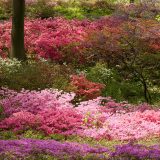 Tours
Learn about birds and explore the Native Plant Garden and Azalea Garden on these fascinating tours.
Bird Walk
Saturday; 11 a.m.
The diverse habitats of the Botanical Garden offer visitors a chance to see dozens of species of birds throughout the year. Bring your binoculars and walk the Garden grounds with an expert to learn about bird-friendly habitats, migrating species, and birds that make a permanent home at the Garden. Also look out for butterflies looking for nectar in the Garden's flowers!
Azalea Garden Tour
Saturday & Sunday; 12:30 p.m.
Join us for a guided tour of the 11-acre site that offers an encyclopedic collection of the world's azaleas planted along a broad hillside punctuated by rock outcrops and shaded by mature native trees.
Native Plant Garden Tour
Saturday & Sunday; 2:30 p.m.
Join a tour guide for an insider's view of the Native Plant Garden. Enjoy a mosaic of nearly 100,000 native trees, wildflowers, ferns and grasses designed to flourish in every season.