Spooky Pumpkin Garden Nights
October 18, 19, 25, & 26, 2019
6:30–8:30 p.m.
Join us for a frightfully fun flashlight adventure
Break out your best costume and explore the twisting trails of the Everett Children's Adventure Garden by flashlight during this frightfully fun nighttime adventure. Come face-to-face with mysterious skeletons, discover the secretive lives of creatures of the night, decorate gourds, collect treats, and so much more!
Ticket Information:
Non-Member $25 / Member $20
Advanced purchase recommended to guarantee admission; events do sell out.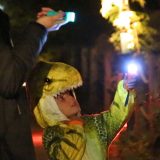 Drop in for Frightfully Fun Activities
Explore a variety of activity stations and pick up treats along the way.
Decorate a Treat Bag
Conjure up your spookiest designs and create a treat bag to hold all of the goodies you collect throughout the evening.
Design Your Own Gourd
Make your own haunting masterpiece by decorating a mini gourd to take home.
Give a Hoot with Owl Activities
Examine an owl's talon and feather to learn more about these nocturnal Garden residents. Then, investigate an owl pellet to discover new things about the diet of these wise birds.
Learn about Chocolate at Our Inspiration Station
Discover the origins of your favorite chocolate treats as you try your hand at grinding cacao.
Go Batty with Our Victorian Playhouse
Native bats are among the most helpful nocturnal creatures, giving gardeners a hand by eating thousands of insects a night. Learn more about the species that call the Garden home, examine a bat skeleton, and look for lifelike bats in the rafters of our Victorian Playhouse.
Learn All about Spooky Spider Legs
Explore the important role spiders play in garden ecology, then learn more about them with hands-on activities and games.
Examine Pumpkins and Gourds
Ever wonder how these seasonal staples are grown? Take a closer look at their peculiar shapes, patterns, and colors and discuss your findings with an NYBG Explainer.
Snap a Selfie with Our Giant Pumpkins
Get a picture with these massive pumpkins, some of which weigh more than a ton!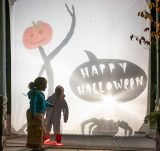 Celebrate with Parades & Puppets
There are even more tricks and treats in store with giant skeletons, a dance party, puppet shows, and more.
Get Moving During a Monster Mash Dance Party
Shake off the cobwebs and bust out your best dance moves as Uptown Vinyl Supreme spins favorite hits. Uptown Vinyl Supreme is a Bronx-based DJ collective and community organization paying homage to the analogue roots of music, party, and dance culture.
Meet Giant Skeletons on Parade
Larger-than-life skeletons, specially commissioned by Bronx-based puppeteer Lucrecia Novoa, are on hand to greet you for a perfect Instagrammable moment. Visual artist, educator, and puppeteer Lucrecia Novoa is the founder and director of "Mascara Viva."
See Expert Pumpkin Carving Demonstrations with Adam Bierton
Watch as amazing pumpkin faces and designs emerge from pumpkins of all shapes and sizes. Adam Bierton is a professional sculptor and pumpkin carver and winner of the Food Network series Halloween Wars.
Discover the Secret Life of Scarecrows: Live Shadow Puppet Performance
Under the autumn moon, scarecrows come to life and make mischief in the Garden. Using the magic of shadow puppetry, vintage overhead projectors, live music and a giant shadow puppet screen, the award-winning cast of Hit the Lights! Theater Co. weaves an enchanting story of scarecrows that awaken on Halloween night. The 10-minute live performance will be presented several times throughout the evening. Afterwards, try your hand at shadow puppetry stations along the Wetland Trail.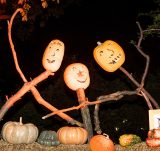 About the Spooky Pumpkin Garden
Encounter more than a hundred silly scarecrows and nearly a thousand peculiar pumpkins and gourds.