Celebrate Hawai'i Weekend: Music
August 18 & 19, 2018
FINAL WEEKS: CLOSES OCT. 28
Join NYBG for a weekend full of music and song with legendary artists from Hawai'i, a special Saturday evening concert during Aloha Nights, hula performances, and more.
Celebrate Hawaiian Music and Song
Join us for a Saturday evening concert with legendary Hawaiian artists and rising stars or take in a laid-back Sunday afternoon jam session on the Conservatory Lawn. Enjoy engaging music, demonstrations of traditional Hawaiian instruments, and hula programs throughout the entire weekend!
Hula Performances by Dance Aloha
Saturday & Sunday; 12, 1, 2, & 3 p.m.
Leon Levy Visitor Center

'Ukulele with Jason Poole
Saturday & Sunday; 1–4 p.m.
Conservatory Courtyard
Known as The Accidental Hawaiian Crooner, this Pittsburgh-born, classically trained singer found himself unable to sing (due to vocal cord damage) and walk (due to hip injury). However, thanks to the healing power of Hawaiian music and dance, he was mentored by Hawaiian elder Pilipo "Pops" Solatorio and now specializes in Molokai's golden age of song.
Slack Key Guitar with Claudia Goddard
Saturday, August 18; 1–4 p.m.
Conservatory Plaza
Claudia Goddard leads an interactive slack key guitar session. A coloratura soprano, she also plays ʻukulele and Hawaiian Slack Key guitar. When in Hawaiʻi, she studies with slack key guitar masters Keola Beamer and Ozzie Kotani (both of whom were featured in the all-slack key soundtrack to the Oscar-award winning film "The Descendants"). Claudia is the musician for several hula groups in New York City including kumu hula (master hula teacher) Vicky Holt Takamine's group Pua Aliʻi ʻIlima o Nuioka.
Hawaiian Instrument Crafting with Luana Haraguchi
Saturday & Sunday; 1–4 p.m.
Conservatory Courtyard
Luana Haraguchi, director and kumu of Halau Hula O Na Mele 'Aina O Hawai'i, demonstrates how to make the traditional Hawaiian instruments of nose flute, gourd drum, and bamboo rhythm sticks.
All-Star Jam Session
Sunday, August 19; 1–3 p.m.
Conservatory Lawn

Join Willie K, Led Kaapana, Kamakakehau Fernandez, and Kapono Na'ili'ili for a relaxed afternoon of impromptu music on the Conservatory Lawn.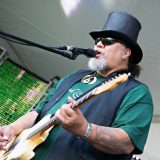 Hawaiian All-Star Concert at Aloha Nights
Saturday, August 18; 7–9:30 p.m.
Conservatory Lawn

Extend your visit with Aloha Nights on August 18 with an evening performance by Kamakakehau Fernandez, Kapono Na'ili'ili, Led Kaapana, and Willie K. (Special Ticket Required for Aloha Nights)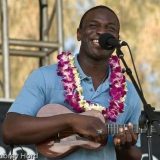 About the Performers
Kick back and enjoy live performances from renowned Hawaiian singers, slack key guitarists, and more.
Willie K: This Grammy-nominated singer, songwriter, guitarist, and legendary entertainer showcases an eclectic musical mix of indigenous Hawaiian, jazz, reggae, rock, and country that's earned rave reviews from everyone from Prince to Barack Obama.
Led Kaapana: For more than 40 years Kaapana has been thrilling audiences with his mastery of slack key guitar and his extraordinary voice that ranges from expressive baritone to leo kiʻekiʻe (falsetto). A multiple-Grammy nominee, a true musical legend – and a national treasure.
Kamaka Fernandez: Celebrated for his ukulele stylings and soulful leo kiʻekiʻe (falsetto) singing, Kamaka weaves heart and soul into the unforgettable live performances that have made him one of Hawaiʻi's newest and most refreshing talents. Joining Kamaka will be Kapono Na'ili'ili. This award-winning vocalist and multi-instrumentalist (guitar, bass, ukulele, drums) crosses genres from traditional Hawaiian to R&B, and is one of Hawaiʻi's most sought-after performers.