Georgia O'Keeffe Opening Weekend
May 19 & 20, 2018
FINAL WEEKS: CLOSES OCT. 28
Welcome the exhibition with a celebration of traditional Hawaiian culture, including music, hula, kapa- and lei-making demonstrations.
Performances & Demonstrations
Drop in and learn how to make traditional leis, watch live hula performances, and more.
Hula Kahiko and 'Auana Performances with E Hula Mai Dance Academy
Visitor Center 
12, 1, 2, & 3 p.m.
Kapa-Making with Micah Kamohoali'i
Conservatory Plaza
1–4 p.m.
'Ukulele with Jason Poole
Conservatory Plaza
1–4 p.m.
Tropical Plein-Air Painting
Prennial Garden
1–4 p.m.
Lei-Making & Orchid Hair Pin Demonstrations, courtesy of Hawaiian Airlines
Conservatory Courtyard
11 a.m.–6 p.m.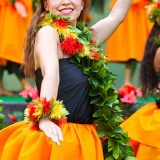 About the Performers and Artisans
Learn about E Hula Mai Dance Academy and the musicians accompanying their hula performance, artisan Micah Kamohoali'i, and more.
About E Hula Mai Dance Academy
Under the direction of Mahealani and Lyndsey Kamau, E Hula Mai Dance Academy perpetuates the ancient customs of Hawaiian chant and dance, specializing in hula kahiko (traditional) and 'auana (modern). Accompanying them are Kumu Hula Kona Garcia of Hula Hālau o Nā Liko Aʻo Puna, master chanter and ʻukulele player; William Wynne, bass musician and back up guitarist; and Patrick Kaleo Carvalho, lead guitarist.
About Micah Kamohoali'i
Kumu hula Micah Kamohoali'i is the Cultural Director for the Waimea Hawaiian Homesteaders' Association and is an accomplished and renowned kumu hula of Hālau Nā Kīpu'upu'u. His hālau is rooted in the Hawaiian culture and language while immersed in the traditions and practices of the Kamohoali'i family and the Waimea people of the island of Hawai'i.
He is celebrated for being a native Hawaiian artist, producing works in many mediums such as lei making, feather working, photography, printing, paintings, clothing, film production, and most famously his traditional Hawaiian kapa.
About Jason Poole
A Pittsburgh-born, classically trained singer, turned Accidental Hawaiian Crooner. Trained and educated by Hawaiian elder Pilipo "Pops" Solatorio with repertoire from Hawai'i's golden age of song, especially the songs of Molokai, Poole does his best to make Hawaiian grandmothers cry with delight when he sings Hawai'i's most beloved songs.