Georgia O'Keeffe Closing Celebration Weekend
October 27 & 28, 2018
FINAL WEEKS: CLOSES OCT. 28
NYBG, in collaboration with Hawai'i Tourism United States, will feature performers, artists, and artisans from Hawai'i, showcasing the time-honored traditions and unique cultural heritage of the Hawaiian Islands.
Storytelling, Talks, and Film
Closing weekend brings together many of the artists featured throughout the exhibition with storytelling, a science talk, and special screening of The Hawaiian Room
Legends of Hawai'i
Conservatory Plaza
Saturday; 11 a.m.–1p.m.
Come listen to a lively recounting of the many Hawaiian legends, with master storyteller and chant practitioner, Micah Kamohoali'i.
Science Talk
Mysteries from the Deep: Volcanoes
Ross Hall
Saturday; 1–2 p.m.
Leading Hawaiian geologist Dr. Richard Hazlett and NYBG scientist Dr. Brian Boom explore the fascinating science behind Hawai'i's Kilauea.
Film Screening: The Hawaiian Room
Ross Hall
Sunday; 2 p.m.
(Ann Marie Kirk, 2014, 55min)
Between 1937 and 1966, hundreds of Hawaiian dancers, singers and musicians were recruited to perform at The Hawaiian Room, an oasis of Hawaiian culture and entertainment in New York City's famed Lexington Hotel. Some 20 former performers speak candidly and fondly of their experience at the historic nightclub, and their culture shock on going from Hawai'i to New York. A post-screening Q&A will feature the filmmaker in reunion with some of the original Hawaiian Room performers.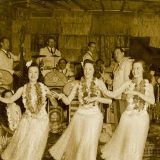 Hula Performances
Haupt Conservatory
Past hula performers for Georgia O'Keeffe: Visions of Hawaii along with special guests come together for several grand finale performances.
Hula: Featuring E Hula Mai
Saturday & Sunday; 2–4 p.m.
Under the direction of sisters, Mahealani and Lyndsey Kamau, E Hula Mai Dance Academy is comprised of professional Polynesian dancers and musicians born and raised in Hawai'i. Their mission is to perpetuate, share, and educate those interested in the Hawaiian culture through dance.
NYC Hula Invitational
Sunday; 11 a.m. – 1 p.m.
We invite all of the many Hula dance ensembles featured throughout the run of the exhibition back to NYBG for a grand finale celebration!
Hula Reunion: Featuring Performers from The Hawaiian Room
Sunday; 1 p.m.
Original performers from the famed Hawaiian Room of the Lexington Hotel reunite for this special hula performance, which will take place before the screening of The Hawaiian Room documentary.