Film Screenings: Hawai'i Past and Present Series
Sundays (Except June 3); May 19–October 28, 2018
2 p.m.
This wide-ranging series goes beyond Hollywood stereotypes to showcase Hawai'i's ecological wonders, its history and culture, and the dynamic relationship between past and present, giving insights into Hawaiian life today. Experience the stories of the Hawaiian Islands through drama, music, the arts, and award-winning documentaries featuring her people in their own words—all curated by Kris Kato, a New York-based keiki o ka'āina (child of the land) working in film education.
Film Schedule
See a listing of playtimes throughout the run of Georgia O'Keeffe: Visions of Hawai'i.
Molokai: The Story of Father Damien
October 7
Standing on Sacred Ground: Islands of Sanctuary
October 14 (includes a post-screening Q&A with the filmmaker)
W.S. Merwin: To Plant a Tree
October 21 (includes a post-screening live performances of poetry and chant in the Conservatory Plaza.
The Hawaiian Room
October 28 (includes a post-screening Q&A and special appearance by some of the original Hawaiian Room performers)
Past Screenings:
Bird of Paradise
May 20, August 5
Hawaiian: The Legend of Eddie Aikau
May 27, September 9
Molokai: The Story of Father Damien
June 10
Mauna Kea: Temple Under Siege
June 17, July 29 (screening at 3 p.m.)
Lili'uokalani: Reflections of Our Queen
June 24, September 23 (includes post-screening Q&A)
Listen to the Forest
July 1, August 12
Island to Island
July 8, September 30

The History of the Sons of Hawai'i
July 15, August 19
Papa Mau: The Wayfinder
July 22, September 2
Standing on Sacred Ground: Islands of Sanctuary
August 26
The Hawaiian Room
September 16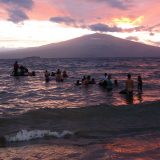 Film Synopses
Learn more about the films being featured in our Hawai'i Past and Present series and view trailers ahead of the screenings.
Bird of Paradise
(Delmer Daves, 1951, 100 min.)
In this romantic Hollywood classic, a young islander returns home with his French college roommate (Louis Jourdan), who falls in love with the chief's daughter, Kalua (Debra Paget)—and must prove his worth through a series of outlandish island trials. But when a volcano erupts, Kalua tragically sacrifices herself to its molten depths to appease the Island's gods. Filmed in beautiful Technicolor on Hawai'i, O'ahu, and Kaua'i. On May 20, film historian Alex Simmons and guest curator Kris Kato lead a post-screening discussion on Hawai'i in film and the power of Hollywood stereotypes.
Hawaiian: The Legend of Eddie Aikau
(Sam George, 2013, 96 min.)
This compelling ESPN 30 for 30 sports documentary chronicles the remarkable life and times of Eddie Aikau—the legendary Hawaiian big wave surfer and pioneering lifeguard, whose tragic death aboard the Hōkūle'a's doomed 1978 voyage made him a catalyst figure in the Second Hawaiian Renaissance of the 1970s.
Molokai: The Story of Father Damien
(Paul Cox, 1999, 110 min.)
"Few heroes compare with Father Damien," wrote Mahatma Gandhi of the Belgian missionary (now Catholic saint) who risked and lost his life working with incurable, contagious leprosy victims in their isolated colony on Molokai island—where this story was filmed. This moving story stars David Wenham (Faramir from Lord of the Rings) as Damien, and an all-star supporting cast, including Sam Neill, Peter O'Toole, Kris Kristofferson, and Derek Jacobi. Screenplay by Oscar-winner John Briley (Gandhi).
Mauna Kea: Temple Under Siege
(Nā Maka o ka Āina, 2005, 57 min.)
Although this massive mountain volcano last erupted some 4,000 years ago, it is still hot today, the center of a burning controversy over whether its summit should be used for astronomical observatories or preserved as a world heritage site. The documentary captures Mauna Kea's beauty, history, and richly varied ecosystems.
Lili'uokalani: Reflections of Our Queen
(Edgy Lee, 2017, 30 min.)
"There could be no greater compliment than to liken a person to a flower."—Queen Lili'uokalani, Hawai'i 's last monarch, had a deep connection to flora and fauna. Select scenes from award-winning filmmaker Edgy Lee's upcoming documentary film reveals the natural beauty of the Hawaiian Islands as expressed through the Queen's diaries and letters, her poetic lyrics, and rare oral histories by kupuna (Hawaiian elders).
Replicas of Queen Lili'uokalani's gowns will be on display July 28 & 29 for Hawai'i Fashion Weekend at NYBG.
Listen to the Forest
(Eddie & Myrna Kamae, 1991, 60 min.)
This environmental documentary traces the hidden connections within Hawai'i's rainforests and beckons for a return to a traditional Hawaiian relationship with the environment. Interviews, chants, and original songs and dances give voice to an older form of ecological wisdom summed up in the phrase "mālama 'āina," (to take care of the land).
Island to Island
(Jacqueline Hazen, 2017, 24 min.)
In 2015, two young New Yorkers—emerging filmmaker Kris Kato and tech start-up founder Keoni DeFranco—were initiated as kahu oli, caretakers of Hawaiian chant. Now responsible for safeguarding and sharing this indigenous, familial tradition, Kris and Keoni join others in the Hawaiian diaspora community who are integrating oli into the sounds of the island of Manhattan. An official selection of the Margaret Mead Film Festival.
The History of The Sons of Hawai'i
(Eddie Kamae, 2004, 80 min.)
Filmmaker and 'ukulele virtuoso Eddie Kamae was a founding member of The Sons of Hawai'i—the legendary musical group that reintroduced Hawaiian folk music to the world.  This engaging music documentary weaves personal stories, island humor, and performances into an affectionate tapestry that reveals something uniquely special about Hawai'i and its culture.
Papa Mau: The Wayfinder
(Na'alehu Anthony, 2010, 60 min.)
In 1976, Hawaiians in the newly formed Polynesian Voyaging Society built and sailed the deep-seal voyaging canoe Hōkūle'a from Hawai'i to Tahiti to prove their ancestors were able to explore the vast Pacific by navigating with the stars. This documentary highlights the critical role played by Micronesian-born master navigator "Papa" Mau Piailug, who taught them the all-but-lost art of traditional navigation and made possible the remarkable journey that led to a rebirth of Polynesian unity and pride.
Standing on Sacred Ground: Islands of Sanctuary
(Christopher (Toby) McLeod, 2013, 32 min.)
As indigenous communities around the world resist threats to their sacred places, Native Hawaiians share the ecological and spiritual practices they have been using to restore the island of Kaho'olawe after 50 years of military use as a bombing range. On October 14 filmmaker McLeod leads a post-screening Q&A.
The Hawaiian Room
(Ann Marie Kirk, 2014, 55 min.)
Between 1937 and 1966, hundreds of Hawaiian dancers, singers and musicians were recruited to perform at The Hawaiian Room, an oasis of Hawaiian culture and entertainment in New York City's famed Lexington Hotel. Some 20 former performers speak candidly and fondly of their experience at the historic nightclub, and their culture shock on going from Hawai'i to New York. A post screening Q&A on October 28 features the filmmaker and some of the original Hawaiian Room performers.
W.S. Merwin: To Plant A Tree
(Stefan Schaefer, 2006, 60 min.)
For nearly four decades Poet Laureate and Pulitzer winner W.S. Merwin has been preserving native plants and palms at his home, the Merwin Conservancy, a 19-acre site on Maui with the most comprehensive private collection of palms in the world. In interviews filmed in Hawai'i, France, and on several reading tours, Merwin's environmental activism and poetry are on full display, with humorous insights into the human experience and the relevance of poetry in our lives today.