For Kids: A Closer Look: Georgia O'Keeffe and Hawai'i
May 19, 2018–September 21, 2018
Guided Activities:
Weekdays; 1:30–5:30 p.m.
Saturdays & Sundays; 10 a.m.–5:30 p.m.
Inspired by O'Keeffe's unique style of representing close-up views of flowers and fruit, children will investigate botanical specimens and create art. Play in our Hawaiian sand table featuring real shell and rock specimens to uncover. Pot up a tropical ginger cutting to take home and observe its growth!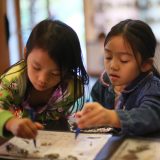 Foldscope: The Paper Microscope
Saturdays & Sundays, July 7–September 16; 2–3:30pm
Kids ages 8 and up with an adult partner can drop into the Discovery Center on weekends this summer to learn how to make their own special portable microscope to take home. This project takes about 30-40 minutes to complete. Offered through a generous donation by the Simons Foundation.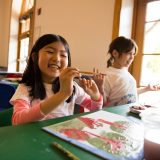 Hands-On Art Workshops with Children's Museum of the Arts
Sunday, July 1 and Sunday, August 5; 1–4pm
Drop in for fun, O'Keeffe inspired art-making led by teaching artists from the Children's Museum of the Arts. Each month will feature practicing a different artistic technique.