For Kids: A Closer Look: Georgia O'Keeffe and Hawai'i
May 19, 2018–September 21, 2018
Guided Activities:
Weekdays; 1:30–5:30 p.m.
Saturdays & Sundays; 10 a.m.–5:30 p.m.
Inspired by O'Keeffe's unique style of representing close-up views of flowers and fruit, children will investigate botanical specimens and create art. Play in our Hawaiian sand table featuring real shell and rock specimens to uncover. Pot up a tropical ginger cutting to take home and observe its growth!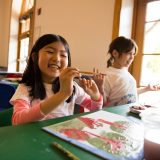 Hands-On Art Workshops with Children's Museum of the Arts
Sunday, July 1 and Sunday, August 5; 1–4pm
Drop in for fun, O'Keeffe inspired art-making led by teaching artists from the Children's Museum of the Arts. Each month will feature practicing a different artistic technique.