Hawaiian Performances & Demonstrations
On weekends, enjoy performances and demonstrations that celebrate the diverse cultural traditions of Hawai'i.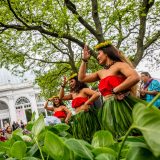 Hula with Music
Saturdays & Sundays (and Holiday Mondays) through September 30; 12, 1, 2, & 3 p.m.
See live performances that highlight both Hula Kahiko (traditional) and Hula Auana (contemporary) demonstrations.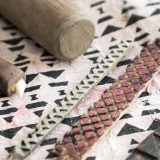 Artisan Demonstrations
Saturdays & Sundays; 1–4 p.m.
Activities include block printing, coconut kiʻi puppet-making, lei-making, Hawaiian instrument crafting, poi-making, storytelling, and more.
Kapa is a traditional Hawaiian fabric made from the beaten fibers of the paper mulberry or breadfruit plants.
Block Printing, an ancient technique of printmaking using a carved material covered in ink to transfer an image to another surface.
Coconut Kiʻi is a traditional kiʻi, or puppet. Kiʻi were often used in a special hula, where the performers would make the puppets dance and act out the story while speaking the puppets' parts.
Poi is a native Hawaiian food made by mashing the plant stem of the taro root.
Artisans include:
Tropical Plein-Air Painting
May 19, 20 & June 3
ʻUkulele with Jason Poole
May 19 & 20; August 18 & 19
Kapa-Making with Micah Kamohoali'i
May 18–20; July 21, 22, 28, & 29
Lei-Making with Pomaikai Klein
May 26 & 27
Block printing with Caren Loebel-Fried
May 26–28
Hawaiian Instrument Crafting with Luana Haraguchi
June 10; July 1; August 12, 18, & 19
Slack Key Guitar with Chris Yeaton
June 16 & 17
Lei-Making with Andrew Valentine
June 23
ʻUkulele and Slack Key Guitar with Claudia Kanile'a Goddard
June 24; July 21 & 22; August 4, 5, & 18
Slack Key Guitar with Andy Wang
June 30
The Artistry of the Ni'ihau Shells with Robert Arita
July 7
Poi-Making with Kealoha Domingo
July 7 & 8
Lei Dress-Making with Bliss Lau
July 14, 15, 28 & 29
Coconut Kiʻi (Puppets) Crafting
August 25
Hawaiian Storytelling with Kaulana Valentine
August 11 & 12
Poi-Making with Kini Kahauolopua
August 11, 25, & 26
Outrigger Canoe Display
September 1–3
Future dates coming soon.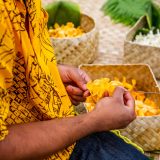 About the Performers and Artisans
Learn about NYC based hula practitioners, and the artisans who are bringing their talent to the Garden.
Hula Performers:
Dance Aloha
Since 1996, Dance Aloha is a professional dance company specializing in Polynesian dances and provides wholesome entertainment for all age groups, occasions, and venues.
Na Pua Mai Ka Lani Nuioka
Under the tutelage of the late Kumu Kale Pawai, this Queens-based halau, which translates to "The Many Different Flowers from Heaven", began in 2002.
Pomaikai Klein
Born and raised in Hawai'i, Pomai has danced hula professionally around the world. Winner of the Miss Hawai'i Islands pageant in 2010, she is known as one of the best hula dancers in Oahu.
Pua Ali'i 'Ilima o Nuioka
Pua Ali'i 'Ilima O Nuioka (The Royal 'Ilima Blossom of New York) is a school of Hawaiian dance under the direction of nā kumu hula (master hula teachers) Vicky Holt Takamine and Jeffrey Takamine.
Halau Hula O Na Mele Aina O Hawai'i
Halau Hula O Na Mele Aina O Hawai'i first opened its doors in New York City in 1968 under the guidance of Luana Harguchi, who would hold hula clases in her studio apartment in the Upper East Side of Manhattan. The halau was given its name from her teacher, Iolani Luahine. From its small roots flourished a group that comprised of dedicated students who were interested in learning hula and Hawaiian traditions.
Hālau ʻŌlelo
Hālau ʻŌlelo is a Hawaiian language training and development program founded and directed by Kumu Kainoa Embernate. Kainoa is an educator of Hawaiian language and culture from Hilo, Hawai'i, now based in New York City.
Na Lehua Melemele
Formed in 2007 by Lisette Kaualena Flanary under the guidance of Kumu Hula Patrick Makuakane, this hui (group, club) is comprised of individuals who are united by a common love of the hula.
About the Artisans:
Micah Kamohoali'i
Kumu hula Micah Kamohoali'i is the Cultural Director for the Waimea Hawaiian Homesteaders' Association and is an accomplished and renowned kumu hula of Hālau Nā Kīpu'upu'u. His hālau is rooted in the Hawaiian culture and language while immersed in the traditions and practices of the Kamohoali'i family and the Waimea people of the island of Hawai'i.
Jason Poole
A Pittsburgh-born, classically trained singer, turned Accidental Hawaiian Crooner. Trained and educated by Hawaiian elder Pilipo "Pops" Solatorio with repertoire from Hawai'i's golden age of song, especially the songs of Molokai, Poole does his best to make Hawaiian grandmothers cry with delight when he sings Hawai'i's most beloved songs.
Luana Haraguchi
Is the director and kumu of Halau Hula O Na Mele 'Aina O Hawai'i, demonstrates how to make the traditional Hawaiian instruments of nose flute, gourd drum, and bamboo rhythm sticks.
Andy Wang
Member of the Hawai'i Academy of Recording Arts, Andy was given his Hawaiian name, Kulana, by songwriter, hula teacher and Hawaiian cultural authority, Auntie Nona Beamer. Currently serving as the President of Halawai, Andy has studied with slack key guitar masters, Ozzie Kotani, Keola Beamer and George Kahumoku, Jr.
Chris Yeaton
Hawaiian born, Chris Yeaton, draws from a lineage of great Hawaiian slack key tradition having toured the nation with guitar masters Keola Beamer and John Keawe. Chris founded the Woodsong Acoustics Group, an ongoing concert series celebrating Slack-key and fingerstyle guitar.
Claudia Kanile'a Goddard
Claudia Kanileʻa Goddard's vocals are a result of a blend of classical training and a passion for Hawaiian music and culture. A coloratura soprano, she also plays ʻukulele and Hawaiian Slack Key guitar. When in Hawaiʻi, she studies with slack key guitar masters Keola Beamer and Ozzie Kotani (both of whom were featured in the all-slack key soundtrack to the Oscar-award winning film "The Descendants"). Claudia is the musician for several hula groups in New York City including kumu hula (master hula teacher) Vicky Holt Takamine's group Pua Aliʻi ʻIlima o Nuioka.