Hawaiian Performances & Demonstrations
On weekends, enjoy performances and demonstrations that celebrate the diverse cultural traditions of Hawai'i.
Storytelling, Music, & Poetry
Saturdays & Sundays; 1–4 p.m.
Listen to Hawaiian storytelling, slack key guitar, and special poetry reading featuring Hawaiian chants.
Performers:
Hawaiian Storytelling with Kaulana Valentine
October 6–8; 20–21
ʻUkulele and Slack Key Guitar with Claudia Kanile'a Goddard
October 13–14
Visions of Hawaiʻi: Poetry Reading and Hawaiian Chants
Sunday, October 21; 3:30 p.m.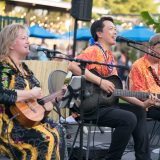 Performance Notes
Learn about the storytellers and artists who are bringing their talent to the Garden.
About Kaulana Valentine
Discover the beauty and culture of Hawaii in the 1930's with stories, music and more! Kaulana shares this dynamic era of Hawaii's history through hula, music, painting demonstrations and readings from Georgia O'Keefe's diary of her time visiting the islands.
About Claudia Kanileʻa Goddard
Claudia Kanileʻa Goddard's vocals are a result of a blend of classical training and a passion for Hawaiian music and culture. A coloratura soprano, she also plays ʻukulele and Hawaiian Slack Key guitar. When in Hawaiʻi, she studies with slack key guitar masters Keola Beamer and Ozzie Kotani (both of whom were featured in the all-slack key soundtrack to the Oscar-award winning film "The Descendants").
About the Poetry Reading
This captivating performance combines a dramatic reading of Hawaiian-themed poems from the Garden's current Poetry Walk with a set of kindred Hawaiian chants, guided by the natural rhythms of a day's progress into night and the influence of our universe's ecosystems.
The performance will follow a screening of the short documentary W.S. Merwin: To Plant a Tree  (2:00pm in Ross Hall) – which examines the life and work of the acclaimed poet and environmental activist, who has spent four decades preserving native plants and palms at his Maui home, the Merwin Conservancy, a 19-acre site with the most comprehensive private collection of palms in the world.
Patrick Breen, an actor and writer (Galaxy Quest, Men in Black, Whole Day Down) will read poems by Puanani Burgess, Juliet S. Kono, Brandy Nālani McDougall, Sage U'ilani Takehiro, Kahikāhealani Wright, and U. S. Poet Laureate and Pulitzer winner W. S. Merwin.
Kainoa Embernate, a Hawaiian language and culture educator from Hilo, Hawaiʻi will perform chants. He is the Founder/Director of Hālau ʻŌlelo: Hawaiian Language Worldwide, and a source to cultural practitioners, artists, and scholars looking to grow Hawaiian, Polynesian, and Oceanic presence around the world.
Alice Quinn, executive director of the Poetry Society of America, will introduce the performance Poet Lisa Linn Kanae curated the selections for the exhibition's Poetry Walk