Celebrate Hawai'i Weekend: Fashion & Design
July 28 & 29, 2018
FINAL WEEKS: CLOSES OCT. 28
Style takes center stage with Hawaiian fashion and design. Don a Hawaiian shirt and join us for kapa-making, witness traditional tattoo demonstrations, and get a glimpse into the evolution of fashion in Hawai'i and the cultural influences that inspire the contemporary designs of today.
The History of Hawaiian Tattooing
with Keone Nunes
Ross Hall
11–1 p.m.
Hear from expert Hawaiian tattooist Keone Nunes, and both witness and learn about the ancient art form of kakau, or hand tapping, during a discussion and live demonstrations.
Traditional Hawaiian tattooing is an art form that doesn't use machinery, just traditional, handmade tools—made of whale bone, wood, and fibers—to tap natural ink into the skin. Keone Nunes considers himself more of a cultural practitioner than a tattooist. He brought back the art of traditional tattooing to Hawai'i in the 90's, learning from the Samoan kākau (tattoo) master, Sua Suluape Paulo. The designs Keone creates relate to genealogies, protection or 'aumakua (family gods), and the kuleana (responsibility) that goes with them. The placement and designs afford the person a connection with their ancestors and reaffirms that person as being kanaka (Native Hawaiian).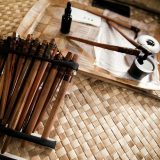 Pop-Up Fashion Shoot with Manaola Yap
Fountain of Life
11 a.m.–12 p.m.
Join us at the Fountain of Life as models present the fashion of Hawai'i's hottest new designer, Manaola Yap. Interact with Manaola, discover how his fashion translates the spirituality and beauty of Hawaiian culture—and take your own Instagram-worthy photos!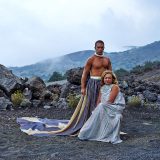 Lei Dress-Making with Bliss Lau
11 a.m.–1 p.m.
Conservatory Plaza
New York-based, Hawaii-raised designer Bliss Lau will be showcasing her BODYLEI concept with partner Meleana Estes to create floral garments in a unique on-sight presentation. The floral garments, a hybrid between Bliss's signature body chains and the art of lei, are inspired by Georgia O'Keeffe's Hawai'i paintings and translated as wearable art on the female form.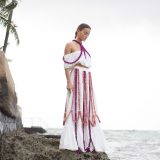 Kapa-Making with Micah Kamohoali'i
Visitor Center
11 a.m.–1 p.m.
Watch expert Micah Kamohoali'i perform the ancient Hawaiian tradition of kapa-making; a traditional Hawaiian fabric made from the beaten fibers of the paper mulberry or breadfruit plants.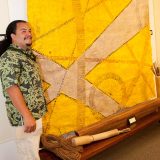 NYBG Fashion Walk
Conservatory Plaza
2 p.m.
In this special fashion show, modern Hawaiian fashion designers come together to showcase their work which incorporates traditional methods within modern fashion design.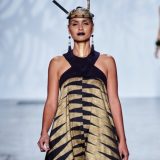 Iolani Palace's Queen Gowns
On Display in the Orchid Rotunda and Ross Gallery
Get a glimpse into the fashions of Hawai'i's monarchs. On loan from the Iolani Palace's permanent exhibition, come and see designer, Iris Viacrusis' reproductions of the gowns worn by Queen Kapi'olani and Queen Lili'uokalani.
Meet the Curator
10:30 a.m., 1 & 3:30 p.m.
Come and chat with Curators from the Iolani Palace in this informal meet and greet.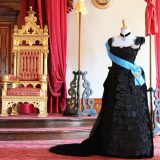 Designers & Artists
Learn more about Fashion Weekend's Participants.
Keone Nunes: Since the mid-'90s, Nunes has used a moli—a comb-like instrument—to hand-tap traditional Hawaiian tattoo motifs, using his years of apprenticeship to become the foremost revivalist of an ancient island art.
Micah Kamohoali'i: As the kumu hula, or leader of the Halau Na Kipu'upu'u, a hula school on "the big island" of Hawai'i, Micah Kamohoali'i is adept in the movements that make up hula and the fabrication of the regalia of the historic tradition.
Manaola Yap: Up-and-coming fashion designer Manaola Yap was born into a family whose cultural and artistic roots run deep. His ancestors were hula practitioners and artisans of traditional Hawaiian textiles and dyes. He is the first Hawaiian fashion designer to present authentic Hawaiian culture on a mainstream fashion stage and he recently became the first native Hawaiian fashion designer to be carried by Saks Fifth Avenue.
Bliss Lau: Bliss Lau's internalized combination of two cultures manifests itself in each concept, thought, and creation in her collection. Raised in Honolulu, Hawai'i, and educated in New York City at Parsons School of Design, Lau is currently based in New York City where she frequently draws inspiration from diverse sources.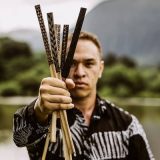 Images on this page provided by:
Hawaii Tourism Authority / Heather Goodman