The Edible Academy's Ruth Rea Howell Family Garden provides hands-on gardening activities from April through October, encouraging the whole family to explore, learn, and grow. The Children's Gardening Program offers kids the chance to tend their very own garden. Sign up for Spring, Summer, and Fall sessions. Dig! Plant! Grow! provides families the opportunity to drop in, roll up their sleeves, and help us to sow seeds, water the plants, and harvest ripe crops. Join us every Wednesday, Saturday, and Sunday for garden fun and a diverse schedule of seasonal activities investigating culinary and garden themes. Edible Academy Fresh From the Garden Tastings, cooking demonstrations hosted at the Pine Tree Café on Wednesdays, encourage families to get hands-on with healthy cooking. With new gardening programs and special events all year round, you'll always have a reason to come back.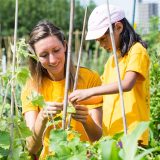 Children's Gardening Program
Spring session begins March 25, 2017.
Offered in the spring, summer, and fall, kids ages 3–12 plant, tend, and harvest vegetables, and are taught lessons on gardening topics from beans to worms.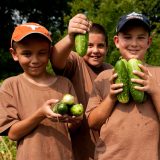 Edible Academy Fresh from the Garden Tastings
Fresh from the Garden Tastings presented by Whole Foods Market®
Wednesdays starting June 7; 11 a.m. at the Pine Tree Café
Dig! Plant! Grow!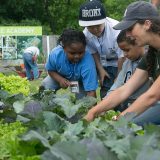 Drop by the Family Garden every Wednesday, Saturday, and Sunday from 1:30–5:30 p.m., April through October, for hands-on gardening activities, crafts, and investigations. Dig in the dirt, water the garden, sow seeds, and see what's growing. Programs help foster in children a lifelong appreciation for nature and freshly grown food. Program themes change monthly, following the crops maturing in the garden with activities to celebrate each. For program descriptions, click on the Upcoming Edible Academy Program titles below.