Identifying Cuba's Most Vulnerable Plant Species in the Face of Climate Change and Habitat Loss
Brian Boom and collaborators
Cuba has the greatest surface area and plant diversity of any island in the Caribbean, one of the world's Biodiversity Hotspots. Of the estimated 7020 species of vascular plants known from Cuba, 50 percent are regarded as endemic to the island. Some of these species are doubtless narrow habitat endemics, which means that if their restricted habitat decreases, whether through destruction or alteration due to climate change, these species have no place to go and will be candidates for extinction.
The goal of this project is to assess the threat to selected, vulnerable Cuban species by conducting a Geographic Information Systems (GIS) analysis of their distributions. The species chosen for this pilot project, which will be chosen from among seed plant families, ferns and lycopods, and mosses and liverworts, are those for which there exist specialists at the Garden and/or within Cuba.
The project is conducted in partnership with Cuba's Instituto de Ecología y Sistemática, Jardín Botánico de Las Tunas, and Centro Oriental de Ecosistemas y Biodiversidad. Funding has been provided by the John D. and Catherine T. MacArthur Foundation, The Christopher Reynolds Foundation, The Bay & Paul Foundations, and private individual donors to The New York Botanical Garden.
More information:
Science Talk Blog: Cuba Conference: Aiming For a New Model of Sustainable and Equitable Development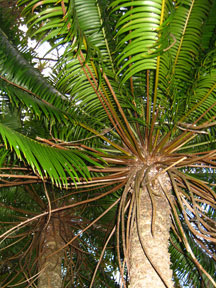 Microcycas calocoma (Zamiaceae), a critically endangered seed plant occurring only in Cuba.