Strategy for Conserving Ash Trees in the Northeast: Collection, Analysis, and Outreach
Daniel Atha, Brian Boom, Gregory Plunkett, and collaborators
NYBG scientists, working as part of a multi-disciplinary, multi-institutional team, are investigating the genetic diversity of ash trees and will make these findings available to the scientific and conservation communities for use in efforts to protect North American ash trees from the invasive Emerald Ash Borer (EAB). The project's goal is to elucidate the relationships of different ash species and to study patterns of susceptibility to EAB, enabling adoption of appropriate conservation strategies. Additionally, citizen scientists will be trained in New York and New England in ash identification and data collection, allowing them to contribute scientifically to the proposed project as well as further ash conservation initiatives. The project will take advantage of the unique opportunity to obtain and employ critical data while considerable areas in this region remain un-invaded by EAB. But time is of the essence, as the EAB's range is rapidly expanding and it is known to inflict nearly 100% mortality on the ash species commonly occurring in New York and New England.
To address this conservation impediment, NYBG's research team incluldes the Mid-Atlantic Regional Seed Bank, U.S. National Arboretum, U.S. Forest Service, Ecological Research Institute, and Bluegrass Woodland Restoration Center. The immediate goal is to develop a robust taxonomic picture of North American ash trees, focusing largely on the taxonomically complicated New York and New England species. This will be accomplished by conducting a phylogenetic study (i.e., determination of evolutionary relationships) using DNA samples, herbarium specimens, and viable seed from all generally accepted and hypothesized species. Moreover, by collecting environmental data along with field samples, we will be able to account for environmentally related variability in species' characteristics. Through outreach and coordination, our findings will be incorporated into on-the-ground conservation efforts. The project's three main elements are collection, analysis, and outreach.
We are grateful to the Sarah K. de Coizart Article TENTH Perpetual Charitable Trust and two anonymous members of the Garden's Board of Managers for their generous support of The New York Botanical Garden's Center for Conservation Strategy. We are grateful to Sandra Bruening and Fernanda Cabañas Gac for their assistance in the Cullman Molecular Lab.
More information:
Symposium: Saving the American Ash Summit, Friday, October 13, 2017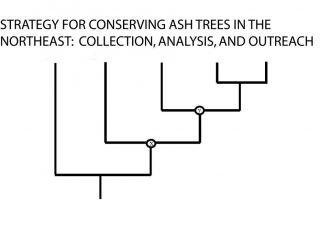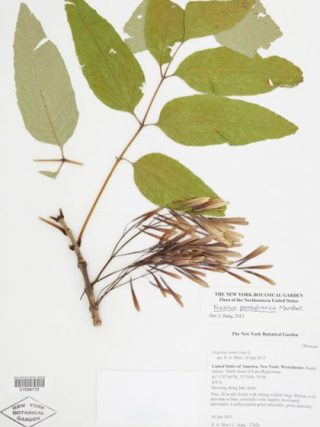 The Ash Conservation Project involves a combination of molecular phylogenetic analysis and specimen-based research.