Aloha Nights Encore
Friday, October 26 & Saturday, October 27
6:30 – 10:30 p.m.
Celebrate Georgia O'Keeffe: Visions of Hawai'i on this final weekend with the return of two spectacular Aloha Nights. Enjoy an after-hours viewing of the exhibition in the Conservatory and Art Gallery. Gather around our beautifully crafted fire pits under the autumn sky to enjoy live music, dance, and storytelling honoring Pele, the Hawaiian goddess of fire and volcanoes. Invoking awe and respect, her legendary force is always in harmonious balance with the creation of new land, life, and hope.
Ticket Information
Non-Members
Adults: $38
Children (2–12): $18
Members
Member Adults: $28
Children (2–12): $13
Advance purchase recommended to guarantee admission. Events are rain or shine; read on for tips to help you plan your visit.
Aloha Nights are presented by Bank of America.
About Pele
Pele, the Hawaiian goddess of fire and volcanoes, can be represented as a young or old woman. This work of art created by Micah Kamohoali'i is an optical illusion depicting both of Pele's forms. Micah will be presenting stories about the legend of Pele at Aloha Nights.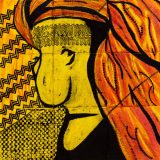 Music, Storytelling, and Dance
Haupt Conservatory
7–10 p.m.
Gather around our beautifully crafted fire pits to enjoy live music, storytelling, and dance.
Live Music: George Kahumoku, Jr.
Known as Hawaii's Renaissance man, George Kahumoku, Jr. is a multiple Grammy Award winning master slack key guitarist, songwriter, teacher, artist, and storyteller.
Storytelling: The Legend of Pele
Master storyteller and chant practitioner, Micah Kamohoali'I leads a lively recounting of the many supernatural sightings of Pele.
Kahiko Hula: Honoring Pele, Hawaii's Goddess of Fire
Under the direction of sisters, Mahealani and Lyndsey Kamau, E Hula Mai Dance Academy returns to the Garden to perform the ancestral hula.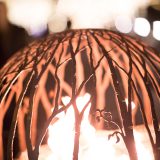 Mysteries from the Deep: Volcanoes
Haupt Conservatory
7-10 p.m.
Join leading Hawaiian geologist, Dr Richard Hazlett for engaging conversation and learn more about the science behind Hawaii's Kilauea.
Dr. Richard Hazlett is an Affiliate Faculty Member with the Geology Department at the University of Hawaiʿi, Hilo, and Associate with the U.S. Geological Survey, Hawaiian Volcano Observatory. He taught for 28 years at Pomona College, where he helped established and led the Environmental Analysis Program. He has authored or co-authored multiple books, including Roadside Geology of Hawaiʿi and Volcanoes: A Global Perspective. He is also senior editor of the new Oxford University Press Research Encyclopedia of Agriculture and the Environment. His research has included work on Italian, Russian, Alaskan, Cascadian, Central American, and Hawaiian volcanoes.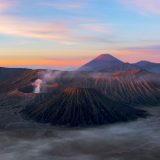 Contemporary Hawaiian Art by Mark Chai
Outdoor installations by Hawaiian-Chinese sculptor Mark Chai, inspired by the forms of the plants that O'Keeffe encountered while visiting Hawai'i, are illuminated in the Levy Visitor Center and along Garden Way.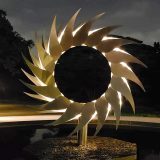 Specialty Food & Drinks
Enjoy an array of refreshments for purchase including Hawaiian-inspired fare including poke, from our Poke Truck, and the signature Passiflora Punch. Make a reservation at the Hudson Garden Grill (last seating 5:45 p.m.) to enjoy specials such as the Loco Moco featuring crispy sushi rice, house made Spam, filet mignon, and ginger tamarind gravy.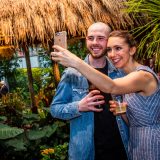 Tips for Your Visit
Make the most out of your Aloha Nights visit.
Special tickets must be purchased for Aloha Nights and are discounted for Members. Guest passes are not accepted. We strongly recommend reserving in advance, as events are likely to sell out.
Aloha Nights take place from 6:30 to 10:30 p.m.; arrive at any time during this time range.
Plan for approximately two hours to experience Aloha Nights. Tram service does not operate at night. Wheelchairs are available on a first-come, first-served basis.
Arrive by 9:30 p.m. for the last entry into the Library Building to view O'Keeffe's work in the art gallery.
Access to the Conservatory is granted on a space-available basis and there may be a wait on peak days.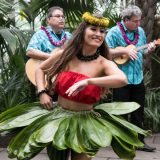 About Georgia O'Keeffe: Visions of Hawai'i
Discover the artist's little-known depictions of the Hawaiian Islands—and the plants and landscapes that inspired them.