Aloha Nights
Saturdays, June 2, 9, 16, 23, & 30; July 7 & 21; August 4 & 18;
September 1 & 8
6:30 – 10:30 p.m.
Get into the aloha spirit during these festive summer evenings, and celebrate the rich cultural artistry of the Hawaiian Islands with an after-hours viewing of Georgia O'Keeffe: Visions of Hawai'i in the Art Gallery and Conservatory. Don your best aloha shirt and join us on the Conservatory Lawn for interactive hula lessons that blend storytelling with rhythm and motion. Illuminated installations by contemporary Hawaiian-Chinese sculptor Mark Chai set the scene for a rotating lineup of live music and interactive lei-making demonstrations, where you can craft your own lei pin. Then unwind and enjoy an array of refreshments for purchase—from poke bowls to our signature cocktail, Passiflora Punch.
Ticket Information
Non-Members
Adults: $38
Children (2–12): $18
Members
Member Adults: $28
Children (2–12): $13
Upgrade your Aloha Night with a Hibiscus Happy Hour with AERIN Beauty on June 23, July 21, or August 4
Advance purchase recommended to guarantee admission. Events are rain or shine; read on for tips to help you plan your visit.
Aloha Nights are presented by Bank of America.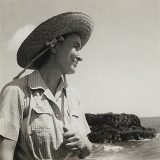 About Georgia O'Keeffe: Visions of Hawai'i
Discover the artist's little-known depictions of the Hawaiian Islands—and the plants and landscapes that inspired them.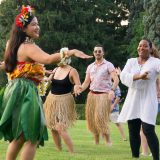 Interactive Hula Lessons
When written language did not exist in ancient Hawai'i, hula and its chant played an important role in keeping history and culture alive—a story would unfold through each movement. In this interactive hula lesson, professional hula dancers showcase their craft and teach you how to join in this rhythmic art form.
About the Instructors
Kaina Quenga, a native of Hilo, Hawai'i, has been dancing hula professionally for over 20 years. She is the Director of Nā 'Oiwi NYC, a New York-based education and advocacy group that perpetuates Native Hawaiian culture, history and voice in New York City. Kaina performed at the Aloha Inaugural Ball in Washington, D.C. with Brother Ah and the Aloha World Music Ensemble honoring President Barack Obama.
John-Mario Sevilla, director of the 92nd Street Y Harkness Dance Center, hails from Paukūkalo, Maui. His choreography has appeared at the Lower East Side Tenement Museum, The Asia Society, La Mama, the Bronx Academy of Art and Dance, and ABC No Rio.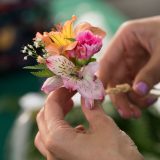 Interactive Lei-making Demonstrations
Discover the history and beauty of these symbols of love, honor, and friendship. Create your own lei pin with help from a lei artisan and share your aloha spirit by wearing it in your hair or on your wrist.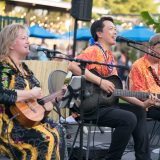 Live Music
The sounds of Hawai'i fill the Levy Visitor Center with a rotating lineup of top talent.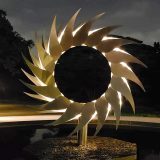 Contemporary Hawaiian Art by Mark Chai
Outdoor installations by Hawaiian-Chinese sculptor Mark Chai, inspired by the forms of the plants that O'Keeffe encountered while visiting Hawai'i, are illuminated in the Levy Visitor Center and along Garden Way.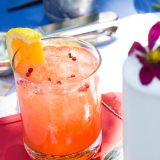 Hibiscus Happy Hour with AERIN Beauty
June 23, July 21, & August 4; 5:30–6:30 p.m.
NYBG Shop & Cantina
Join us for a pre-Aloha Night palm-fringed tropical happy hour celebrating all things hibiscus, one of the most iconic Hawaiian flowers and one of Georgia O'Keeffe's most stunning muses during her time there.
Enjoy complimentary island-inspired cocktails and hors d'oeuvres. Take an Instagram-worthy photo in front of the Hibiscus Palm flower wall to experience the sun-kissed fragrance. Exclusively for Aloha Night attendees, with any $50 AERIN fragrance purchase receive a free deluxe sample of Hibiscus Palm 4ml. USE CODE: NYBGAERIN. Stroll through NYBG Shop for hibiscus and tropical plants and other Hawaiian-inspired gifts—you'll receive 10% off your purchases and the Shop team will hold on to your items for the evening.
Ticket Information
Adults 21+: $65 per person; includes Happy Hour and admission to Aloha Nights from 6:30–10:30 pm.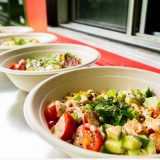 Specialty Food & Drinks
Unwind with Hawaiian-inspired fare including poke, from our Poke Truck, and the signature Passiflora Punch. Make a reservation at the Hudson Garden Grill (last seating 5:45 p.m.) to enjoy specials such as the Loco Moco featuring crispy sushi rice, house made Spam, filet mignon, and ginger tamarind gravy.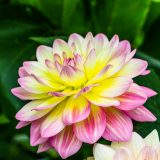 Tips for Your Visit
Make the most out of your Aloha Nights visit.
Special tickets must be purchased for Aloha Nights and are discounted for Members. Guest passes are not accepted. We strongly recommend reserving in advance, as events are likely to sell out.
Aloha Nights take place from 6:30 to 10:30 p.m.; arrive at any time during this time range.
Plan for approximately two hours to experience Aloha Nights. Tram service does not operate at night. Wheelchairs are available on a first-come, first-served basis.
Arrive by 9:30 p.m. for the last entry into the Library Building to view O'Keeffe's work in the art gallery.
Access to the Conservatory is granted on a space-available basis and there may be a wait on peak days.
Inside Look