Summer Concert Series: Songs for Dr. King: Nina Simone & Mahalia Jackson
July 13, 2018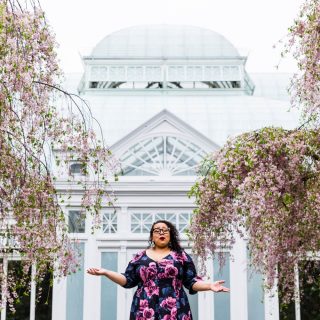 "The best young straight-ahead jazz singer of her generation" (The Wall Street Journal) Brianna Thomas delivers a powerful tribute to the life and legacy of Dr. Martin Luther King, Jr. through the iconic works of two musical legends. Nina Simone ("The High Priestess of Soul") and Mahalia Jackson ("The Queen of Gospel") individually crafted worlds of sound in jazz, pop, soul, gospel, and spirituals that were inextricably linked to the life, philosophy, and leadership of Dr. King.
Thomas laces together these uplifting narratives in dazzling new arrangements featuring guest trombone legend Wycliffe Gordon and an ensemble of powerhouse soloists, including trumpeter Bruce Harris, pianist James Hurt (piano), and guitarist Marvin Sewell, as well as alto saxophonist Patrick Bartley, Jr., keyboardist Conun Pappas, percussionist Fernando Saci, bassist Ryan Berg, and drummer Darrian Douglas. Musical selections range from the passionate and fearless "I Wish I Knew How It Would Feel to Be Free" and "Feeling Good"—both performed by Simone—to the soulful favorite "Take My Hand, Precious Lord," which Jackson performed at several civil rights rallies.
Evening Schedule
5 p.m. | Doors Open
Until 7 p.m. | LuEsther T. Mertz Library Art Gallery open to view Georgia O'Keeffe's Works
7–8:30 p.m. | Concert
Until 10:30 p.m. | Haupt Conservatory open for viewing of Hawai'i exhibition
NYBG Shop open until 9 p.m.
Ticket Information
Non-Member $48 / Member $43
Early Bird Rate through March 30: Non-Member $119 / Member $106
Summer Concert Series pass including all three concerts: Non-Member $129 / Member $114
Advance purchase recommended. Events are rain or shine.

Performers
Born and raised in Peoria Illinois, Brianna grew up surrounded by music. Her father, Charlie Thomas, not only influenced her with his own unique talents as a vocalist and percussionist, he created an exceptionally well-rounded musical environment that fostered Brianna's emerging abilities.At the tender age of six, Brianna made her singing debut performing a duet rendition of the jazz classic, "What A Wonderful World" with her father. At the age of eight she won her first of thirteen trophies, all first place and overall, from various district and regional talent shows. Between the ages of eight and ten she had her first gigs performing for a variety of banquets, black tie affairs and as a guest on local radio stations. It didn't take long for people to notice her talent and potential. Just shy of her teens, Brianna's talents were discovered by distinguished jazz educator Mary Jo Papich. Soon after, Brianna toured Europe with the Peoria Jazz All-Stars, a big band under Ms. Papich's direction. This was the beginning of Brianna's career as jazz vocalist.

Brianna's talents have propelled her to many successes including performances at the Montreux, North Sea, and Umbria Jazz Festivals and in venues ranging from the Bahamas to Geneva, Switzerland. Brianna was a resident in both the 2001 and 2002 Betty Carter Jazz Ahead Programs – an international artist-in-residence program that assembles a select group of jazz musicians to perform their original compositions at the Kennedy Center. At "Jazz Ahead" she worked with a host of premier jazz educators and performers including renowned vocalist Carmen Lundy, Winard Harper and Nathan Davis. Brianna's extensive list of stateside performances includes appearances with Fred Anderson, Von Freeman, Houston Person and the Barber Brothers. She has performed across the country from New Orleans to Washington, D.C.'s Kennedy Center. In 2001, Thomas was awarded "High School Jazz Vocalist of the Year" by Down Beat magazine. Notably, Brianna Thomas is the youngest person ever to be inducted into Peoria's African-American Hall of Fame at the age of thirteen in 1996. She has also received a certificate of excellence from the state of Illinois in recognition of her musical accomplishments.

"just his presence is a creative experience."

-Wynton Marsalis, Artistic Director of Jazz at Lincoln Center

Wycliffe Gordon's unmatched modern mastery of the plunger mute and his exceptional technique and signature sound have solidified Gordon a place in musical history as one of the top tromboninsts of his generation. The Downbeat Critics Poll once again named Wycliffe "Best Trombone" for four years in a row, and Jazz Journalists Association named him "Trombonist of the Year" again in 2016 as well as eight times previously. In 2015, Wycliffe was named :Best Trombone" by JazzEd Reader's Poll, and was presented the Satchmo award from the Sarasota Jazz Club, received the Louis Armstrong Memorial Prize presented by the Swing Jazz Culture Foundation, and was named Artist of the Year (2015) by the Augusta Arts Council. He is also a past recipient of the ASCAP Foundation Vanguard Award, among others.

In additional to an extremely successful solo career, Gordon tours regularly leading his quintet known as Wycliffe Gordon & his International All-Stars, headlining at legendary jazz venues and performing arts centers throughout the world. He is frequently commissioned and has an extensive catalog of original compositions that span the various timbres of jazz and chamber music. Musicians and ensembles of every caliber perform his music throughout the world and his arrangement of the theme song to NPR's "All Things Considered" is heard daily across the globe. His show "Jazz a la Carte" was named one of the five best moments in jazz by The Wall Street Journal. Gordon is a former veteran member of the Wynton Marsalis Septet, the Lincoln Center Jazz Orchestra, and has been a featured guest artist on Billy Taylor's "Jazz at the Kennedy Center" Series. His musical expertise is sought out by artists across the globe and has been captured on countless projects with artists including Wynton Marsalis, Paul Simon, Natalie Merchant, Rene Marie, Dianne Reeves, Anat Cohen, Ricky Skaggs, Arturo Sandoval and Doc Severinsen to name a few.

Brianna Thomas, vocals
Special Guest: Wycliffe Gordon, trombone
Patrick Bartley Jr., alto saxophone
Bruce Harris, trumpet
Marvin Sewell, guitar
Conun Pappas, keyboards
Fernando Saci, percussion
James Hurt, piano
Ryan Berg, bass
Kyle Poole, drums
Dining
Reserve a table at Hudson Garden Grill before the show, order a gourmet picnic box online to pick up and enjoy during the performance, or stop in at any one of several other dining options available during Summer Concert Evenings at the Garden.
Hudson Garden Grill
Enjoy a pre-concert dinner at the Hudson Garden Grill by reserving on OpenTable.com. Last reservation is at 5:30 p.m.
Gourmet Picnic Box
Featuring selections for two from STARR Events, these picnic boxes are the perfect addition to your NYBG visit. Reserve online and pick them up before the performance to enjoy on the Conservatory Lawn.
Food Trucks, Cantina, and Seasonal Bars
Stop by the Visitor Center for treats from the food truck, beer, wine, and seasonal drink specials, assorted beverages, snacks, and more.