Summer Concert Series:
Salute to the Crescent City:
New Orleans at 300
June 22, 2018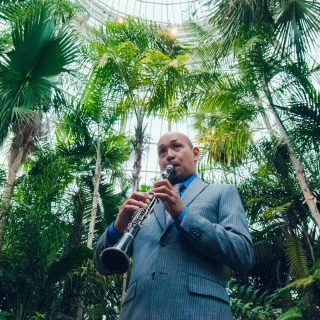 The musical heritage of New Orleans comes alive in this premiere concert led by "one of the world's major clarinetists" Evan Christopher (The Wall Street Journal). In celebration of the Crescent City's 300th Anniversary, this salute explores the marriage of traditions and the cultural diversity that established New Orleans as the birthplace of jazz. A host of New Orleans musicians join Christopher, including pianist David Torkanowsky, vocalist Robin Barnes, trumpeter Jon-Erik Kellso, trombonist Jeffrey Miller, saxophonist Morgan Guerin, bassist Kerry Lewis, and drummer Shannon Powell.
"…Christopher is about the nearest you can get these days to Big Easy legend Sidney Bechet…" – John Phillpott
March 10, 2014 Concert Review, Worcester News – Huntingdon Hall, UK
"If there is a better living exponent of the New Orleans Creole clarinet style than Evan Christopher, then it's a discovery I have yet to make." – Alyn Shipton
March 9, 2014 Concert Review, London Jazz News – Django à la Créole at the Quecumbar, London, UK
Evening Schedule
5 p.m. | Doors Open
Until 7 p.m. | LuEsther T. Mertz Library Art Gallery open to view Georgia O'Keeffe's Works
7–8:30 p.m. | Concert
Until 10:30 p.m. | Haupt Conservatory open for viewing of Hawai'i exhibition
NYBG Shop open until 9 p.m.
Ticket Information
Non-Member $48 / Member $43
Early Bird Rate through March 30: Non-Member $119 / Member $106
Summer Concert Series pass including all three concerts: Non-Member $129 / Member $114
Advance purchase recommended. Events are rain or shine.
Image by Lauren Desberg
Performers
Evan Christopher combines virtuosity, immaculate taste, and enthusiasm with a commitment to exploring the full range of possibilities in the New Orleans clarinet tradition. His highly personal brand of "contemporary, early jazz" strives to extend the legacies of early Creole clarinetists such as Sidney Bechet, Barney Bigard and Omer Simeon. Critics remarking on Christopher's dynamic expressiveness have coined his style "close-encounter music" (NEW YORK TIMES) and have called his respect for the music traditions of New Orleans, "a triumph, joining the present seamlessly to a glorious past." (THE OBSERVER, UK).

His journey on Clarinet Road began in 1994, when he left his native California to join the New Orleans music community. Diverse freelance work included gigs with musicians such as Al Hirt and veterans of Preservation Hall to funk and brass bands including the Nightcrawlers and Galactic. But in 1996, he left for San Antonio, Texas to appear nightly for nearly three years with the Jim Cullum Jazz Band and record several of their public radio programs, Riverwalk: Live from the Landing.

When Christopher returned to New Orleans in 2001, his published research on the New Orleans clarinet style initiated pursuit of a Master's degree in Musicology at Tulane University. He began touring internationally and producing his "Clarinet Road" series of CDs (STR Digital). In August 2005, when Federal levees failed in the aftermath of Hurricane Katrina decimating the city, Christopher left again for Paris at the invitation of the French Embassy's Cultural Services division, where he formed his group, Django à la Créole. This Europe-based quartet fused Gypsy Swing with Latin-tinged grooves of New Orleans and beyond and was distinguished for an acoustic intimacy paired with driving swing. Critics charmed by the group queried, "Is there a more graceful band at work at the moment?" (THE SUNDAY TIMES UK). Three CDs for Lejazzetal (London), in partnership with Frémeaux & Associés (Paris)—Django à la Créole (2007), Finesse (2010), and LIVE! (2014)—earned the group critical attention worldwide for its elegant character.

As a composer, Christopher's original songs are the high point of acclaimed recordings including Delta Bound (Arbors, 2007) featuring pianist Dick Hyman, The Remembering Song (Arbors, 2010) featuring guitarist Bucky Pizzarelli, his clarinet feature on the Grammy-winning New Orleans Jazz Orchestra's Book One (2012) and his latest Clarinet Road CD, Bayou Chant & Other Textures (STR Digital, 2016). In July 2010, he had the honor to debut his Treat It Gentle Suite with the Minnesota Orchestra, which was the first concerto written for clarinet with band in the New Orleans style.

Evan Christopher began his musical training on clarinet at age 11. In high school, he received the Louis Armstrong National Jazz Award and was one of the first graduates of the prestigious Idyllwild Arts Academy. He continued studies at the University of Southern California and graduated with honors from California State University, Long Beach. A brief teaching stint at the University of New Orleans saw the creation of a New Orleans music ensemble that performed with guest mentors such as Lucien Barbarin and Marcus Roberts.

Since 2008, having returned again to New Orleans, Christopher actively advocates for the cultural workforce and music education. He frequently tours with and records as a guest with forward-looking artists, while performances under his own name are often complemented by workshops and educational and community outreach. Occasional columns about the music scene and New Orleans culture for NolaVie.com, evidence his passion for the city's indigenous traditions.

Evan Christopher, clarinet
Robin Barnes, vocals
Wendell Brunious, trumpet
Jeffery Miller, trombone
Morgan Guerin, tenor saxophone
David Torkanowsky, piano
Kerry Lewis, bass Shannon Powell, drums
Dining
Reserve a table at Hudson Garden Grill before the show, order a gourmet picnic box online to pick up and enjoy during the performance, or stop in at any one of several other dining options available during Summer Concert Evenings at the Garden.
Hudson Garden Grill
Enjoy a pre-concert dinner at the Hudson Garden Grill by reserving on OpenTable.com. Last reservation is at 5:30 p.m.
Gourmet Picnic Box
Featuring selections for two from STARR Events, these picnic boxes are the perfect addition to your NYBG visit. Reserve online and pick them up before the performance to enjoy on the Conservatory Lawn.
Food Trucks, Cantina, and Seasonal Bars
Stop by the Visitor Center for treats from the food truck, beer, wine, and seasonal drink specials, assorted beverages, snacks, and more.