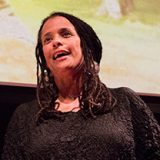 Andrew W. Mellon Visiting Scholar for 2021: Carolyn Finney, Ph.D.
Storyteller, author, and cultural geographer, Dr. Carolyn Finney is deeply interested in issues of identity, difference, creativity, and resilience.
Working at the intersection of art, education, and lived experience, she is currently an artist-in-residence at Middlebury College, consults for a number of non-profits and government agencies, and served for eight years on the U.S. National Park System Advisory Board, helping the National Park Service build relationships with diverse communities. Her first book, Black Faces, White Spaces: Reimagining the Relationship of African Americans to the Great Outdoors, was published in 2014.
Project
Following on her September 2020 NYBG webinar, Black Faces, White Spaces: Christian Cooper, John Muir & Re(claiming) a Green World, Dr. Finney has been collecting research material for her new one-woman show (and a creative non-fiction book) that she will workshop at NYBG this summer. Entitled The N Word: Nature Revisited (an imagined conversation with John Muir), she is examining what it means to be Black and Green. While the murder of George Floyd on May 25, 2020, struck at the heart of America's unreconciled past concerning systemic racism, the experience had by Christian Cooper on the same day while birding in Central Park ignited conversation within the environmental sector. In this moment of racial reckoning, Dr. Finney comes home to name and claim her family's story of love, labor, and erasure on the land in New York. Weaving stories of our collective past with the personal in this work-in-progress, she calls out the "father of conservation" in order to call us all into a new relationship with nature and each other.