Antique Garden Furniture Fair
Preview Party: Thursday, May 4, 2017
Friday, May 5, 2017 – Sunday, May 7, 2017
The Country's Only Fair for Antiques for the Garden and the Garden Room
Long held as the country's most renowned stage for authentic garden antiques and rarities, the Antique Garden Furniture Fair and Plant Sale returns to NYBG. Peruse an extensive collection of ornament, decorative art, and timeless furniture for the home and garden. The weekend-long event kicks off with a Preview Party featuring the work of Designer Chairman Bronson van Wyck on Thursday, May 4, beginning at 5:30 p.m., and includes a Silent Auction and a Collectors' Plant Sale that features rare and exotic plants. The evening presents enthusiasts and collectors the opportunity to peruse thousands of garden antiques from leading exhibitors from across the United States, each offering the finest pieces for purchase in advance of the Fair's opening to the general public from May 5–7.
Spring Season sponsored by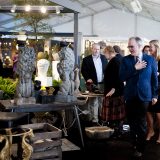 Preview Party & Collector's Plant Sale
Thursday, May 4; 5:30 p.m.
This benefit attracts over 600 guests to enjoy cocktails while previewing the oldest and most beautiful collections of antique garden furniture and architectural artifacts in the country.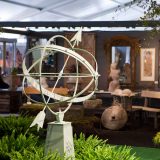 Antique Garden Furniture Fair Weekend and Plant Sale
May 5–7
Visitors can peruse authentic garden antiques all weekend long while enjoying a visit to the Garden's 250-acres.
A Specialty Plant Sale features an extensive selection of unusual, colorful plants representing some of horticulture's finest growers.