Sensational Seeds Weekend
October 7–9, 2023
12–5 p.m. | At the Garden
Just a subway ride to fall fun
Join us for hands-on gardening, crafts, and exploration throughout the state-of-the-art Edible Academy campus. Enjoy cooking demonstrations featuring special guests and the many plants of the African American Garden: The Caribbean Experience.
Join us for Gardening Activities
12–5 p.m.
Howell Vegetable Garden

Our gardeners always welcome a helping hand, and they're happy to share their years of knowledge to help you grow a garden at home. Grab a watering pail, meet our fun team, and join them to learn how to form a seed ball and more.
Dig, Plant, and Water
Help us plant and tend the crops throughout our garden.
Meet our Global Gardeners
Meet the Global Gardeners and learn about their foodways as they share their culinary traditions and show you what they're growing in their garden beds.
Make a Seed Ball
Create your own take home "seed ball," a fun option for storing and planting seeds.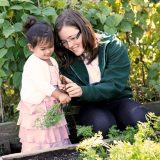 Get Crafty at the Makers Station
12–5 p.m.
Solar Pavilion
Visit the Edible Academy's Solar Pavilion for colorful crafts to take home, from decorating a harvest bag to creating a seed-based seasoning for your favorite snack.
Decorate a Harvest Bag
Design your own colorful harvest bag with garden- and vegetable-themed stamps.
Cooking with Seeds
Make your own take-home, seed-based recipe.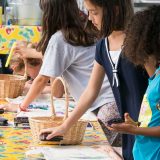 Taste Flavorful Fall Recipes
12:30, 2, & 3:30 p.m.
Pauline Gillespie Gossett Overlook Pavilion
Enjoy ongoing culinary demonstrations presented by local chefs and culinary educators using seasonal crops from the garden that will inspire chefs of all ages. Recipes will be shared to take home following each workshop.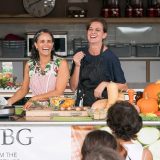 ¡Corre, Abuelita, Run! with NYC Children's Theater
October 7
12 & 2:30 p.m.
Edible Academy
This interactive performance, a celebration of Hispanic/Latinx Heritage Month, uses language, music, puppetry, and movement to explore the vibrant and diverse neighborhoods of New York City.
¡Corre, Abuelita, Run! celebrates and explores the power of community, the joy of intergenerational family relationships, New York City, and the importance of language and traditions.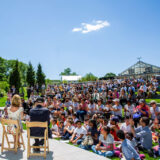 Celebrate Seed Stories
12–5 p.m.
EAT Lab
Seeds are archives of information, and the stories they tell reach across science, culture, and distance. Discover the long history of seed-saving techniques and more as we celebrate the place where our fruits and vegetables start.
Explore Seed Stories
Learn more about the crops in our garden, seed-saving techniques, and more.
Sharing Stories
Explore the history and practice of seed saving through some of our favorite books.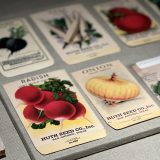 Tour the African American Garden: The Caribbean Experience
1:30 p.m. & 2:30 p.m.
Meet at the African American Garden entrance
NYBG Tour Guides lead tours of the African American Garden: The Caribbean Experience, curated by Dr. Jessica B. Harris—a space that celebrates the plants of the Caribbean and the ways they've influenced foodways here.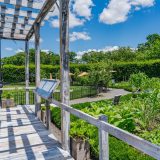 Enjoy Live Entertainment
October 7, 8, & 9
1 & 3 p.m.
Susan P. and Coley Burke Amphitheater
Join Doc Wallace Trio for live music and entertainment all weekend long as you explore the Edible Academy!
About the Band:
The Doc Wallace Trio has been thrilling listeners with its unique blend of jazzy Texas-style fiddling and swing since their first performance in 1999. The trio's presenters include Carnegie Hall, Lincoln Center, and the New York Philharmonic. The Doc Wallace Trio is committed to engaging the community, and actively brings its artistry to schools, hospitals, houses of worship, and harvest festivals.